You don't have to drive into the city to see fine art.
Located in our 26,000-square-foot Fine Arts Center in Blue Bell, our bright, airy gallery exhibits unique local collections and the work of area artists in a variety of media. Exhibits change throughout the year. Be sure to check our schedule for details on our latest shows.
Past exhibits have included prints, drawings, paintings, photographs, ceramics or sculptures or a combination of these.
The surrounding grounds showcase the experimental metal sculptures of Philadelphia artist Leon Sitarchuk. Donated to the College in 2005 by his wife, Peggy, Sitarchuk's works explore space and perspective.
Current and Upcoming Exhibitions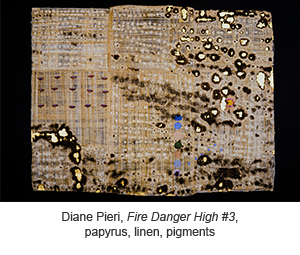 Out of the Whirlwind: Reflections and Forecasts on Global Warming and Climate Change.
August 22 to September 30, 2022
A group exhibition by the Temple Judea Museum's Artist's Collaborative, reflecting on the urgency, heartbreak, and responsibility surrounding climate change.
Meet the artists at our opening reception on September 7, 5-8 p.m.
---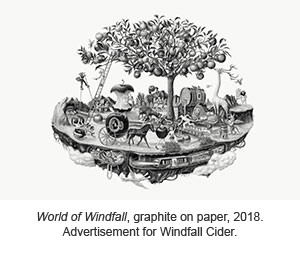 The Infinite Page: Drawings by Armando Veve
October 13, 2022 to January 27, 2023
Armando Veve is a Philadelphia-based illustrator who's contributed hundreds of artworks to The New York Times, The New Yorker, The Atlantic, and Wired magazine among other publications. The fantastic worlds on display in his works are a reflection of Veve's wildly inventive imagination and our modern preoccupations, illustrating everything from COVID molecules to fad diets to wireless streaming. This exhibit was made possible thanks to a grant from the Edna Andrade Fund of the Philadelphia Foundation.
Meet Armando and learn more about his work during the opening reception on October 13, 5-8 p.m.
---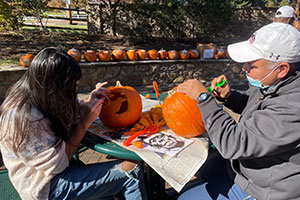 PumpkinFest 2022
October 22, 2022 | Noon to 4 p.m.
Join us for the annual pumpkin-carving workshop! Free pumpkins, carving ideas, tools, and demos. Registration required and weather-dependent.
Gallery Hours
The Fine Arts Gallery is free and open to the community.
Monday: 8:30 a.m. to 6 p.m.
Tuesday: 8:30 a.m. to 6 p.m.
Wednesday: 8:30 a.m. to 6 p.m.
Thursday: 8:30 a.m. to 6 p.m.
Friday: 8:30 a.m. to 6 p.m.
Saturday: noon to 5 p.m.
Sunday: closed
*The Gallery will be closed on holidays. View the
College Calendar
for details.
Map and Directions
The Fine Arts Center Gallery is located on the Blue Bell Campus at 340 DeKalb Pike, Blue Bell, PA.
From 202/DeKalb Pike, turn into campus at Tournament Drive. Look a red barn-like building with tall grain silos to the left, which is the Fine Arts Center. Follow campus signs.
Housed in a former, 19th century brewery and shoe polish factory, our Pottstown gallery is a work of art in its own right.