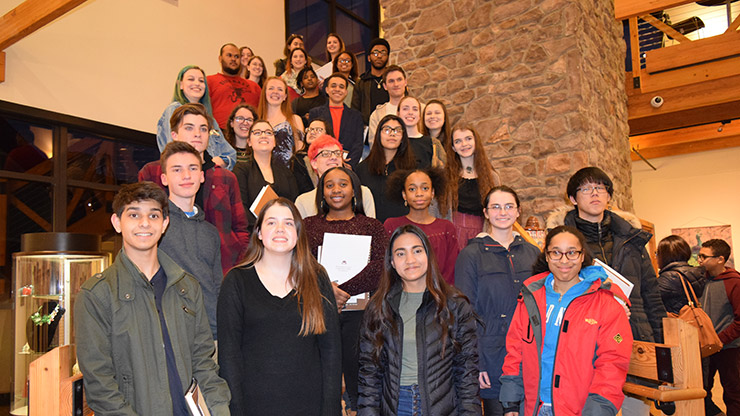 Art students from High Schools all over Montgomery County are showcasing their artwork at the 40th Annual Montgomery County High School Art Exhibition and Competition which started Wednesday, Feb. 7, and continues through Wednesday, March 14, at Montgomery County Community College's (MCCC) Fine Arts Center Art Gallery at Central Campus, 340 DeKalb Pike, Blue Bell. The exhibition is free and open to the public.
"We have been hosting this show for 40 years! That's a long time and it shows our commitment to student artwork and our support for the local High Schools," says Patrick Rodgers, Galleries Director at MCCC. "It's good for art students to participate in these types of shows—they can discover things about their work in a gallery setting that they might have missed before, and it's fun to see how it relates to the work of other students throughout the area. For art teachers, the exhibition gives them a chance to meet and gather ideas and inspiration from each other."
The show includes students from Abington, Cheltenham, Germantown Academy, Hatboro-Horsham, Jenkintown, La Salle College, Methacton, Norristown, North Penn, Perkiomen Valley, Plymouth Whitemarsh, Souderton, Springfield Township, Spring-Ford, Upper Dublin, Upper Merion and Wissahickon High Schools.
This year the juror is Jo Ann Cooksey Bono, an independent artist, who is well versed in a variety of media, and a past president and current board member of the Greater Norristown Art League (GNAL). GNAL sponsored the Best in Show award and presented a $50 check Matthew Autieri from Wissahickon High School for his acrylic on paper, Portrait Study.
The following students received awards:
Afri-rican Women, ceramics, by Justin Gamble, Abington Sr. High School
Untitled digital photograph by Rachel Banner, Cheltenham High School
Glow, digital photography by Briandra Wilson, Cheltenham High School
Effects reel animation by Luke Abraham, Germantown Academy
Eclipse Vol. 2, digital design by Gabbi Horsch, Hatboro-Horsham High School
Mom, oil on board by Harlane Burns, Jenkintown High School
Primordial Piranha, watercolor by Sean Lee, La Salle College High School
Just Clownin' Around, oil-based ink and plexiglass etching by Claudia Staber, Methacton High School
Low Poly Red Panda, graphic design by Alisha Depaul, Norristown High School
Portrait, graphite drawing by Jerry Lester, North Penn High School
Self Portrait charcoal drawing by Carlie Jimenez, Perkiomen Valley High School
Childhood Memories, a crayon and paint assemblage by Keshawna Logan, Souderton Area High School
Piano Ornaments acrylic painting by Jordan Sigler, Spring-Ford High School
Midnight Sun, a felted wool piece by Connie Campbell, Springfield Twp. High School
Peacock on Wrought Iron, batik fiber craft by Julia Ivanovski, Upper Dublin High School
Untitled painted wood piece by Sara Taug, Upper Dublin High School
Jive Turkey, animation by Keith Davis, Upper Merion Area High School
Snake Bowl, ceramics by Ashley Buscemi, Upper Merion Area High School
Three Blind Men, linoleum print by Jackie Nice
The show continues through March 14. Gallery hours are Monday through Thursday, 8 a.m. to 9:30 p.m. and Friday, 8 a.m. to 4:30 p.m. Group tours may be scheduled by contacting Galleries Director Patrick Rodgers at prodgers@mc3.edu or 215-619-7349.
Follow us on Facebook at www.facebook.com/DestinationArts for information about upcoming performances and art exhibitions.