Sign up for an alumni membership card and start saving!
What's so special about an alumni membership card? Everything! Once you complete the online form for your membership card, you'll receive updates on member benefits, upcoming special events, leadership opportunities and Hall of Fame nominations. You'll also enjoy:
bigDreams — Magazine published twice a year for alumni and friends of Montco.
Career Services — Career and academic counseling service, electronic job search and resume posting — all for free!
Cultural Affairs Events Discount — Save 10% on the purchase of tickets to performing arts events on campus.
Library Resources — Free borrowing privileges and computer access.
PerksCard Program — Enjoy a new web and mobile platform to access everyday discounts at local stores and restaurants. Visit Perks Connect to create an account using the group code "MCCCAlumni".
Ameriprise Auto & Home Insurance — Are you paying what you should for auto insurance? Montco has teamed up with Ameriprise Auto & Home Insurance to offer high-quality auto insurance at very competitive rates. Call today for your free, no-obligation quote at 1-888-554-9669.
bigDreams Magazine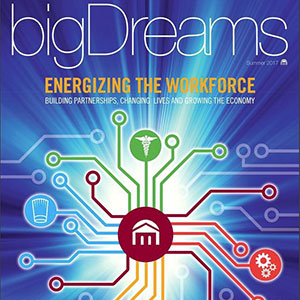 Currently published twice a year for alumni and friends of Montco, bigDreams highlights campus and foundation news, student and faculty features, and alumni achievements. To request a hard copy, please email bigdreams@mc3.edu.