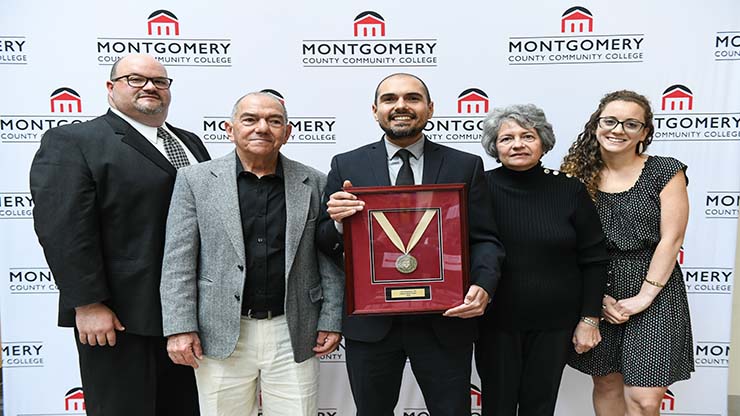 Abel Rodríguez was raised by Cuban-immigrant parents who always stressed the importance of going to college, even though they did not have the opportunity to go themselves. So he and his older brother always knew they would attend, the family just had to figure out where and how.
Some high school friends suggested Montgomery County Community College and after his brother, Orestes, attended and had a good experience, Montco became a natural choice.
Rodríguez had struggled to find his way at Kennedy Kenrick High School in Norristown, and was unsure of his direction when he enrolled at Montco, so he chose to major in Liberal Studies and focus on core courses first.
"I had a fantastic experience at Montgomery County Community College—my time there was pivotal," says Rodriguez. "A lot changed in that first semester and a lot of growing up happened."
The indifferent high school student not only grew up, but he became a stellar college student, even tutoring others in Spanish and math, which he continued to do part-time at Montco after transferring to Cabrini University. "I knew early on that I wanted to teach eventually," he says. "So tutoring was a great entrée."
When plans don't go quite as expected
Rodríguez's academic career took off at Cabrini, where he was a Spanish and math major, on the Ph.D. track. He earned two master's degrees, one in Latin American Studies in 2002 and the second in Theological Studies in 2004. "I was exploring and figuring it all out," he says.
After earning his second master's degree, he volunteered at the Annunciation House in El Paso, Texas, working along the Mexican border, where he helped the organization provide services to migrants.
At this point, Rodríguez had what he thought was a solid plan: Work as a teaching assistant for a semester, then perform a year of service. He sent letters of introduction to various schools in and around Philadelphia and Penn responded with an offer of a full-time position teaching Spanish—not what he expected, but which turned out to be a stroke of good fortune.
"It was supposed to be for one year, but I loved it and stayed for four years," he says. The lecturer position gave him summers off, and he was able to volunteer each summer in El Paso, which he did for five years.
"I was so moved by the work they do there, and I always wanted to do something hands-on in the community. Things changed for me while working on the border," he says. "It didn't feel right to be in only an academic role after working there. I needed to be more directly involved." And so he returned to the classroom—as a student—and earned his JD degree from Penn. He practiced law for a year at Esperanza Immigration Legal Services in north Philadelphia and for three years at the Nationalities Service Center and in the Philadelphia Public Defender's Office.
Today, Rodríguez still occasionally practices law—pro bono—as long as it is related to deportation defense or naturalization. He also is an Assistant Professor of Religion, Law and Social Justice at Cabrini where he directs the Center on Immigration, which he co-founded in April 2017.
"The Center's three primary areas of focus are education, advocacy and scholarship," he explains. "We get students involved with immigration issues through lobbying in Washington, DC, and Harrisburg as well as attending vigils and marches. This fall, we will co-sponsor a symposium on human trafficking and last year, we did a financial literacy project in the immigrant community, partnering with the Mexican Consulate and nonprofits in Montgomery County.
His foundation and inspiration
Rodríguez firmly believes that he owes his career to Montgomery County Community College, and calls it the "foundation for all my subsequent experiences.
"It is where I grew and matured as a serious student, and a key part of that was my professors, especially those I had in my first semester," he says. "They had a significant impact on me. Profound. They are where my passion for teaching comes from, and they made it all click for me."
He remembers especially four of his early professors going out of their way to guide and advise him.
"Richard Greenwood suggested I take Honors English; my Biology professor called Temple University and got information for me in case I decided to go there; my Education professor inspired me to become a teacher; and Anne Coyne, who I am still in touch with, asked me one day what I was doing next, and I answered that I planned to take business classes.
"She said, 'You strike me as a humanities person,' and steered me in that direction. And she was absolutely right."
Rodríguez believes he uses their examples as a teacher and lawyer, taking a student-centered approach and a client-centered approach, respectively.
"I respect my students as adults, and try to be very hands-on, but just to guide them, and facilitate, not necessarily to be the authority in the room. I give them options and trust they can make their own decisions," he says.
For all his accomplishments and support of the college, Rodríguez was inducted into the Alumni Hall of Fame in April 2018.
"I'm on the board of the ACLAMO Family Centers in Norristown, which has partnered with Montco on different initiatives," he says in explaining how the award came about. "The board president reached out to the College and told them what I've been doing, I was nominated and then I was selected."
Rodríguez allows himself a moment to contemplate his future plans: continue to work on immigration rights issues, grow the Center, and make an impact as he works for justice for the country's immigrant communities. "However I can use my teaching and scholarship and advocacy to support the immigrant rights movement, I will," he says.