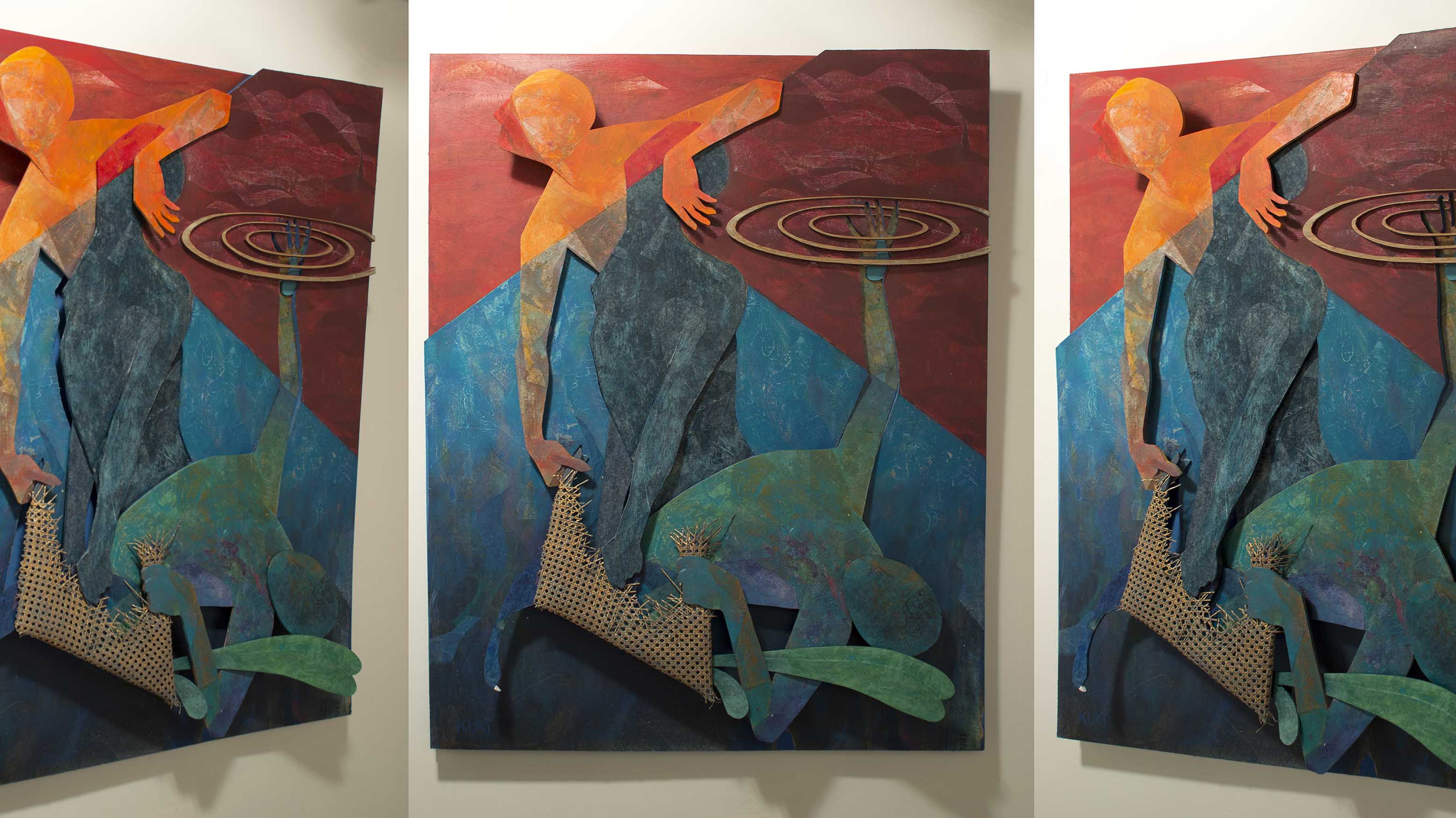 Abstract sculpture artist Kurt Kindermann was bored with the art he was seeing after his relocation to Virginia 11 years ago.
"It wasn't making me happy to be part of the art world," Kindermann, a Jenkintown native, said. "It was more making me want to do my own thing."
In an effort to break free from the "same work" he had been seeing, Kindermann, who now lives in Boston with his wife, Rachel, and their son, looked inward to create a unique collection of relief sculptures comprised of layered painted and/or collaged pieces of wood conveying human form and movement.
In all, about 30 works – ranging from large relief pieces to smaller figurative works on paper – will be on display as part of Kindermann's solo exhibition at Montgomery County Community College's Fine Arts Center Gallery, Central Campus, 340 DeKalb Pike, Blue Bell, Pa., from Sept. 6 through Oct. 27. The community is invited to attend the opening reception on Thursday, Sept. 6, from 5 to 7 p.m. to meet the artist. Both the exhibit and the reception are free and open to the community.
"A lot of what I was doing and continue to do now is essentially try to create a different visual language, a different way in which to show things that isn't entirely a three-dimensional freestanding structure," Kindermann said. "There are rules in these things. There are color rules, composition rules. By creating my own thing, I was able to decide my own rules."
MCCC Galleries Director Patrick Rodgers said he last saw Kindermann's artwork in the early 2000s and thought it was "astounding" then.
"I've been floored by how his work has evolved, become multi-layered, and started to play with the elements of what a relief sculpture can be," Rodgers said. "He's using collage, he's using advanced woodworking techniques, he's making his own paints--everything about these relief pieces is very personal to him and expressive. There's a depth to his pieces that changes depending on how you view it, which gives his work a dynamic that almost conveys movement and keeps you looking at a single piece for a long time."
A 2006 graduate of the Pennsylvania Academy of Fine Arts, Kindermann said he's been interested in art since he was a young child. A true multi-media creator, his work combines painting, printmaking and paper. Kindermann settled on sculpture because he said it's the "most interesting and the least reproducible."
In terms of the exhibition at the College, Kindermann acknowledges that the work to be showcased is also one-of-a-kind in nature.
"The interesting thing about the show is it's an end. It's 10 years of being somewhere and now I'm somewhere else," he said. "It's a nice book end of a collection of work."
The gallery hours are Monday through Thursday, 8 a.m.-9:30 p.m. and Friday, 8:30 a.m.-4:30 p.m. Group tours may be scheduled by contacting Galleries Director Patrick Rodgers at prodgers@mc3.edu or 215-619-7349.
Follow MCCC's Galleries on Facebook for information about upcoming performances and art exhibitions.
Help support the arts and art education programs at Montgomery County Community College by becoming a Friend of The Galleries. Donations are tax deductible. For more information, contact the College Foundation at 215-641-6324.