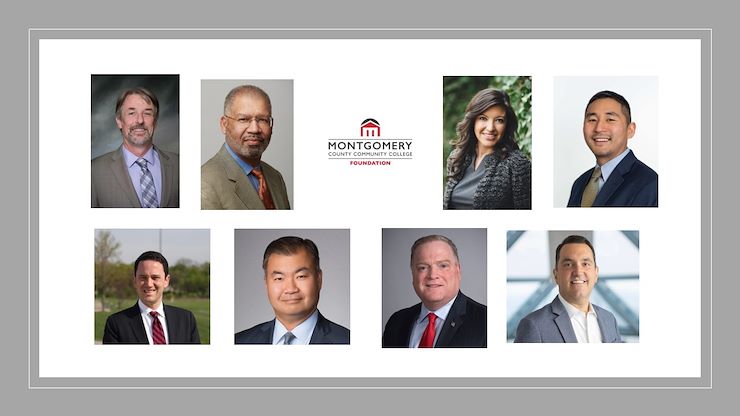 The Montgomery County Community College (MCCC) Foundation is pleased to announce it has added eight new members to its Board of Directors.
Paul Buttacavoli, Jimmy Chong, Bill England, Darrell Gunter, John Han, Adam Schupack, Shannon Walko, and the Hon. Joseph P. Walsh (Ret.) have volunteered, been nominated and voted to the Board to offer strategic development of the Foundation facilitate and assist in fundraising efforts and govern on issues related to the policies and procedures of the Foundation.
The Montgomery County Community College Foundation is an approved non-profit 501c3 organization that benefits Montgomery County Community College and its students through private philanthropy from individuals, groups, organizations, corporations, foundations, and more.
The Foundation functions through the efforts of the Advancement team and the Foundation Board of Directors. The Advancement team is composed of College employees dedicated to the day-to-day operations of the Foundation, building relationships with philanthropic constituents, and aligning the resources of the Foundation with the needs of the College.
Paul Buttacavoli is Vice President, Client Management & Collaborative Ventures at UnitedHealthcare and provides strategic direction to large national employers on benefits strategy. He has lived in Merion Station for 20 years and before that he lived in Blue Bell for four years. He has a five-year-old son.
"I was looking for an opportunity to be engaged in the community and things I care about and the Foundation Board is a great opportunity," he said. "It is education oriented, important to me and community centered. The College is and can continue to be a community hub. Everybody can get something out of their relationship with the College. There is an exponential amount of potential for Montco to expand what it's doing and have more community engagement. The extent to which their work can be funded, and people can contribute financially and with their time and talents is important in advancing the college."
Jimmy Chong is very active in Montgomery County and presently sits on the Board of Directors of several organizations including, the Montgomery Bar Association, Montgomery County Work Force Development Board (MontcoWorks), Montgomery County Community College Foundation, Philip Jaisohn Memorial Foundation and Penn Asian Senior Services (PASSi). An attorney, he is also a member of Congresswoman Madeleine Dean's Racial Advisory Committee and is involved with Asian American Coalition of Montgomery County. He was recently appointed to Lower Gwynedd Township's newly formed Human Relations Commission.
"Education opens doors that cannot be opened without it," said Chong. "To be able to join the Foundation Board and be able to raise money to give people that don't have financial ability a chance to change their life is so important."
Bill England is Coalition Director Pennsylvania Health Access Network, Here For Us Montco Advocacy Coalition for three and a half years. Coalition has 60 partners range community-based nonprofits to MCCC as a partner. Our focus is on social safety net. Live in Cheltenham with family for 18 years.
"I'm excited to serve on the Foundation Board," he said. "I previously served as a school board director in the Cheltenham School District and look forward to continuing to support of education."
Darrell W. Gunter is managing director for Gunter Media Group, Inc., a strategic management consulting firm. He has been in business since 2010, working in mergers and acquisitions. Living in Ambler for past five years, and is originally from South Orange, N.J. In addition to his work, he is a trustee of the U.S. Amateur Boxing Foundation and on the board of Wissahickon Trails as well as an adjunct professor at Seton Hall University.
"Serving on the MCCC Foundation allows me to do two things that I love community and education," he said. "First, MCCC provides the citizens of Montgomery County with a state-of-the-art facility, education, and programs. Secondly the foundation board allows me to do what I love helping young folks in STEM, the arts, and entertainment."
John Han owns his own criminal defense law practice serving clients in Philadelphia and the surrounding counties facing state, federal, and military criminal offenses. His is a former United States Department of Justice federal prosecutor and 30-year U.S. Navy veteran. He's married with three children and lives in Lower Gwynedd Township.
"I'm very excited to join the Board because it satisfies two strong interests I have. One is I really value the importance of education and being part of a community that encourages people and helps people with a culture of learning throughout their lives. I also think it's important to perform community service and engage with community organizations. The intersection of education and community is what MCCC represents."
Adam Schupack is an attorney and works for the U.S. Department of the Treasury, advising on legal issues pertaining to international economic and monetary policy. Schupack is originally from Upper Moreland Township but is now married with two children living in Whitemarsh Township.
He joined the Foundation Board for several reasons.
"My brother went to the college, it was a great resource for him, and I think he had a great experience. I see the critical importance of the College in providing families with a great option for a college right here in our community at a lower cost," he said. "The College provides great skills for students and positions them to be successful. I've also been impressed by the different programs and offerings of the College. I want to support its continued growth and success as it continues to offer so many educational opportunities for the people of Montgomery County."
Shannon Walko is the Director of Cairnwood Estate in Bryn Athyn, a national historic landmark. She's worked at the estate for the last 17 years, including the last 10 years in her current role. She lives in Jenkintown with her husband John, and their two children.
Walko said the reason she was interested in joining the Foundation Board was because during her early years at Cairnwood, she was in charge of the estate's marketing and sales and Cairnwood paid for her to attend a graphic design course at MCCC. Since then, she's used what she learned in the classroom to design the estate's website and the logo for the Bryn Athyn Historic District after it received a National Historic Designation from the Secretary of the Interior.
"It ignited a passion for design, and it all comes down to the experience I had at Montco for professional development," she said, noting her privileged position to have an employer subsidize her education. "To have an opportunity to support others, further their education, and open doors is a really important thing to do. To me it's a driving force to make a difference in that small way."
The Hon. Joseph P. Walsh (Ret.) is an attorney based in Lansdale who has lived in Montgomery township for 28 years. Originally from Philadelphia, he was appointed as a Montgomery County judge by former Pennsylvania Gov. Tom Wolf from 2016 to 2017 before returning to his practice. Walsh is married with three grown daughters. He's been an active member of the community serving on the North Penn School Board of Directors, a Montgomery Township supervisor for more than six years, and has been an active member of the Bar Association and several nonprofits.
Judge Walsh said he was excited for the opportunity to join the Foundation because he believes MCCC to be a jewel in the community.
"I'm passionate about education, and public education is very important to me," he said. "To provide everyone with equal access to education is something we need to strive to do. I'd like to play a part in helping students get a good education from the community college."
The new appointees join Chair Joseph W. Gallagher, Vice Chair Richard D. Cottom, Treasurer/Secretary Andrew James, and Board members Kenneth D. Baker, Tanya Bamford, MCCC President Dr. Victoria L. Bastecki-Perez, Richard Buttacavoli, Jaisri Chety, MCCC Board of Trustees Chair Varsovia Fernandez, Lena Tella Gelenberg, Dr. Dana Robinson Johnson, John A. Koury, Jr., Giovan Lane, Linda LaVay, Trustee Donald Lyons, Christopher McDermott, George Marin, Michael Moore, Brian Nelson, Allison Risko, James Sanders, James A. Sortino and Bill Vitiello.
Established in 1983, the Montgomery County Community College Foundation provides: scholarships for deserving students, grants for faculty projects, equipment and technology, emergency funds for students in need, support for cultural enrichment activities on campus and financial resources for other college programs and activities. The Foundation is able to make a difference in the lives of our students thanks to the generosity of alumni, parents, community friends, private foundations and corporations. To see how you can make a difference and discuss how your gift can be most meaningful to you, contact the Foundation or call 215-641-6324.