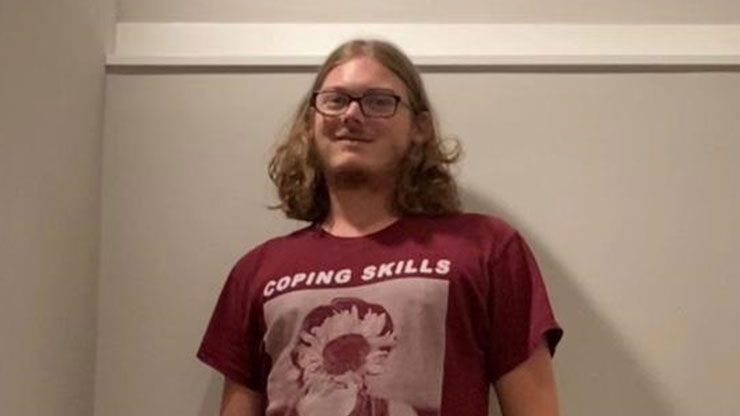 Like many students, William Drewes was uncertain about what he wanted to do when he graduated from high school. He tried working as a house painter, but he quickly realized that wasn't the career for him.
Instead, he changed directions and decided to try Montgomery County Community College. Montco was close to where he lived in Lansdale with his grandmother and great-grandparents, and he felt comfortable on the campus when he visited it. Since he helped to care for his family, he wanted to attend a college that was nearby.
In the beginning, he hit some bumps in the road while he was learning French, but he didn't give up.
"My advisor, Ms. (Jennifer) Gordon, was amazing," said Drewes, who quickly turned his grades around and made the Dean's list. "She helped guide me so much."
Along with the helpful guidance from his advisor, Drewes found his professors to be motivating and encouraging.
"History Professor Anna Raskin was amazing. Hearing her own stories about living in the Soviet Union made the class very impactful. It was probably one of my favorite history classes I took at Montco," he said.
"History Associate Professor Patrice Laurent has a fun sense of humor and eased my anxiety about returning to school," he added. "History Instructor Sanket Desai was full of passion with his lectures – I really wish I could have fit another class of his in my schedule," he said. "I am awful at math, but Math Assistant Brandon Professor Klarman was super supportive explaining things."
"I've never met anyone as passionate about the evolution of North American regional architectural styles as Geography Assistant Professor Wayne Brew, and he's the only person I've met who matches my enthusiasm for eight tracks and hi-fi systems," he added.
This inspirational learning environment, together with Montco's caring faculty, helped Drewes connect the dots between his long-time enthusiasm for history and a major.
"I've always been interested in history," said Drewes, who enjoys Greek and Roman myths and reading the histories. "I remember learning about the holocaust in fifth grade, and I couldn't fathom how such a horrible thing could happen, and I wanted to learn more about it."
Following this direction, Drewes earned his associate's degree at Montco, and he is continuing his education at Temple University, majoring in history. He is considering a career as an archivist, although, at this point, he wants to keep his options open.
As he packs his belongings to move to Philadelphia, Drewes is grateful for the Ryan Johnson, Ph.D., Endowed Scholarship that is helping him take this next step in his educational journey.
Dr. Ryan Johnson was a beloved professor of history at Montco's Pottstown Campus who passed away in 2013 at the young age of 32 years. He was a dedicated educator with a passion for history and a strong belief in the importance of higher education and lifelong learning.
In honor of his love for history and devotion to education, his family and friends established the endowed scholarship. This prestigious award is given to a graduating student who has displayed academic excellence, a passion for history, commitment to ongoing education and resilience in overcoming obstacles.
"(History Assistant) Professor Douglass Powell told me about the scholarship, and it will help a lot," said Drewes, who appreciates the financial support that will allow him to complete his next degree.
Although Drewes and Johnson did not have a chance to meet, the two would have connected over their shared interests in history and vintage toys.
Drewes started collecting vintage toys from the 1970s and 80s, including He-Man, G.I. Joe action figures, Jem and the Holograms, when he was in his early teens and went to flea markets with his grandfather. Before vintage toys, he collected Coca-Cola memorabilia. Similarly, Johnson was a collector of Transformers action figures.
"I've always enjoyed going to markets and shops and finding items from the past," said Drewes, who continues to pursue his hobby through online searches.
In the years since he graduated from North Penn High School in 2016 and worked as a painter, Drewes now has a clear picture of his future with a pathway to achieve it, thanks to his supportive family, Montco faculty and the Ryan Johnson, Ph.D., Endowed Scholarship.