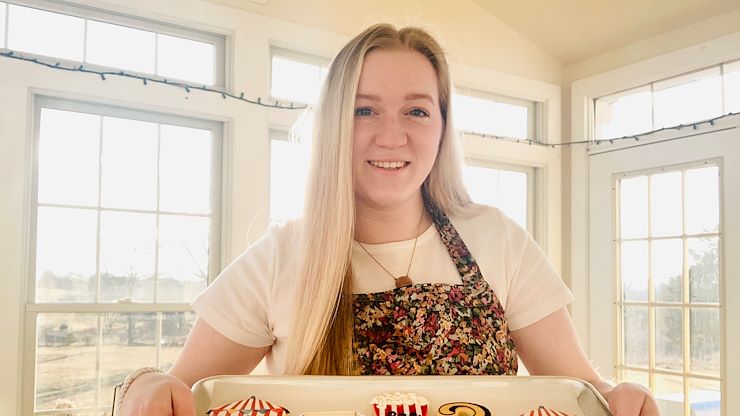 When Abigail "Abby" Nice, 21, was a child, she would stand on a stool to reach the counter at each of her grandmothers' homes to help them bake. From cracking the eggs to stirring the ingredients, Nice recalled enjoying and being fascinated by the entire process and outcome, whether it was a layered cake, cupcakes, or cookies.
Each grandmother had a different approach in preparing their confections that she carries with her to this day.
"Both of my grandmothers loved to bake and that was a huge influence on me," Nice said. "My one grandmother was about using a box mix and having fun decorating it and the other was about making it from scratch, with less emphasis on the decorating."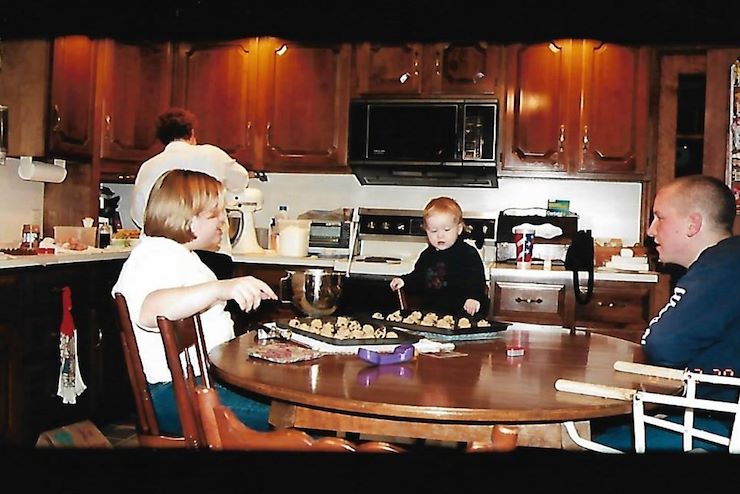 Nice recalled that as she was growing up there was a specific moment that gave her a heightened level of confidence and independence in her baking.
"My one grandmother would always decorate everyone's cake for their birthday, and one year it was hers and I decided to decorate the cake," she said. "That passed the torch, and I became the designated birthday cake decorator."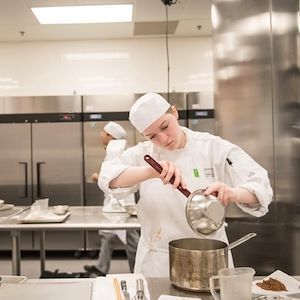 Today, Nice combines her love of decorating cakes and made-from-scratch baking, as the founder of Nice Confections, a home-based business in Montgomeryville specializing in decorated cookies and custom cakes.
In addition to Nice's grandmothers teaching her some tricks of the culinary trade, she decided to pursue the culinary arts as a professional path, so she enrolled at Montgomery County Community College's Culinary Arts Institute in 2020.
Love of baking
Prior to enrolling at MCCC she did a semester at another college that turned out not to be a good fit, so after some regrets in not pursuing her love of baking as a profession, she decided to change course and took a tour of MCCC's Culinary Arts Institute.
Nice found that it was the answer to giving her the opportunity to combine all the things she was passionate about.
"I took a tour with Chef De Pinto who was the head at the time, and he told me about the classes and showed me around," she said, referring to former Director John De Pinto. "I was impressed, and I was really excited about what I was going to be learning about."
She also felt it would be lots of fun to take courses such as Tiered Cakes & Sugar Artistry given her first love of baking and cake decorating.
"It has taught me the foundations of baking and pastry and helped me to hone my skills in baking and business, and fine tuning that," Nice said.
She has learned many valuable skills from her instructors at CAI as a full-time student operating her business on the side as well as working weekends decorating cakes at a bakery.
"Chef Jacques was influential on the cake side of things and learning fondant flowers and new techniques," she said, referring to Chef Joseph Jacques, Baking and Pastry Assistant Professor at CAI.
Nice's final course to round out the program is Culinary Entrepreneurship taught by Shawn Murray, Hospitality Management Assistant Professor.
"Professor Murray has been helpful in seeing how to transition what I'm doing with my real-life business into a full-fledged bakery and to think about how I want it to grow," she said.
Full college experience
Nice said her instructors at the Culinary Arts Institute encouraged her and her fellow students to get the full experience of MCCC through activities beyond their culinary interests.
"For me that was joining the women's soccer team," she said. "That was a great way to make friends and really get the full college experience."
Nice received her Associate Degree in Baking and Pastry in spring 2022. She plans to expand her business after graduation.
"It would be a dream of mine to open a full-fledged store," she said.