Recent Montgomery County Community College graduate Juan Perez Rodriguez had no clue what he wanted to do as a career when he first stepped foot on the College's Blue Bell Campus.
"The first time I was at Montco I was doing ESL classes and then I remember seeing a flier of the Biotech Program," Rodriguez said, adding his first language is Spanish and he moved to the United States from Colombia, South America, in 2019.
The timing of him encountering that flier was perfect because it came into play when it was time for him to enroll in a major.
"I didn't know which program or classes to choose," he said. "I spoke to my advisor, and he told me about the Biotech Program, and it felt that every single part of it was exactly what I was looking for."
He also recalled being drawn to the environment at MCCC.
"I loved the campus – the green open areas and the program as well, because I believe Montco is the only one near me that has a Biotechnology Program," Rodriguez said.
He was particularly intrigued by the many different pathways you can pursue in biotechnology.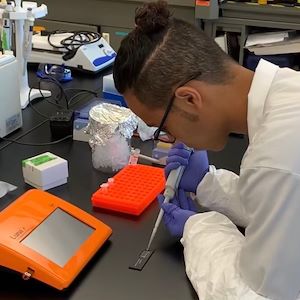 "You can pick up many opportunities you want to do – industry academics, research, biomedical academics," he said. "You can work in different areas – it's not only science – like quality control, quality assurance, consulting or technician opportunities in the lab, too."
He said Biotechnology Associate Professor, Dr. Margaret Bryans, was extremely helpful with relaying any potential opportunities in the field, to help prepare him and his fellow biotech students for the real world.
"She would push us forward, towards it," he said, adding the networking opportunities she presented were invaluable.
College collaborative
One such opportunity was the College-Company Collaborative Program that Rodriguez participated in, along with three other students from the Biotechnology Program at MCCC. This opportunity allowed student interns to work on a company project and carry out the work at the MCCC labs.
"Juan is a strong academically, he is very dedicated and very personable, so I thought he would be a good choice for the program," Bryans said.
Juan worked with the company CellPort Software, which specializes in digitizing the cell manufacturing process.
"He worked with the Cellport developers and programmers as they put together custom CellPort package for training at Montco," Bryans said. "He helped integrate the cell culture lab experiments into the Cellport software.
This integration allows future students to keep an electronic record of all the cell culture work they do in the research course, and better prepares them for working at a biotechnology company where these practices are common.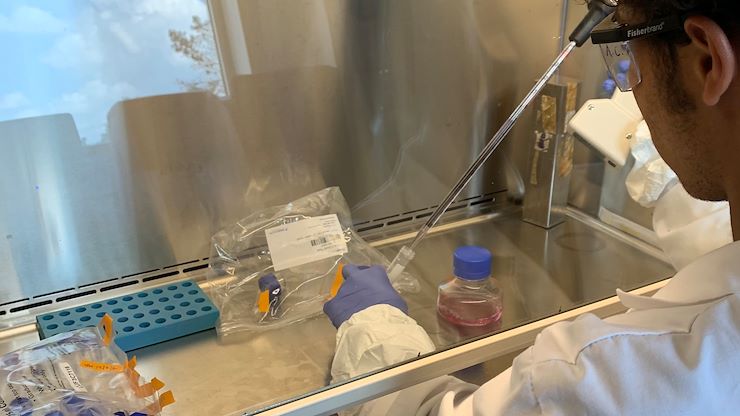 Rodriguez said the experience, which provided a way to make everything in the lab electronically available by going from paper to electronic documentation, was very enriching.
"It was an opportunity to interact with industry partners and was one of the aspects I loved most," he said. It was a full immersion into cell culture practices, and I was by myself doing all the work that I was trained for, and it was a personal achievement."
He presented a poster detailing the work he did during his internship at the National Science Foundation's Advanced Technology Education Principal Investigator's Conference last year, titled Managing Cell Culture and Cell Banking Activities using CellPort Software.
Biotechnology technician research program
Currently, Rodriguez is enrolled in the Biotechnology Technician Training program (BTT) at the Wistar Institute, located in Philadelphia, where he is focusing on biomedical research in his first of two rotations.
"I'm doing it to get a certificate for the biotech training technician program," he said. "I plan to transfer to Thomas Jefferson University (one of MCCC's partner institutions) in the fall where I'll be studying biotechnology."
Rodriguez, who currently lives in Upper Roxborough, Philadelphia, has enrolled in Thomas Jefferson's dual degree program.
"You do three years at Montco and then you gather all the credits for only two years left to get your bachelor's degree and master's degree," he said.
He shared his plans after graduation.
"I would like to enroll myself into a Ph.D. program and do academic research and then perhaps go into the industry later on," Rodriguez said.
Bryans emphasized how the field of biotech is very hot right now, with many local job opportunities in the field.
"The Greater Philly region is at the forefront of the Cell and Gene Therapy industry and that has created a high demand for biotechnicians and bioprocessing associates," Bryans said. "That is where we are seeing graduates get hired,"
Bryans noted that the COVID-19 pandemic has brought a lot of attention to the biotech industry. She described how vaccines, such as the COVID-19 vaccines created by Pfizer and Moderna are biotech products.
"These novel vaccines are made using cells and/or cellular components as are the antibody treatments for COVID 19," she said.
Other avenues in biotech that graduates can take, whether they want to work in a smaller academic lab or a big bio-pharmaceutical company, include research and development, forensics, and molecular diagnostics.
When looking back on his time at MCCC, Rodriguez said his favorite aspect was the people themselves, including his professors with whom he still stays in touch.
"It feels like family," he said. "All of my experiences with my professors went well and if I had to do it again, I would be more than glad to be at Montco."