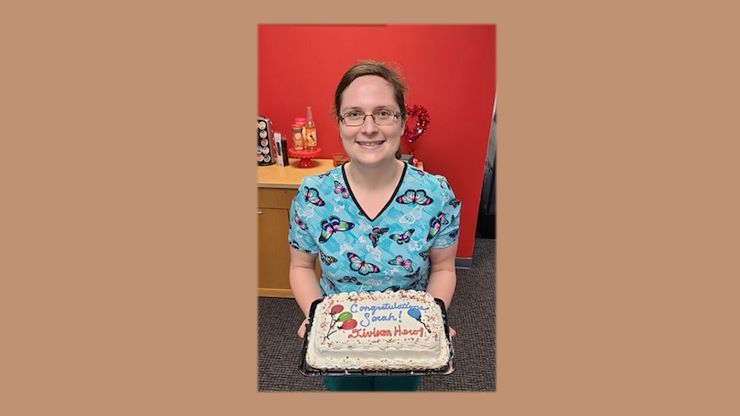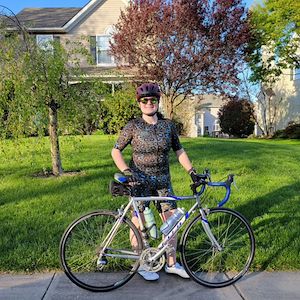 When Sarah Barkley, 27, isn't going to Montgomery County Community College full-time on top of working full-time as a pediatric home health aide, you are likely to find her either running, swimming or biking on her quest to become a triathlete.
"I have a very busy schedule," Barkley said.
The Radiography major was happy to learn earlier this year that she was the recipient of the Dr. Victoria L. Bastecki-Perez Presidential Scholarship. Last year, in honor of the inauguration of its sixth president, Montgomery County Community College Foundation established 11 new presidential scholarships for students, with a focus on first-generation college students.
"I had no idea I was even up for anything," she said. "I work full time and attend college full-time, so this scholarship will help me cut back a little on work hours so I can use them for studying."
Barkley's road to MCCC wasn't a clean transition from high school. Prior, she attended two four-year colleges.
"At York College I was a nursing major and then at West Chester University I was a mathematical finance major, and then I switched to accounting," she said.
Barkley said that while she earned good grades, she realized she ended up not liking the majors the more she got immersed in them. So, she decided to take some time off from going to college to be a home aide and math tutor.
Challenges in finding a major
Given the challenges she had in finding a major that suited her, Barkley began resorting to food for comfort which led to weight gain.
"I didn't know what to do with my life and that got me down, and I gained weight because of it," she said.
When things started coming together for Barkley in pinpointing a major after a two-year break from school, she decided to start getting in shape through running.
"It's a good outlet for me," she said, referring to her involvement in a triathlon club. "It helped me socially, and I can mix friend time and social time, and my boyfriend is a runner, so we run together.
Barkley was led to MCCC when she was in search of an affordable radiography program after realizing her passion lies in the field of medical care through her job as a home health aide.
"I've really enjoyed my job so much and feel like I make a difference every day helping people," she said. "I knew I wanted to stick to health care, so I continued my research and talked with friends in the field about my career options. Radiography seemed like a perfect fit for me.
Online courses
Currently, Barkley's focus is on fulfilling prerequisites and then in the fall, she'll begin the specific courses for her major. After this current semester, she'll receive a Medical Coding Certificate of Completion, along with a Medical Office Assistant Certificate.
Online courses have enabled Barkley to continue her job as a full-time pediatric home health aide, but in the fall, she plans to work part-time since she'll be on campus more.
"I will be in person in the fall, so I will have to cut back my hours," she said.
As Barkley is in the process of wrapping up her second year at MCCC, she shared her end goal.
"With radiology I have the option of x-ray, CT scan, MRI or mammogram," she said. "I'm leaning towards mammography, but I want to keep an open mind."
Aside from learning she was the recipient of a Presidential Scholarship this year, Barkley was surprised to receive more good news from her place of employment when she learned she was the recipient of the quarterly hero award and the division award."
"I won the award for selflessness," she said. "I would work with challenging patients that no one else wanted to work with and also said yes numerous times to schedule changes and hours."
There might be even more awards in store for Barkley in the near future.
"They told me there's a chance I could be a national hero," she said.