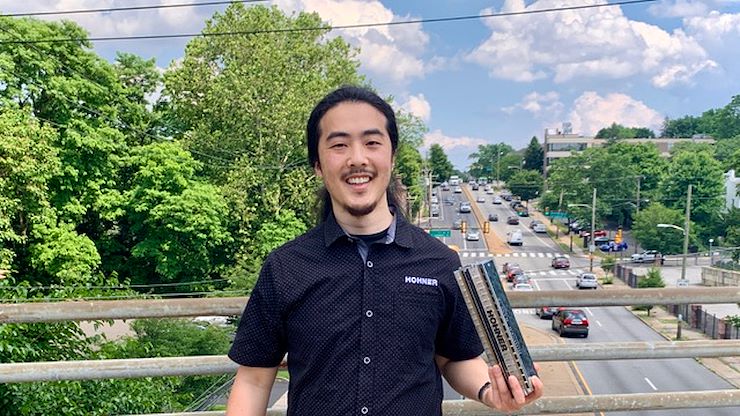 When Boaz Kim, 33, was a youngster he recalled the first time he came across a harmonica that his father had kept from his childhood but never played.
"He kept it in his drawer, and I would find it and play it and mess around with it," Kim said.
Others in his household were musical, which led Kim to start piano lessons at age five.
"My older sisters were taking music lessons and my mom was a professional classical violinist," he said. "I would hear my one sister playing the piano and I thought it sounded like fun."
Over time, he grew an affinity for the trumpet when he started playing in the fifth grade as a student at Elkins Park Middle School. This became his instrument of choice as he continued to play in his high school's concert, jazz and marching bands.
"I would not have excelled and developed an appreciation of music without the guidance of Rick Gazda, my private trumpet teacher during my high school years," he said.
Love of music
After graduation, he decided to continue his educational journey with his love of music as a primary focus.
While he had his sights set on a four-year college, he knew he had some work to do first to enable him to get there. Montgomery County Community College fit the bill to serve as his first steppingstone. MCCC's Music Program, which provides opportunities for private lessons and access to state-of-the-art recording studios, was appealing to him for several reasons.
"It was local and second I needed to improve my GPA from high school to try to get into a four-year university that I wanted to get into," he said.
It was also a way for him to save money and get through a four-year college faster by completing some classes that would be transferable.
Kim, who currently lives in Philadelphia, has fond memories of his time at MCCC that included playing in the Performance Jazz Ensemble under instructors Robin Haffley and Howard Gordon.
"I got to meet other musicians there and it was great to build camaraderie and have fun with music," he said. "I thought a lot of my music classes were a lot of fun."
Boaz discussed the importance of being a part of the Performance Jazz Ensemble.
"It encouraged me to play the trumpet regularly, and the Choirs gave me my first choral experience and confidence with using my voice as an instrument," he said. "Both were vital in transferring to my four-year university to complete my Music Program."
Standout participant in the Music Program
He sang bass (baritone) in the College Choir and Chamber Choir, both under the direction of Music Associate Professor Andrew Kosciesza with accompanist Nancy Chronister on piano.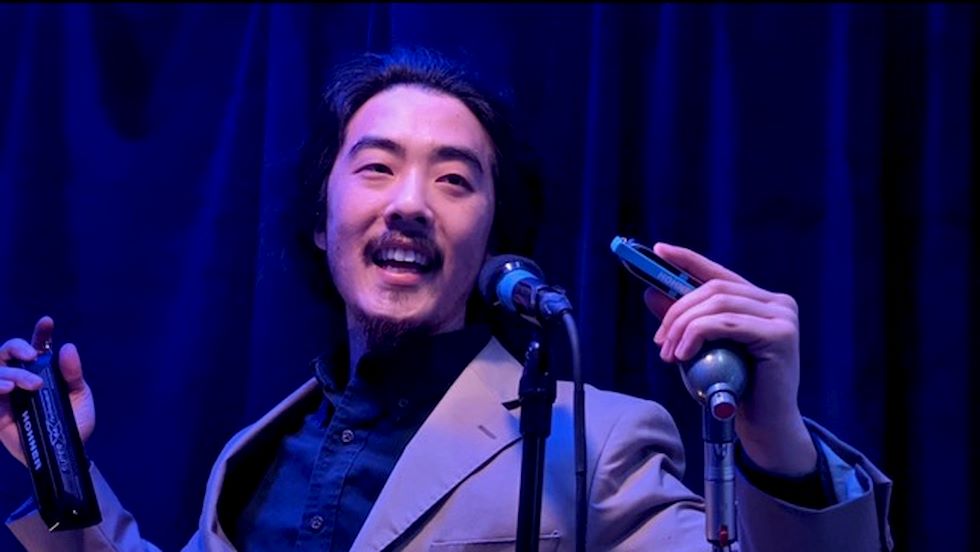 "Boaz was extraordinarily active in the Music Program," Kosciesza said. "He was a standout participant in the College Choir and Chamber Choir, and he was a leading member of the Jazz Ensemble, performing both trumpet and flugelhorn."
Kosciesza said Kim excelled in every area of music that he was involved with at the College.
"He made the most of his time here at MCCC drinking up as many of our offerings as he could in Theory, Ear Training and Music History, along with coursework in Music Technology," Kosciesza said.
He suspected Kim would make music his vocation after graduating.
"I am thrilled that he has taken his passion for harmonica – repair, restoration and performance – and turned that into a profession," Kosciesza said. "I love to follow his successes on YouTube and Facebook."
Partner institution
After graduating from MCCC in 2012 with an Associate of Arts in Music, Kim headed to West Chester University, one of MCCC's partner institutions, to receive a Bachelor in Music Education.
He had to audition for the program, as is typically required by most four-year college music programs. Kim said his transition from MCCC to West Chester was seamless.
"For me, it was simple going from a small to big school," Kim said.
While at West Chester he moved from trumpet onto voice, and eventually, after graduating in 2014, rediscovered his love for playing the harmonica, which he first taught himself how to play when he was in seventh grade.
"I am not able to play trumpet much anymore due to developing Focal Embouchure Dystonia, which affects the muscle control needed to play the trumpet," Kim said.
Today, whether playing the harmonica or singing, Kim gravitates towards jazz, blues, classical and country Western swing music from the 1920s to 1960s.
"At the moment, I'm teaching private lessons for voice, piano and harmonica," he said. "I'm also performing and doing recording sessions of other people's music."
Kim aspires to record his own music one day as soon as he has written enough of his own material to release an album.
"It's something that I really should do more of," he said. "It's trying to be creative and bringing things to life from scratch."
Most recently, he worked on a project with some MCCC friends with whom he has stayed connected.
"I've recently collaborated with a few of them on a brand-new album called, "A Lost Art," by Neisha Grace," Kim said. "It was just released on vinyl a few weeks ago."