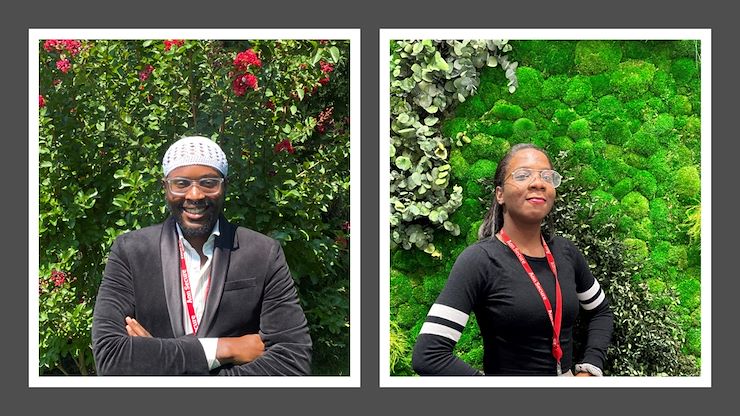 Two liberal arts students have learned invaluable work and life lessons while attending classes at Montgomery County Community College and working at professional services firm Aon plc (NYSE: AON) as part of their two-year apprenticeship program.
Khalil Bullock and Robin Tucker are the first students locally to complete Aon's U.S. Apprenticeship Program since it expanded to the greater Philadelphia region in 2021. Bullock graduated from MCCC in December and Tucker graduated in May.
In addition to earning a salary, receiving full-time benefits and having tuition and books paid for by Aon, Bullock and Tucker received on-the-job training that will help to further their career aspirations in Human Resources and Management, respectively.
Bullock and Tucker will continue in the apprenticeship role and program roles with Aon through September and both will transition to full-time employment at the firm afterward. For Bullock, the experience has opened many doors, including an offer from Albright College to pursue the school's Associate to Master's program in partnership with other community colleges.
"The program makes me feel more confident," he said. "Albright was one of a few different colleges that reached out to me. (The apprenticeship program) helped me feel more capable."
Tucker and Bullock plan to remain at Aon for the foreseeable future.
"I'm here to stay," Bullock said.
The knowledge acquired from MCCC's accounting and finance classes was readily applied in Tucker's job.
The connections and networking skills she fine-tuned at Aon have helped pave the way for her long-term goal of working in a management role. She credits the company with guiding her in "building a community within my city."
Aon's two-year apprenticeship program couples career experience with classroom learning at MCCC. Aon began its U.S. apprenticeship program at its Chicago office in 2017 with 26 apprentices before broadening its reach to Philadelphia, as well as Houston, Minneapolis, New York, Northern California and Washington, D.C. Apprentices dedicate a combined 40 hours per week working at Aon and attending classes. Aon also contracts with a local non-profit, Summer Search Philadelphia, to provide wrap around support to their Apprentices throughout the two-year program. Summer Search works with apprentices to ensure they have the necessary support to balance work, school and life.
The key to successfully navigating the apprenticeship program was developing effective time management skills, according to Bullock. Despite being busy, he carved out time to actively engage in both his work and college lives. At Aon, Bullock joined Business Resource Groups focused on mental health, and diversity, equity, and inclusion.
"They made me feel more acclimated to the firm," he said, adding that members of the groups plan events and activities and allot "time and space to talk about what's on our mind."
At MCCC, Bullock worked with Director of Student Life Tyler Steffy on various student life activities. His favorite was offering campus tours to prospective students in summer 2021.
"It reminded me how much I enjoy recruitment," Bullock said. "I talked to students, welcomed them, answered their questions and gave them a personalized tour experience."
Tucker fondly remembers the one-year anniversary celebration that Aon put on at the Philadelphia office. The company gave apprentices gifts and the opportunity to network.
As she looks back at the near completion of the apprenticeship program, Tucker offers the following advice for future candidates: "Stay confident and assured and learn to speak up and advocate for yourself," she said. "Know that it's OK to ask for help."
About Aon
Aon plc (NYSE: AON) exists to shape decisions for the better — to protect and enrich the lives of people around the world. Our colleagues provide our clients in over 120 countries and sovereignties with advice and solutions that give them the clarity and confidence to make better decisions to protect and grow their business.
Follow Aon on LinkedIn, Twitter, Facebook and Instagram. Stay up-to-date by visiting the Aon Newsroom and sign up for News Alerts here.