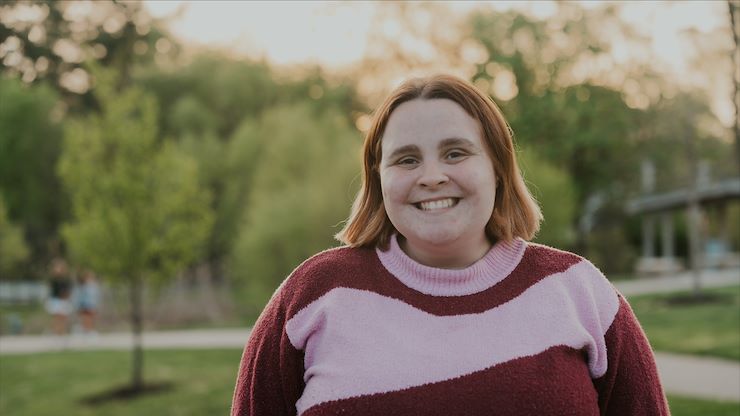 In high school, Grace McGinnis wasn't a model student.
"I was a poor student in high school," she said. "I didn't do my work at all."
She was told by many that a college education probably just wasn't for her. So much so, that she may have started to believe it herself. She graduated from Haverford High School in 2017 and was accepted into a small liberal arts college in Maryland. Yet the Havertown, Pa. native only stayed a year before dropping out.
Today, however, the 24-year-old is thriving in college. She is well on her way toward a bachelor's degree and has been named the Montgomery County Community College 2023 Commencement student speaker. She graduates MCCC Summa Cum Laude, with a 4.0 GPA.
It's been a long and winding road to get here, but the payoff has been worth it.
"I'm very excited," she said on giving her address. "I've never done anything like it before. I thought I represented Montco well and it would be cool to say I was the Commencement speaker."
After dropping out of college the first time, McGinnis took stock of her life. She found a job working at a gym daycare, which later led to her job as a nanny in 2019, where she fell in love with working with children.
"I just love working with children, and I love watching them learn something new," she said previously. "It's really special."
In the spring of 2021, she decided to give college another try. She had moved to Bryn Mawr and enrolled at MCCC to pursue an associate's degree in Education in the Early Years. She began her education during the pandemic, meaning all of her classes this time would end up being virtual, except one.
"At first I was doing two accelerated classes at a time," she said previously. "In the summer, I did a few more. Then in the fall, I did a full load of classes. All the online classes have been great."
Her hard work and dedication started to pay off.
A first-generation college student, last year McGinnis was named the first recipient of The Dr. Victoria L. Bastecki-Perez Presidential Scholarship Award, sponsored by Ken Baker, one of 11 such awards given to honor the inauguration of the sixth president.
McGinnis also received acclaim from faculty who taught her.
"Grace has been an excellent student and it has been a pleasure to watch her bloom as a teacher," said Education Associate Professor Meryl Sultanik, who was McGinnis' professor and student teaching advisor. "She has a wonderful rapport with her peers, as well as with the children she teaches. She is caring and patient. It was my honor to teach such a talented student and to observe her natural teaching ability in an early childhood classroom. Congratulations, Grace, on becoming the Commencement speaker this year- you deserve it!"
McGinnis graduated from MCCC in December 2022 and transferred to Arcadia University, to pursue a bachelor's degree in in Early Childhood Education. Her goal is to become a preschool teacher.
"So far, so good," she said on the program. "It's a specific program for people who are already working in the early childhood field. I work at a preschool, so I can do my observation there. I take accelerated courses, so I've already finished my second course in the program. There are two classes. One is a class, and one is a lab. It's going well. I've enjoyed it so far. I have an online class every Tuesday and my cohort moves through each class together. That's been great."
Her time as a Mustang helped prepare her for the workload at Arcadia, she said.
"I feel like the classes are equally rigorous," she said. "That was helpful. I feel I know what to expect at a four-year institution. They love Montco students there because they say they're well prepared."
When she's not managing a part-time academic load, McGinnis is balancing her time working 30 hours a week at the preschool with her second job as a nanny 15-20 hours a week.
"I work every day, I come home, I eat dinner, I go to bed, I go to class once a week, I do most of my homework on weekends," she said. "I go to the library with friends who are also in school, and we get as much work done as we can. It's helpful they're also in school. We can do it together."
In her speech, McGinnis said she will focus on the idea that many students at MCCC are nontraditional students, like her, who have been told their entire lives that college probably wasn't for them. Yet she and her fellow graduates went to college anyway, despite the naysayers, and are better for it.
She feels proud to walk at Commencement this year.
"It's good to celebrate my accomplishments," she said. "I'm very proud of myself. I didn't think I was capable. The fact that I did it and did it well, I'm very proud of myself. I'm excited for my mom to see."