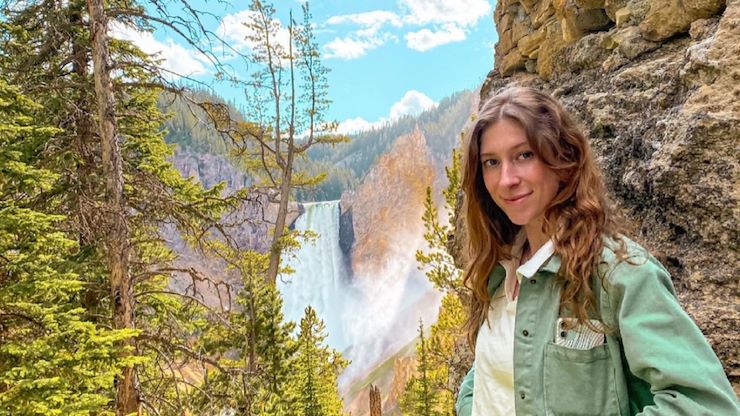 Ever since Nicole Scott was a child growing up in Lansdale, Montgomery County, she recalled loving the outdoors. She thought that one day, her affinity for the natural world would translate into a career of some sort. When she started college in 2018, she was on track with her vision, but things didn't pan out with her chosen major as she had hoped.
"I was a biology major my freshman year and didn't really think that was my calling," Scott said, after taking some classes.
She decided to leave college to take a gap year before enrolling at Montgomery County Community College in 2019. However, she was still undecided about a goal for her professional future.
"I was at Montco for a semester and didn't know what I wanted to do," she said.
Feeling somewhat aimless, Scott met with an advisor at MCCC who suggested she take Intro to Tourism and Hospitality Management taught by Shawn Murray, Hospitality Management Assistant Professor.
"After taking that one course with Professor Murray, I switched my major to the Tourism and Hospitality Management Program," she said.
Next, she took a Sustainable Hospitality and Tourism Managment course, also with Professor Murray, which helped confirm her interest in a Hospitality degree.
"It combines environmental science and hospitality and those were the two tracks I wanted to do, and they aligned so well," she said.
Upon taking the class, she had new enthusiasm for completing the courses required to get her associate's degree in Tourism and Hospitality Management. Scott shares the focus of the Global Sustainable Tourism that makes her so passionate.
"It has to do with a lot of beach destinations and places in Third World countries – areas that are not developed enough to meet the demands of tourism they are receiving, so it is not helping but hindering it," she said. "There is always a need for sustainability to help solve their issues, so that it's not invasive."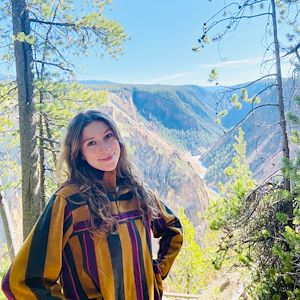 After graduating from MCCC in 2021, Scott completed her Tourism and Hospitality Management's internship at Yellowstone National Park in food and beverage. Murray helped her get the internship through a relationship he has with Yellowstone.
"Over the past three years, eight MCCC Tourism and Hospitality Management students have taken advantage of this relationship and have had a great experience," Murray said.
Scott shared some highlights from her experience in working there.
"I was an office assistant, and I made a ton of really good friends, and it was one of my favorite summers," she said.
MCCC created the foundation for her next degree
The following fall of that year she transferred to Florida International University's Chaplin School of Tourism and Hospitality Management in pursuit of their brand-new bachelor's degree being offered in Global Sustainable Tourism.
"I will actually be the first person graduating with a Global Sustainable Tourism degree from the school this spring," she said, adding that others currently enrolled in the program won't be graduating until the fall.
Murray discussed how college students, such as Nicole, who are looking to transfer to a top four-year institution in the tourism field, can benefit from the surroundings FIU has to offer.
"Florida International University in Miami provides a great backdrop to study and explore such diverse ecosystems and biodiversity within sustainable travel and tourism, which she has taken advantage of," he said.
Now a resident of North Miami, Scott recalls how MCCC was the perfect fit for her after graduating from high school.
"I didn't have my priorities straight, and they cared if I was sitting in my chair that day and if I was doing well in my classes," she said. "I felt like I needed that as someone young coming right out of high school."
Today she is among the over 58,000 students enrolled at FIU where she is an honor roll student, the recipient of a South Beach Wine & Food Festival scholarship and has been featured in the University's publication highlighting the cutting-edge area of sustainable tourism. Now in her final year as a senior, Scott works two part-time jobs.
"The first is the Hillstone Restaurant Group where I work as a waitress and the other is at Oleta River State Park where I'm an eco and nature tour guide and event specialist," she said.
Scott's roommate at FIU, Briana Napoli, also is a former MCCC Tourism & Hospitality Management graduate.
"We are really good friends, and we have been living together for like a year now," she said.
This past summer, Scott participated in a study-abroad program in Italy through her academic programming at FIU where she focused on Italian culture and language.
"My dad's side of the family is from Southern Italy," she said. "I wanted to see where my roots were from and do what I do here but experience different cultures."
During the month of July, she studied at Accademia Italiana Salerno and traveled to many different regions.
"We ate at hundreds of restaurants," she said. "It was a really cool experience, and I felt like I experienced hospitality from their perspective."
International study abroad program
This month, Scott will be participating in a second international study abroad program called Hospitality at Sea. It is a 14-day sustainable tourism course hosted on a real-life cruise ship.
"The course explores South America in areas such as Chile, Argentina and Uruguay," she said. "We'll be doing activities such as horseback riding, hiking, and kayaking. We'll also explore different regions to see how they manage tourism so that it positively benefits the economy and the environment."
Murray said that all of Nicole's accomplishments are making a positive impact on others pursuing the field of sustainable tourism.
"Nicole is such an amazing leader and is creating a blueprint for current Tourism and Hospitality Management students to follow," he said. "I am so proud of how she is consistently mentoring current MCCC tourism students and personally helping me continue to foster our partnership with Florida International University."
Currently, Scott is unsure of what the future has in store for her after graduation, but she is open to travel and working in different countries. She is looking at positions in Hawaii and other beach regions craving sustainability.
"I'm excited to graduate," she said. "Sustainable tourism is such a new industry, and I feel like I'm at the forefront of it. I'm very excited to see what happens."