Our 186-acre campus in Blue Bell, PA features nine beautiful, state-of-the-art buildings situated on well-manicured, flower-lined lawns, walkways that wind past trees, outdoor benches and public art and ample open space for you to catch up with friends, play sports or just enjoy the college scene.
Download the Blue Bell Campus Map
Advanced Technology Center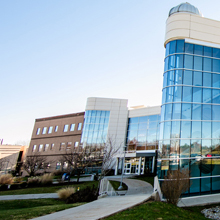 Opened in 2007, the Advanced Technology Center houses programs in Biotechnology, Communication, and Computer Science, as well as the College's Information Technology offices. Features include state-of-the-art laboratories, classrooms, recording studios, an observatory, TV studio, Montco Radio station, and the Portal Cafe.
College Hall
College Hall is the hub of student life at the Blue Bell Campus. Here, you'll find Enrollment Services, Student Success Center, Brendlinger Library, Cafeteria, Student Leadership and Involvement, Public Safety, Business Office, and Human Resources.
Fine Arts Center
Renovated and expanded from an original Gwenyllan Farms dairy barn, the Fine Arts Center's original silos have become a signature icon of the College's Blue Bell Campus. The facility houses the College's Fine Arts programs, and features art studios, classrooms, computer laboratories, and a beautiful public gallery and outdoor sculpture garden.
Health Sciences Center
The state-of-the-art Health Sciences Center includes a large fitness center, newly renovated gymnasium and high-tech health science classrooms.
Parkhouse Hall
Parkhouse Hall is the primary classroom building at the Blue Bell Campus. In addition to 74 smart classrooms and 166 full-time faculty officers, the building features a Center for Entrepreneurial Studies and Park Place Café.
Enrollment and Student Services are temporarily located in Parkhouse Hall while College Hall undergoes renovations.
Science Center
The Science Center is home to classrooms and laboratories for Engineering, Science, Theatre Arts, and Music programs, as well as the Cultural Affairs Box Office. Features include a Dental Hygiene Clinic, Black Box Theater, and a 398-seat Science Center Theater.
Veterans Resource Center
A renovated farmhouse from the early 1900s, the Veterans Resource Center now houses the College's Veterans Services staff and a classroom/lounge for student veterans.