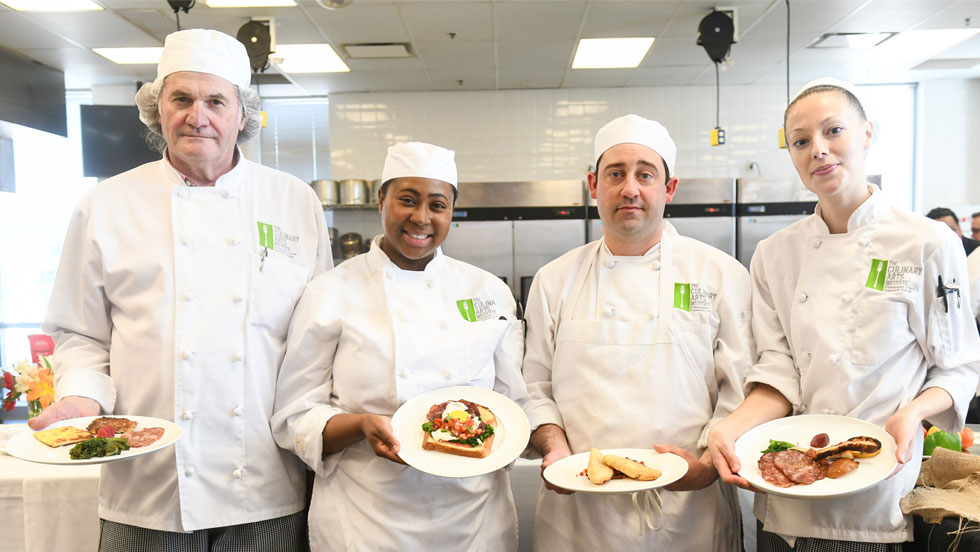 Using their culinary skills, four students created tantalizing dishes to impress the judges in the Clemens Food Group's Mystery Basket Cook-Off during the Spring Open House at The Culinary Arts Institute (CAI) of Montgomery County Community College (MCCC), 1400 Forty Foot Road, Towamencin Township, on April 14.
At the end of the two-hour competition, students Tara Young of Phoenixville and Christopher Ferrigno of Morrisville took home the top prizes of $1,000 and $500, respectively, which were generously provided by the Clemens Food Group.
During the first round, students were faced with unique mystery basket ingredients – including Hatfield®'s new foodservice Uncured Shoulder Bacon, as well as fire-spiced Cheetos, mustard greens and Chinese five spice - in their all-day breakfast-themed dishes. They had 45 minutes to develop and execute dishes to impress the judges' taste buds and move on to the second round.
While visitors from the Open House watched, students Kathryn Trout of Pennsburg, Lucas Yastrebov of Ambler, Ferrigno and Young calmly sliced, chopped, and cooked their food.
After tasting and comparing notes, the judges – Jen Moyer Murphy, Corporate Chef at Clemens Food Group, Bernard Elam, Foodservice Marketing at Clemens Food Group, and Gaetan Giannini, MCCC Dean of Business and Entrepreneurial Initiatives – made their selections.
"Two contestants were spot-on for the coordination of their flavors and presentations," said Moyer Murphy. "Chris Ferrigno and Tara Young will move on to round two."
Ferrigno and Young faced the challenge of making dessert using Thick Cut Hatfield® Uncured Bacon, sweet tart candies, chutney and kumquats, a citrus fruit that looks like a miniature orange. Using all of the ingredients, Ferrigno prepared a bacon roulade topped with pureed strawberries and a chutney and bacon syrup and dusted with powdered sweet tarts. Young baked kumquat-flavored cookies, which she topped with a cream cheese sweet tart glaze and bacon chutney.
"The most difficult part was recalling the recipe for the cookies," said Young, who learned to cook when she moved into her own apartment. She is enrolled in the Baking and Pastry program at CAI.
Photo: Students from The Culinary Arts Institute (CAI) of Montgomery County Community College recently competed in the Clemens Food Group's Mystery Basket Cook-Off. Tara Young of Phoenixville and Christopher Ferrigno of Morrisville took home the top prizes of $1,000 and $500, respectively, which were provided by the Clemens Food Group. From left: CAI students Lucas Yastrebov of Ambler, Tara Young of Phoenixville, Christopher Ferrigno of Morrisville and Kathryn Trout of Pennsburg. Photo by Matthew Wright