Maria Maneos '02, Fine Arts, doesn't remember a time she didn't like to draw or paint, to create, to make art in one form or another.
Over the last several years, that desire to be creative has meshed with a desire to serve a certain segment of the community while educating others, culminating in an artistic installation that was chosen to be part of the prestigious 2018 Art of the State Exhibition in Harrisburg from June 24 to September 9.
Maneos' exhibit, "5535-2017," consists of more than 300 monofilament lines, clustered into one small area, and hangs about 15 feet from the ceiling of the State Museum of Pennsylvania. Each line is anchored by a weight at the bottom and is adorned along its length with one-inch clear glassine bags—the type heroin is generally sold in.
"Each bag also contains a shining crystal to represent the beauty and light of the soul for each of the 5,535 victims lost to opioid or heroin overdose in Pennsylvania during 2017," Maneos explains. "Just hearing a number doesn't impact you the same way as actually seeing it. The installation is both beautiful and horrific at the same time."
The artist, who lives in North Wales, where her studio also is located, was inspired to create this timely piece through a series of events centered around her son, John, and his struggle with drug addiction while a high school student and his subsequent incarceration.
"This art piece is intended to give visitors an opportunity to see the lives lost and perhaps the feeling of loss attributed to the over-prescribing of opiates, the infestation of heroin in our country and the lack of help or identification of mental health issues," Maneos says. "Maybe it will help people recognize that each crystal represents a real person who went through severe trials in their lives and help us all to remember them and be aware of the issue to hopefully deter others from falling into this rabbit hole."
Today, Maneos brings her art to the community, where she guides others in discovering their own creative abilities and using them to help heal from addiction.
When Maneos, now 47, decided she wanted to return to school back in the early 2000s, she realized that art was a common thread in her life, so she enrolled in the Fine Arts program at Montgomery County Community College. She continued her education, earning a bachelor's degree in Fine Arts from Arcadia University and then a master's degree in Fine Arts from the Pennsylvania Academy of the Fine Arts (PAFA).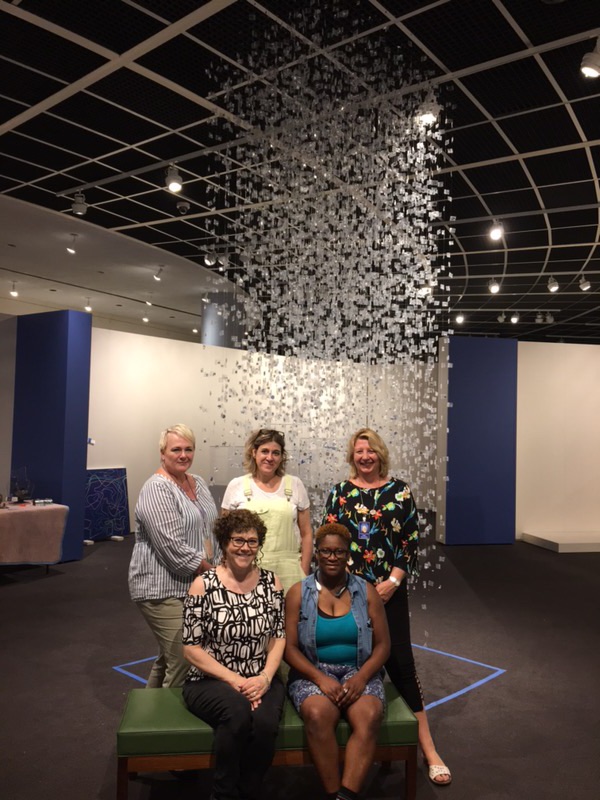 After her first visit to her son in the county jail, she founded Brush With The Law (BWTL), a non-profit, community service-based visual arts program that helps educate and enlighten the public to the struggles of those experiencing the effects of drug addiction, homelessness, mental and behavioral health, and the criminal justice system while offering these socially marginalized populations a chance to express themselves creatively through art projects that beautify public spaces in and around Montgomery County and other regions within the Philadelphia area.
Through a chance meeting with a Montco employee, Dan Simons, (his sister, and first female police officer of the Norristown Police Department, passed away from an incurable form of cancer and was featured in a mural created by BWTL at the Norristown Police Department) Maneos was introduced to Patrick Rodgers, the College's director of galleries. The two created an exhibition held in the fall of 2017 at the West Campus in Pottstown. "Art of Recovery" featured artwork created by people recovering from addiction who worked with Maneos through BWTL and inmates at the Montgomery County Correctional Facility and the State Correctional Institution at Graterford. The centerpiece of the exhibit was a piece similar to "5535-2017."
Titled "4642-2016" it featured that number of baggies containing crystals, symbolizing the 2016 Pennsylvania victims of opioid/heroin overdose, and was hung from the upper story of the North Hall Gallery. It was this centerpiece that Maneos submitted to the Harrisburg jury. Hers was one of only 100 pieces accepted out of more than 1,800 entries.
"This is a major honor for Maria and Brush With the Law, which conceptualized the piece," says Rodgers. "The Pottstown exhibit was an excellent example of the College and the community joining forces to make art that makes a difference, and the state is, in a way, recognizing our collaboration on a topic that matters to all Pennsylvanians.
"We were so grateful to Maria for allowing us to be a forum for her work and we're so proud that the piece can now be part of the same important conversation at an even bigger forum in Harrisburg," he added.
Maneos is thrilled and still surprised her work was chosen for the exhibit.
"I have long realized that the biggest part of my art relies on the sublime," Maneos explains. "I explore the beautiful that leads to an immensity … I'm always looking for the sublime feeling that I know has something bigger behind it."
The annual Art of the State exhibition is the official, statewide, juried competition for Pennsylvania artists. Artwork is selected from five categories: craft, painting, photography, sculpture and work on paper. The exhibit runs from June 24 through September 9, 2018, in the State Museum of Pennsylvania, located at 300 North Street in Harrisburg.
Photo caption: Montgomery County Community College alumna Maria Maneos' exhibit, "5535-2017," was selected to be part of the prestigious 2018 Art of the State Exhibition in Harrisburg from June 24 to Sept. 9. Standing, from left: Carol Buck, History Curator at the State Museum of PA; Maria Maneos of North Wales; Beverly Lichkus, special assistant for Art of the State. Sitting, from left: Michele Ensminger, Exhibits Chief at the State Museum of PA; and Ameika Malcolm of Hope Works.