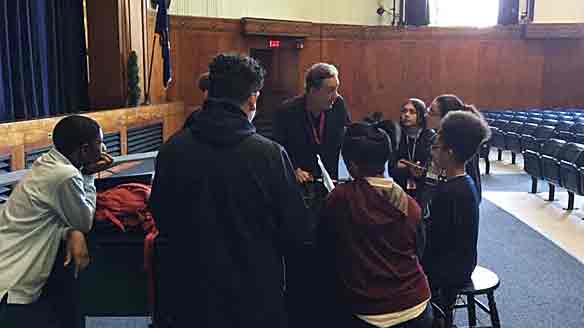 Montgomery County Community College's Lively Arts Series will be sharing a special presentation, "Finding Communidad/Finding Community: An Intergenerational Storytelling of Norristown," on Friday, Dec. 7, at 10:30 a.m. at Montgomery County Community College, Science Center Theater, 340 DeKalb Pike, Blue Bell, that is the result of a collaborative community project among youth, families and senior citizens.
Since September, David Gonzalez (Artist-in-Residence) and Mila Romero (Teaching Artist), as part of an extended residency, have been working with Eisenhower Science & Technology Leadership Academy students, and senior citizens from the Senior Adult Activities Center of Montgomery County in Norristown.
The project included a series of interviews of community members by Eisenhower Middle School students and creative and dramatic writing and engagement workshops with MCCC, ACLAMO Family Services and senior citizens from Montco SAAC. Using the information they collected from the interviews and workshops, they created a suite of compelling stories and images that reveal the hopes, dreams and fears of the Norristown community which will be presented on Dec. 7.
"Eisenhower students have learned a great deal through the residency with these outstanding artists, and we are so fortunate to partner with MCCC. This experience has allowed students to explore deep values of family, self, and community while discovering ways to celebrate their oneness through diversity," said Dr. Barbara Weikert, a teacher at Eisenhower.
The artistic directors of the project believe that "art has the power to breathe positive life into the community, while making the community's world more visible and accessible to others."
"The American poet Muriel Rukeyser once noted that The Universe is made of stories, not of atoms.' We create and recreate our lives based on the stories we hear, the stories we believe, and the stories we tell. When storytelling is silenced our humanity is compromised, and when storytelling is encouraged and supported, (as it was in this project) our humanity thrives," Gonzalez said.
"The students have embarked on a journey that is much brighter than the spotlight of a theatre, much deeper than the opportunity to be an artist on a stage. Their journey in this project has been about the respect we pay to our ancestors, their images and presence. It has been about committing to the responsibility of telling their stories and keeping our cultures and community alive," Romero adds.
This civic arts initiative was made possible through a National Endowment for the Arts $10,000 Challenge America awarded to MCCC's Cultural Affairs Office. As part of the grant, Gonzalez presented "Finding North," a one-person show created from research and oral histories about the sacrifices and dreams of the African-American Underground Railroad hero John P. Parker, as well as contemporary American immigrants. Gonzalez then hosted the six-week artist-in-residency program at Eisenhower, ACLAMO and Montco SAAC.
"For more than 30 years, MCCC has been hosting renowned performing artists and fostering these types of events to further critical conversations," said Brent Woods, Senior Director of Cultural Affairs at MCCC. "As part of our work, we frequently bring the arts to the youth in the community through performances and workshops, and we are grateful to receive this generous grant from NEA to expand and continue our work."
Each year, more than 4,500 communities large and small throughout the United States benefit from NEA's grants to nonprofits. In 2018, NEA has awarded more than $25 million in grants across all artistic disciplines to nonprofit organizations in all 50 states, the District of Columbia, and Puerto Rico. These grants are for specific projects and range from performances and exhibitions, to healing arts and arts education programs, to festivals and artist residencies.