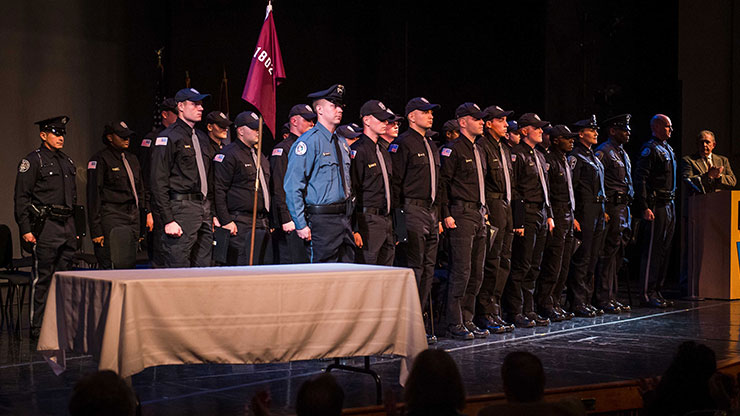 Thirty cadets are prepared to join area police forces following their graduation from Montgomery County Community College's Municipal Police Academy on Dec. 19 during a ceremony held at the College's Science Center Theater in Blue Bell.
MCCC President Dr. Kevin Pollock, MCCC Vice President of Workforce Development and Continuing Education and West Campus Dr. David DiMattio, and Montgomery County Commissioner Vice Chair Kenneth E. Lawrence, Jr. and Commissioner Joe Gale congratulated the new officers of Class 1802 and recognized their important role in the community.
Magisterial District Justice Paul N. Leo, who has been teaching at the Academy for more than 25 years, was selected by the class to give the keynote address. He reminded the cadets that, although they are well-prepared, they would encounter experiences on the job that would define them. He also praised them for their talents.
"You heard of the show, 'America's Got Talent,' well, the Class 1802 has got talent," he said.
Police Academy Director Jude T. McKenna recognized the accomplishments of the cadets, announcing the valedictorian and awards.
Earning the highest average in the class of 95.3 percent, Edward Nitka of Philadelphia was named valedictorian. Classmates Aldan Mueller, who had a 95.1 percent, and Tiffany Bobb, who had 95 percent, were close contenders.
Lt. Michael Kirkpatrick earned the Platoon Leadership award. The Marksmanship Award went to Daniel Carr and Aldan Mueller. The Spirit of Distinction award was presented to Kevon Darden.
Five of the graduates will be employed immediately as officers—Michael Kirkpatrick and Cesar Zavala (Lower Merion Township Police Department), Aaron Houston (Abington Township Police Department), Tiffany Bobb (Norristown Police Department) and Zachary Saurman and Thomas Sweeney (Springfield Township Police Department).
During the ceremony, family members of the late East Norriton Police Chief John J. McGowan, III, presented a check for a $3,500 scholarship named in his memory to Brett Beaumont. The McGowan family started the scholarship fund after John McGowan died in a motorcycle accident in 2010. The scholarship is awarded annually to a cadet who has successfully completed the program and is financing their own tuition.
Representatives from the Quest for the Best® charitable foundation, President Taras M. Wochock and Vice President Daniel A. Czaplicki, presented two scholarships in the amount of $2,500 each to Ryan Geist and David Lopez. Quest for the Best® awards four scholarships in the amount of $2,500 each year to cadets who demonstrate leadership and excellence during the program.
Class of 1802 includes Donnell Allen, Norristown; Jonathan Amanto, Phoenixville; Brett Beaumont, Bensalem; Tiffany Bobb, Conshohocken; Brandon Bolton, Quakertown; Ryan Byrnes, Downingtown; Daniel Carr, Chalfont; Alex Cucciarre, Souderton; Kevon Darden, Philadelphia; Timothy Dixon, Abington; Ryan Geist, Gilbertsville; Aaron Houston, Abington; Michael Kirkpatrick, Collegeville; Thomas Laffredo, Norristown; David Lopez, Philadelphia; Jake Lyons, Broomall; Michael Meisner, Doylestown; Aldan Mueller, Ottsville; Edward Nitka, Philadelphia; Christopher O'Connor, Warrington; William Reilly, West Norriton; Dominic Rigous, Warrington; Ostap Royik, Ambler; Joseph Santospago, Doylestown; Zachary Saurman, Abington; Thomas Sweeney, Abington; Andrew Templin, Douglassville; Andrew Urban, Ambler; Jasmine Wooten, Bristol; and Cesar Zavala, West Chester.
Since 1973, the Police Academy has been the training ground for more than 3,500 cadets with a consistent graduation rate of more than 90 percent. The 919-hour curriculum allows successful students to articulate up to 15 credit hours toward an associate's degree in Criminal Justice Studies. The Academy is certified by the Commonwealth of Pennsylvania through the Municipal Police Officers' Education and Training Commission.
MCCC operates the Municipal Police Academy in the Health Sciences Center, Central Campus, 340 DeKalb Pike, Blue Bell, Pa.