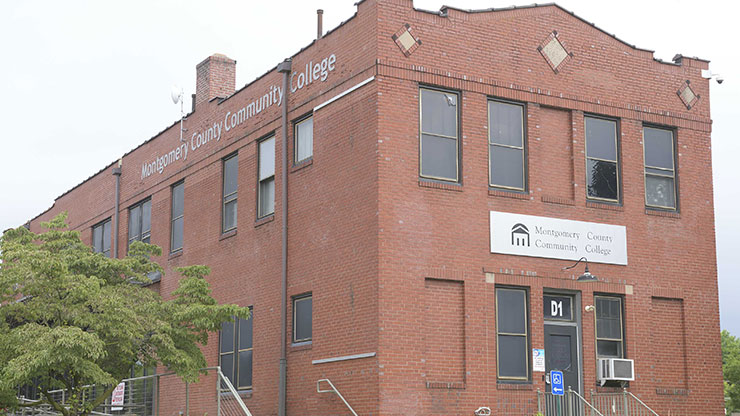 When Chris Henry signed up for the Machinist-Computerized Numeric Control (CNC) course at Montgomery County Community College, he was unemployed and unsure of his next move. Guidance from experienced faculty and class visits to local manufacturing firms to see coursework in action helped Chris learn machining operations quickly, and by the end of the program, he was offered a job at Globus Medical in Audubon, PA.
"The training was very hands-on and afforded me the opportunity to learn the craft. The instructor was great and took his time with students to show various ways of doing jobs on the machines," Chris said of his time in the Machinist-CNC program.
In a region where employers are eager to find workers with the quality training to excel in industries ranging from manufacturing to real estate, the Workforce Development programs at Montgomery County Community College (MCCC) create a clear path to employment for everyone from career changers to first-time job seekers.
MCCC's Workforce Development Division, headquartered at the College's West Campus in Pottstown, works closely with employers across the county and region to develop training solutions that benefit both the business and employee. MCCC also gives Pottstown employers a competitive advantage by providing a skilled workforce, collaborating closely with area firms to create workforce development programs that meet their needs.
Highly regarded training programs provide the technical skills needed for students to succeed in high-demand fields including business, health care, manufacturing, public safety and technology. A team of faculty committed to student success balances "hard skills" with job search guidance, interviewing tips and worksite tours that translate classroom instruction into real- world success. Past and future programs at West Campus include Certified Nursing Assistant, Gas Distribution Pipeline Mechanic, Cybersecurity Technician, Office Assistant, and Payroll Technician.
"MCCC helps students build the foundation for a successful career in the machining industry," said Brad Bouchard, a production supervisor at Globus Medical. "Over the last 18 months, I have hired seven MCCC grads for various roles, and I have retained six out of the seven. That is the best retention ratio out of all the recruiting tools I use to find quality employees. MCCC has been a great partner with regards to helping staff our new division and shop."
By investing their newfound skills back into the surrounding area, students in the Workforce Development programs at MCCC's West Campus are playing their part in the ongoing revitalization of Pottstown.
Explore course information, registration information and all of the opportunities that MCCC's West Campus offers through our Workforce Development programs.