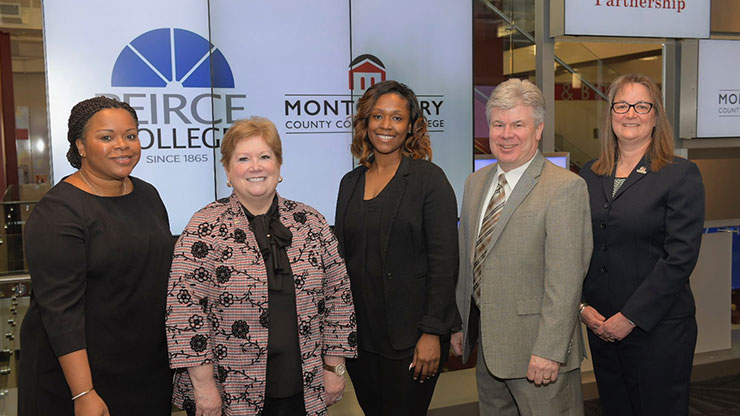 Montgomery County Community College and Peirce College are celebrating their recently expanded partnership that will provide MCCC graduates with a seamless pathway to their bachelor's degrees at Peirce.
"Our partnership with Peirce College enables our students to be successful in the next step of their educational journey," said MCCC President Dr. Kevin Pollock. "This agreement recognizes the quality and rigor of MCCC's curricula—a testament to our talented faculty—and allows our graduates to smoothly transfer credits so they can continue their momentum and earn their next degree without interruption."
The expanded agreement includes dual admissions, core-to-core and program-to-program articulations. Through a 3+1 pathway, MCCC graduates have the option to take additional courses at MCCC after earning their associate's degrees. Peirce will accept 60 to 102 transfer credits, depending upon the program, which results in a significant cost savings for students.
"Our goal is to make it easier for Montgomery County Community College students to earn more credits at MCCC that apply directly to a bachelor's degree at Peirce, which helps lower cost and reduce student debt," said Dr. Mary Ellen Caro, president and CEO of Peirce College. "This is about creating more affordable pathways to a bachelor's degree for MCCC students and graduates."
Majors under the articulation agreement include Accounting, Business Administration, Computer Networking, Criminal Justice, Health Services Management, Information Technology, Medical Coding, Organizational Leadership and Public Health. For more information about the 3+1 pathway, visit www.peirce.edu/mc3.
MCCC and Peirce share a similar commitment of supporting the educational success of learners at all stages of life. Both institutions offer flexible schedules with online and on-campus programs, which is helpful for non-traditional, adult learners who often are managing work, family and school responsibilities.
For MCCC and Peirce graduate, Shania Bebee, the transfer partnership and Peirce's flexible scheduling options helped her to earn her bachelor's degree while working full-time and raising her two children.
"Montco provided a great foundation for me," said Bebee, who earned her associate's degree in Management at MCCC. "Peirce helped me along the way by providing the support I needed to earn my bachelor's degree in Human Resource Management."
While MCCC's graduates have successfully transferred to four-year institutions across the country, formal partnerships, like the one with Peirce, streamlines the transfer process. MCCC has agreements with more than 34 transfer partners.