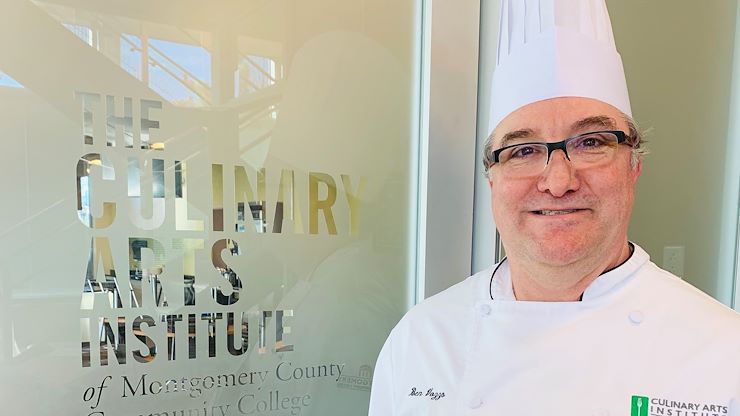 The American Culinary Federation Philadelphia Delaware Valley Chefs Association recently named Chef Benjamin Vozzo, instructor and culinary resource manager for The Culinary Arts Institute of Montgomery County Community College, as the 2019 Educator of the Year.
The Educator of the Year award recognizes a culinary educator whose knowledge, skills and expertise have enhanced the image of the professional chef, and who by example has given leadership, guidance and direction to students pursuing a career in the culinary field.
"We are incredibly proud that Ben was recognized for his work with our students," said Vice President of Academic Affairs and Provost Dr. Vicki Bastecki-Perez. "He is a valuable member of the CAI team and helps to provide opportunities for our students that enable them to grow in their careers."
Chef Vozzo has been an instructor and culinary resource manager for CAI since 2017. Last year, he mentored a team of students who competed and won first place in the Burger Brawl University Challenge and went on to compete in the 8th Annual Philadelphia Burger Brawl competition.
In addition, Chef Vozzo works closely with the area high schools and vocational technical schools, helping students learn more about the pathways and programs offered by CAI. Recently, he helped to organize and run a mystery-basket cooking competition at CAI for students from the vocational-technical high schools in Montgomery County.
"I am honored to be named Educator of the Year," Chef Vozzo said. "I am happy to work with the talented staff here at CAI to help create the next generation of culinarian professionals and give back to a profession that has given me so much."
Prior to CAI, Chef Vozzo was the executive chef for CulinArt Managed Dining Services at the Penn Charter School and was a culinary instructor at the Star Career Academy. He has been working in a professional kitchen since he was 13 years old, and he had the opportunity to serve as an apprentice and then work at The Four Seasons Hotel in Philadelphia under Chef Jean-Marie Lacroix.
The American Culinary Federation is a professional organization for chefs and cooks. ACF has more than 15,000 members belonging to more than 150 chapters in four regions across the country. It offers educational resources, training, apprenticeships, competitions and program accreditation designed to enhance professional growth for chefs. The ACF Philadelphia Delaware Valley Chapter meets monthly at different member organizations in the region.