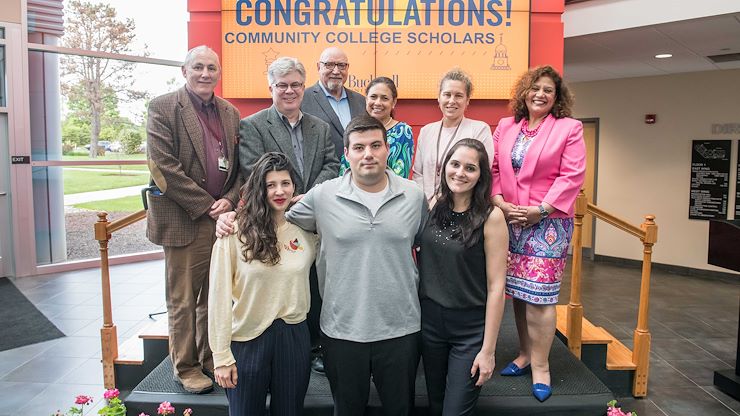 Four students from Montgomery County Community College were awarded full-tuition scholarships as a part of the Bucknell University Community College Scholars Program.
Asteri Aliaj of Rockledge, Caroline Benitz of Norristown, Connor Judge of Worcester and Shane Staret of Collegeville received funding to continue their undergraduate education at Bucknell University.
Initially funded by the Jack Kent Cooke Foundation and now funded by Bucknell, the Community College Scholars Program enables high-achieving, low-income community college students to complete their education at the university located in Lewisburg, Pa.
Aliaj, an Environmental Engineering major, acknowledges the work that she has put in with program that led to her receiving the scholarship.
"I was super excited to receive this honor," said Aliaj. "I worked really hard and I am excited to continue with the next chapter of my life."
All four students were a part of Bucknell's Summer Residency Program in the summer of 2018. The summer program allows students take two courses on Bucknell's campus for six weeks with the guidance of student and faculty mentors. Participants then have the opportunity to apply to Bucknell for the following year, and if accepted, transfer to the university with junior status on full-tuition scholarships.
Judge, a Political Science major is grateful for the summer program and is looking forward to continuing his education at Bucknell in the fall.
"Receiving the opportunity last summer gave me the chance to test the strategies I learned during my time at Montco and to learn new skills that I can take with me," said Judge. "The scholarship, which I am humbled to receive, is a commitment to a lot of work and I'm looking forward to it."
The summer program encouraged Benitz, a Psychology major, in her studies and inspired her to rise to new challenges.
"It made coming back to Montco more interesting because now you know what you're able to do and it makes you want to challenge yourself more," Benitz said. "Getting the scholarship gives me confidence. It showed me that I could do more than I thought."
Kristin Fulmer, counselor and assistant professor, is an advisor for the Bucknell University Community College Scholars Program. She is proud of the work that the students have done and is excited to see them reach their potential.
"The students are really motivated and willing to do what they need to do to succeed on a higher level," said Fulmer. "The biggest thrill is that it opens up these doors for students who may not have ever thought that they could get into a top tier school or afford it."
Montgomery County Community College has participated in Bucknell's Community College Scholars Program since 2006. Including this year's scholars, a total of 65 students attended the summer residency program, and a total of 50 students transferred to Bucknell on full-tuition scholarships.