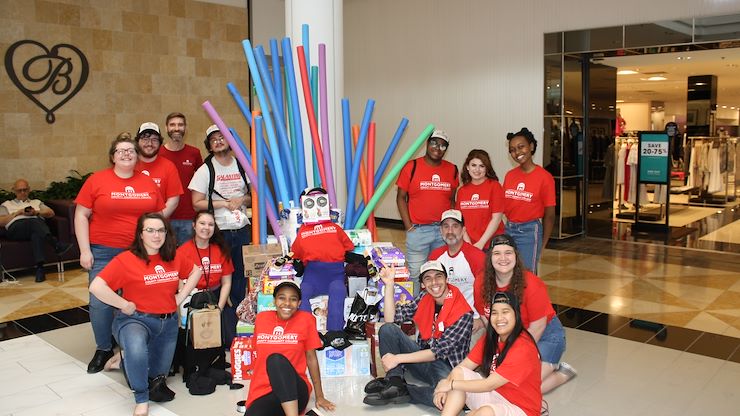 With some creative thinking, students of Montgomery County Community College's Theatre Arts Program helped raise awareness for Laurel House.
On May 17, Theatre Assistant Professor Tim Gallagher, Galleries Director Patrick Rodgers and 12 students visited the King of Prussia Mall to participate in the Laurel House Works of heART community exhibition promoting healthy relationships and strong communities. The participants from Montco built a sculpture using donations of diapers, paper towels, and other hygiene products collected from members of the College community.
Laurel House is a comprehensive domestic violence agency, providing support services, as well as dating violence and domestic violence prevention education through Montgomery County. The Works of heART community project brought local organizations, including Montco, together to support Laurel House's mission to advocate for and empower those impacted by domestic violence.
Betsy Kilkenny, Director of Fund Development at Laurel House, was on hand to supervise the project, and she was proud to see groups participating in the advocacy event.
"It's a different take on raising awareness," she said. "Domestic violence is typically only covered when tragedy happens. We are partnering with different organizations to promote advocacy and prevent occurrences of violence."
Laurel House has worked with the College in the past. Faculty and staff have collected donations of hygiene products, clothes and non-perishable food items over the years, and students have collaborated on events such as Take Back the Night, a protest event to raise awareness of sexual assault and domestic violence. The Theatre Arts program recently donated proceeds from their spring show Failure: A Love Story to the organization.
Gallagher organized student volunteers, who were eager to participate in the art project.
"The students have been very excited about building the sculpture," he said. "I know in classes they like to learn through performance and improvisation. It is exciting for students to figure out solutions in a fun and creative way."
Gallagher and Rodgers decided that a chair would be an easy, recognizable sculpture for the students to make, and the students built on that plan to make the sculpture their own. Using donated materials and their improvisation abilities, the students built a replica of the Iron Throne from HBO's Game of Thrones complete with a person named "Tippie," a dog named "Winnie" and a cat named "Trixie."
Student Haley Simmonds of Lansdale enjoyed working on the project and was excited to see the other groups involved.
"It was great seeing all the different groups," she said. "This a fun way to raise awareness and I hope this will encourage people to donate to Laurel House."
For student Mersha Wambua of Willowgrove, the Works of heART project was a learning experience that she can take with her in the future.
"I wasn't aware of Laurel House and this project before we started collecting donations," she said. "Now that I know about Laurel House and their mission, I can tell other people.".
Others students involved in the project were Madison Undercuffler of East Greenville, Ashley Sullivan of King of Prussia, Maya Davis-Goodstein of Collegeville, John Falcone of Pottstown, Emma Burrus of Pottstown, Trevor Long of Pottstown, Richard Ledig of Royersford, Amber Grier of East Norriton, Lydia Klementisz of Birdsboro and Michael Thornton of Pottstown.
The Theatre Arts Program allows students to explore stage-craft and design with experienced theatre professionals. Students gain hands on experience in state-of-the-art facilities and have access to internships at area theaters.
Tim Gallagher and students Michael Thornton and Lydia Klementisz recently spoke about the Works of heART project on MCCC on the Air, the College's podcast.