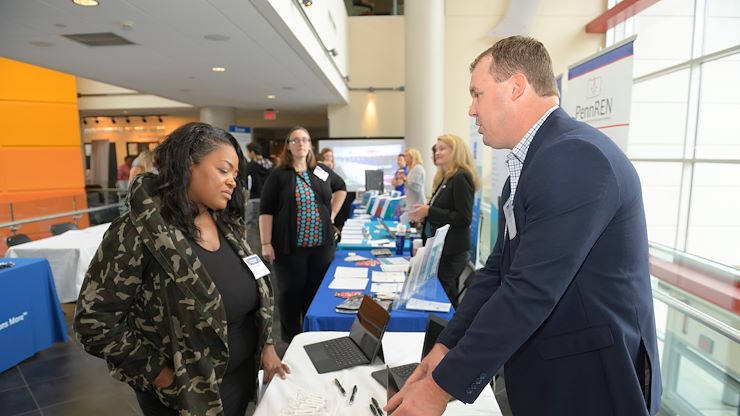 Registration is open now for Montgomery County Community College's 25th Annual Technology and Learning Conference, scheduled for Friday, Oct. 4, from 8 a.m. to 3:30 p.m. at the College's Central Campus, Advanced Technology Center, 340 DeKalb Pike, Blue Bell.
The cost of attending MCCC's Technology and Learning Conference is $35, which includes all conference sessions and materials, parking, continental breakfast and lunch. The conference features a keynote speaker, vendors, and four sets of 50- minute sessions.
This year's keynote speaker is Katie Pizzolato, who will speak about "Getting Quantum Ready: Preparing for a New Technology." As the Director of the IBM Q Start team, Pizzolato is responsible for ensuring IBM's clients are working toward extracting the benefits of quantum computing. She leads a team of Quantum Information Scientists tasked with quantum computing application research, and she is responsible for academic and industry partnerships within the IBM Q Network. She has extensive technical and engineering leadership and development experience, including roles such as Program Director for Systems Development and Layout Design and Packaging Lead in IBM Systems Group, and a track record of defining and executing strategy in new fields. She has led highly technical teams with complex stakeholder relationships and specializes in solving critical problems and creating high performance teams. Katie is an alumna of the University of Texas at Austin.
The conference sessions feature the latest technology trends in education and student engagement.
"This year we are excited to celebrate our 25th Annual Conference. Some of our sesisons include virtual and augmented reality in the science and technology curriculums, student and faculty panels talking about their utilization of technology, women in technology, and building and participating in academic escape rooms," said Mary-Kate Najarian, Assistant Director of Instructional Technology and Co-chair of the Annual Technology and Learning Conference. "We look forward to celebrating our 25th conference with the attendees."
Designed for faculty and administrators from both higher education and K-12 sectors, the conference provides a forum for participants to share state-of-the-art information technologies, contribute to a vision of the future of information technology in the academic enterprise, and exchange ideas and best practices for incorporating technology, security and learning.
MCCC is recognized as a top community college in the country for its use of technology, according to the Center for Digital Education, ranking three times as first in the nation during the last 13 years.