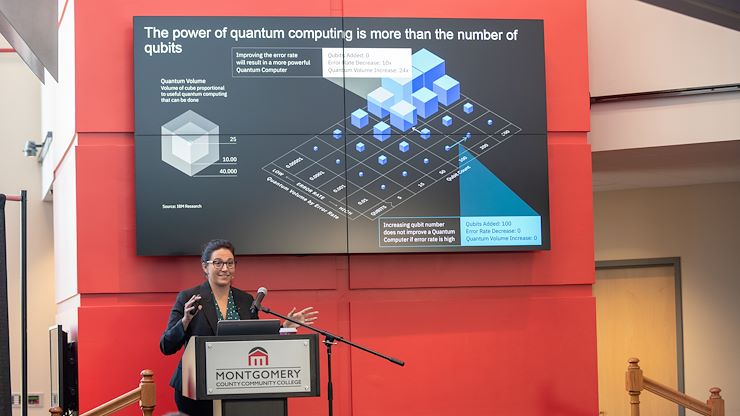 Montgomery County Community College hosted the 25th Annual Technology and Learning Conference on Friday, Oct. 4, at the Advanced Technology Center on the College's Central Campus in Blue Bell. The conference welcomed faculty and administrators from the higher education and K-12 sectors to explore information technology concepts and share ideas and practice for using technology in the classroom.
Dr. Victoria Bastecki-Perez, Interim President and Provost, and Dr. Celeste Schwartz, Vice President for Information Technology & Chief Digital Officer, welcomed the more than 270 attendees. They encouraged attendees to look to the future and think about how advancements in technology will influence higher education.
Katie Pizzolato, Director of the IBM QStart Team, gave the keynote address. At IBM, Pizzolato is responsible for ensuring IBM's clients are working toward extracting the benefits of quantum computing. In her address, Pizzolato spoke about "Getting Quantum Ready," informing the audience about the process and potential of quantum computing.
Following Pizzolato's address, conference attendees spent the day attending lectures, forums and panels discussing topics in information technology, virtual and augmented reality, learning accessibility and more. Representatives from MCCC, as well as other colleges and universities, offered perspectives on changing technology and how to use technology to enhance the classroom experience.
MCCC Coordinator of eSports Ryan Plummer moderated an Introduction to eSports panel discussing the emerging field as a collegiate sport and an industry. Other panelists included Kelly Dunbar, Director of Athletics and Campus Recreation at MCCC; Teddy Delany, eSports Program Administrator at Lackawanna College; Sean Todd, a student at MCCC; and Adam Nelson, Founder & CEO of Philly eSports. MCCC will officially launch a varsity eSports team in Spring 2020.
Erick Robinson, Manager of Telephone Services, hosted an open forum-style lecture about Millennials and Cell Phones. Robinson led a discussion about the use of cell phones between different cultural generations. The format encouraged discussion between Baby Boomers, Generation X, Millennials and Gen Z about social media and internet culture.
Ready Student One, led by Beth Ritter-Guth, Associate Dean of Online Learning & Educational Technology at Northampton Community College, explored using advanced technologies such as Artificial Intelligence and Virtual Reality in the classroom. Ritter-Guth introduced attendees to services like Google Tours, which allows users to create immersive tours from their computer, and Otter AI, an artificially intelligent voice recording system that can take notes in meetings, learn how speakers talk and anticipate what they will say.
Other conference sessions included a TechDay Escape Room created by MCCC's Information Technology Team, a discussion about Creating Accessible Course Documents for All Learners led by MaryJo Slater, Professor of Office Technology and Instructional Technologist at Communication College of Beaver County, and a demonstration of the Kerbal Space Program by Scott Vaughen of MCCC.
MCCC is recognized as a top community college in the country for its use of technology, according to the Center for Digital Education, ranking three times as first in the nation during the last 13 years.