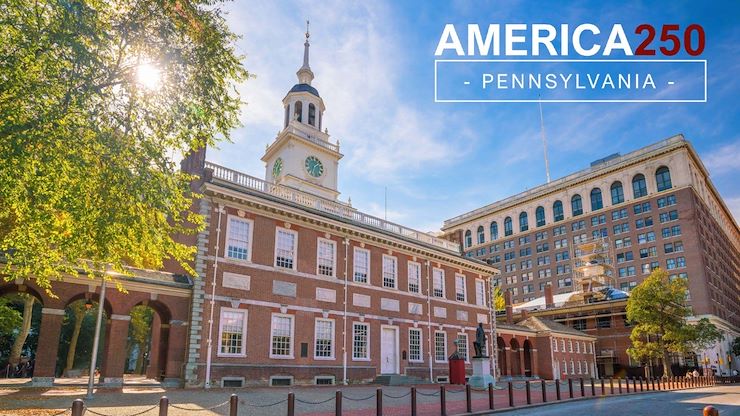 Four Montgomery County Community College students are participating in the America250PA Innovation Challenge. America250PA is a statewide competition in which college students will design and pitch an integrated marketing campaign to help Pennsylvania kick off America's 250th birthday celebration in 2026.
This three-round event will build an open-source database of ideas and resources for Pennsylvania and build statewide connections for participating students. This is an experiential learning opportunity for students and instructors.
Under the direction of Entrepreneurial Instructor Joseph Wehr, the students - Irina Althouse, Gabriel Little, Brendan Rafferty and Betzalel Tabannejad – developed MCCC's concept for this project. The team will focus on highlighting Pennsylvania's rich history in starting, winning, and keeping our nation's independence. Specifically, the campaign will focus on Independence Hall, Valley Forge, and Gettysburg and will feature stories from young Pennsylvanians who were part of these efforts.
After submitting their proposed campaign, the team learned on Oct. 8 that the America250PA Commission selected them to participate in the regional competition during Oct. 24-26 at Thomas Jefferson University. For this round, the team will create an integrated marketing campaign featuring mail piece mockups for their presentation on Oct. 26.
If the team is selected as a finalist, they will then have the opportunity to pitch their campaigns to the Governor Tom Wolf and other VIPs during the final round on November 19.
For updates on the America250PA Challenge, follow the action on social media via #America250PA.