Along with all community colleges across the Commonwealth of Pennsylvania, Montgomery County Community College is encouraging students this week to pledge to complete their degrees and credentials as part of Completion Week.
Hosted by Phi Theta Kappa Honor Society, the international honor society for two-year colleges, Completion Week is at time when students make a commitment to themselves to complete their educational goals by signing a pledge card and a banner. The banner will be on display throughout the year as a reminder of their promise.
"We want students to know the value of completing their education and the importance of making this intentional commitment," said Dr. Victoria Bastecki-Perez, MCCC Interim President and Provost. "Research shows that students who complete their college credentials will earn more over their lifetime, have a better opportunity for employment and career advancement, and will improve the likelihood that their children will also graduate from college."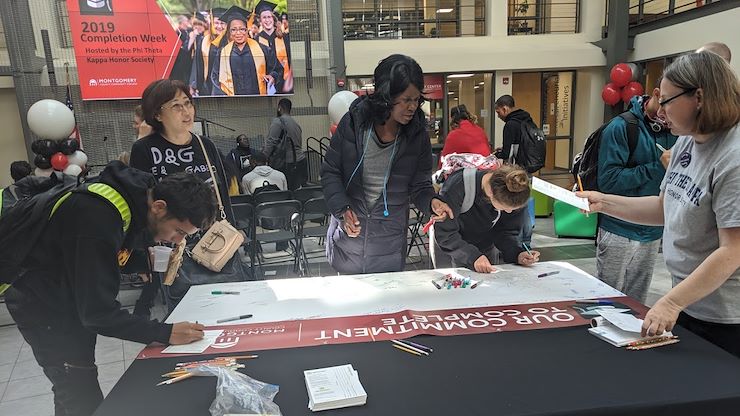 As part of the kickoff event to inspire students to make this commitment, Montgomery County Commissioner Vice Chair Ken Lawrence, Jr. received his associate's degree from MCCC and became an official alumnus. Commissioner Lawrence started his education at MCCC and then transferred to Temple University where he earned his bachelor's degree. Through a reverse transfer of credits, Commissioner Lawrence was able to receive his diploma for his associate's degree.
"Montgomery County Community College was where I discovered my major, Political Science, and ran for office for the first time," said Commissioner Lawrence. "I'm grateful for the academic and extracurricular opportunities I received at Montgomery County Community College, proud to be a graduate, and happy to be serving in a role to help provide those same opportunities to others."
In addition, John Ortiz, a PTK Chapter Advisor Emeritus and Associate Regional Coordinator for the Middle States Region, presented Commissioner Lawrence with an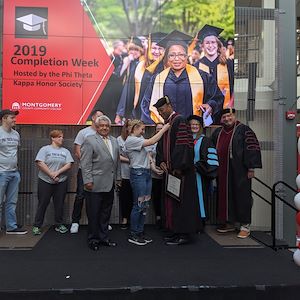 honorary PTK membership. Honorary memberships are presented to individuals who embody the PTK hallmarks of service, leadership, fellowship and scholarship.
MCCC is hosting several activities throughout the week, including a resource fair, soft skills seminar and employers' job fair, to help support students and their success. On Oct. 24, students and employees are encouraged to wear their favorite college shirts and sweatshirts for College Pride Day.
To help support students and their success, PTK's Middle States Region and Middle States Region Alumni Association is offering Catalyst to Completion scholarships to community college students in the region. The top five applicants will receive $200 each at the 34th Middle States Regional Convention – Gala Dinner in March 2020. The deadline to apply is Nov. 1.