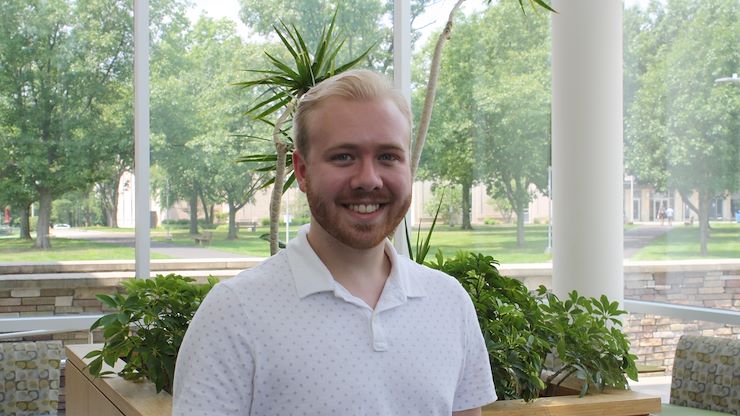 Travis Hunsberger was an "A" student at Upper Perkiomen High School. Yet, when he graduated in 2016, he wasn't sure what he wanted to do next.
Hunsberger, of Green Lane, looked at Montgomery County Community College and recognized the programming as being "high caliber at a reduced cost."
"The caliber of work is equal to some of the state schools," Hunsberger said. "It was the perfect mix of affordability, quality education and transferability."
Hunsberger graduated in May 2018 with an associate degree in Liberal Studies and is now attending a four-year college for political science and pre-law. He aspires to attend law school after that.
In addition to the top-notch academics and great professors he's experienced in his two years, Hunsberger said the diversity of students—in terms of experiences, ideas, races and ages—compelled him to continue learning.
"I come from a very small, homogeneous, white middle-class town," Hunsberger said, adding that attending college with so many different people, "fostered an increased love of learning."
Talking with government officials as part of Lobby Day also gave Hunsberger a taste of a possible career route. "I'm absolutely interested in representing people and preserving democracy through government," he said.
Hunsberger describes attending Lobby Day recently with fellow Montco students as the "Super Bowl." At the event in Harrisburg, he had the opportunity to meet with state representatives, talk about his college experiences and share how the college has impacted him.
Each of those representatives were knowledgeable about the skyrocketing costs of college and understood that many "would be left behind in the education inflation" without Montgomery County Community College.
A community advocate, Hunsberger understands the important role Montco plays and sees a need to fund education.
"It helps everyone," he said, adding that "today's students become our police officers. They become our nurses. The entire community benefits from the services provided at Montgomery County Community College. I don't think you can put a price tag on that. It's priceless."