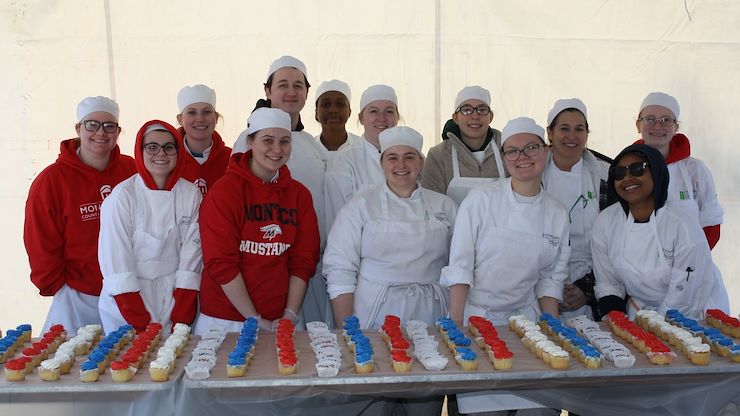 The first public celebration of George Washington's birthday was held at Valley Forge in 1778. Two hundred forty-two years later, the celebration continues with the Washington's Birthday celebration held at Valley Forge National Historical Park in King of Prussia, Pa.
To help celebrate, students from The Culinary Arts Institute of Montgomery County Community College prepared a special cake for America's first president using Martha Washington's original recipe. The patriotic cake was presented to General George Washington at the annual event hosted by the National Park Service in partnership with the Valley Forge Park Alliance, Valley Forge Tourism & Convention Board and The Encampment Store.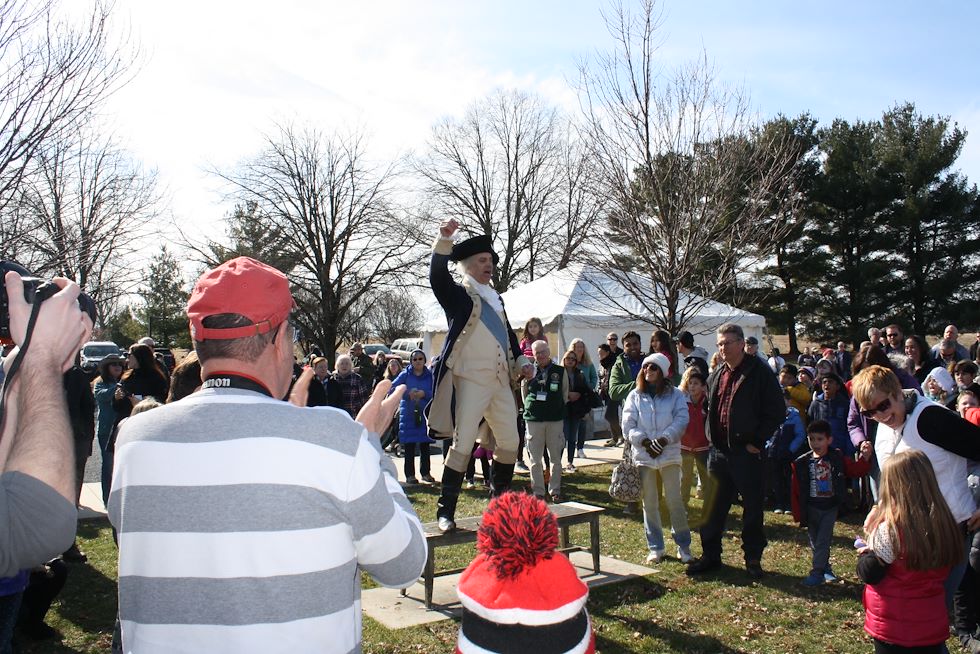 There were many birthday activities available for families visiting the park. Families had the chance to make birthday cards for the General and meet George and Martha Washington. Children at the celebration were invited to "join the Continental Army," where they learned basic marching steps and were personally inspected by the Commander in Chief. Finally, the crowd, led by Martha Washington, sang "Happy Birthday" to George before he sliced the cake that the CAI students prepared with his sword.
Culinary Arts students Paige Barnes, Joshua Beck, Shannon Booker, Danielle Cacador, Ashley Cushnie, Olivia Fowler, Emma Laigaie, Daniel McGlade, Kayla Miller, Abigail Nice, Cassidy O'Neal, Jenna Painter, Elisa M. Rocchino and Nicole Scarpaci were on hand to serve cupcakes and slices of the cake to families in attendance.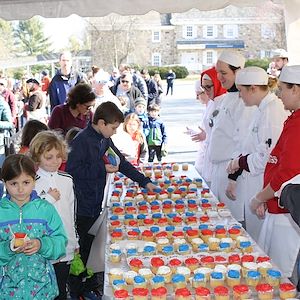 The students are part of Chef Joseph Jacques' Bakery Production class at CAI. It has become an annual tradition for the class to bake the cake based on Martha Washington's cake recipe, as well as hundreds of cupcakes. CAI started baking the cake and cupcakes for the birthday celebration in 2014 as one of MCCC's 50 Acts of Kindness for the College's 50th anniversary year.
The Culinary Arts Institute of Montgomery County Community College is the region's home for innovative, affordable culinary arts and tourism and hospitality management education and training, as well as non-credit culinary enthusiast and professional development course offerings. The 15,000-square-foot facility at 1400 Forty Foot Road, Lansdale, in Towamencin Township features four state-of-the-art kitchens and equipment, three SMART classrooms, and a retail restaurant, where students can develop real-world food preparation and customer service skills.
For more information about the Washington's Birthday event at Valley Forge National Historical Park, view coverage by PBS39 and The Pottstown Mercury.