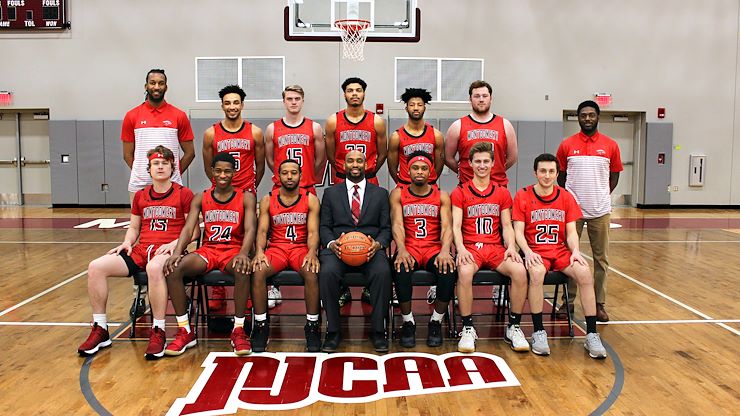 March Madness descended upon the North Star State March 10, 2020, as the Montgomery County Community College men's basketball team traveled to the City of Rochester to compete in the National Junior College Athletic Association (NJCAA) championship tournament.
The seventh-seeded Mustangs were set to face the 10th seeded Lions from Long Island, New York's Nassau Community College in the first round of the tournament. Tip off was scheduled for Wednesday, March 11, at 5 p.m. EST from the Rochester Regional Sports Center.
Earning a spot in the national competition followed an incredibly successful regular season for the Mustangs. Much of that success can be attributed to the efforts of Head Coach Nyere Miller, his staff and team leaders like sophomores Cameron Reid, Seth Compas and Ryan Black. Together they demonstrate the value of leadership every day and the importance of inspiring a team to reach its potential.
Putting in the Work
As he finishes just his second year as coach, this past February Miller, 32, was named the Eastern Pennsylvania Athletic Conference (EPAC) Coach of Year. He also was named the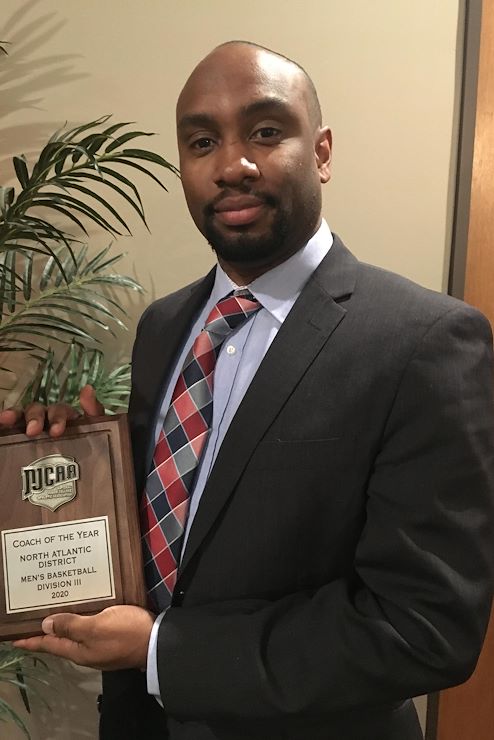 NJCAA Coach of the Year for the North Atlantic District in Division III basketball, after leading his squad to a 22-4 regular season.
"That's a testament to the guys, my coaching staff. It's not just me. It's a group effort," said Miller, who lives in Souderton. "I always say I don't step in between those lines on the court. My job is to manage and make sure people are in the right position. But they are the ones who execute and get things done. Hats off to the work that they've been putting in."
The team responds to Miller's infectious enthusiasm for the game and his players respect him.
"I love that dude," said Compas, 19, from Blue Bell. "When he wants something, he's like so laser focused, it's crazy. He'll wake up earlier than 5 a.m. His work ethic is ridiculous. He shows up to all our classes early, talks to all of our teachers. He takes time out of his personal life for the benefit of the team. He gives us energy too. He definitely earned that coach of the year."
"He pays attention to detail," said Reid, 21, from Spring City. "He really takes his time with stuff. I would say he's like a father figure to all of us. He's definitely someone that helps us. Not just on the court but off the court as well."
"He pushes us to be our best," said Black, 20, from Horsham, "and make sure we reach our potential."
Before coming to MCCC, Miller served as the Coordinator of Athletics and Student Leadership at Salam Community College. He also served as an Assistant Men's Basketball Coach at Widener University and Delaware Valley University. Miller is a 2009 graduate of Widener University, where he earned a Bachelor of Science degree in Sports Management.
He obtained his Master's degree in Business Administration from Delaware Valley University in 2016.
No stranger to the game, Miller played collegiate basketball at Widener University where he won three Commonwealth Conference titles and competed in the NCAA tournament all four years from 2006-2009.
Off the court, Miller works as the Coordinator of Athletics and Student Leadership at Montco and sets academic standards for his team while serving as a mentor to their academic success. The key to being a great leader, he said, is listening to the people around you.
"I think listening is a key concept of trying to be there for other people," he said. "Understanding you don't know everything. Just building relationships. One thing no matter where you are, relationships touch people. I can always measure myself as a successful coach if my guys are coming back to the program and still being involved in sharing their successes."
Lock In
An expression commonly used by Miller and other members of the team is 'lock in.' It's used when they want the team to get serious and focus. As leaders of the team, Compas, Black and Reid understand how powerful that can be.
For Black, a 6 foot 2 guard and forward, who graduated from Hatboro-Horsham High School in 2017, the term sets the tempo for the game. "You can joke around but then it's time to get everyone in their place and get the ball rolling," he said.
The three men have been with Miller since he started at Montco and his leadership style has rubbed off. They understand how they set an example for the other players and strive to be their best selves whenever possible.
"I would say being a great leader is someone who can communicate with everyone and be able to dictate some situations and step up to the plate when it's needed," said Reid, a 6 foot 5 center who graduated from Spring-Ford Area Senior High School in 2016. "And also like Ryan (Black) said, just knowing when to lock in and knowing when to show everybody else that it's time to play and get ready."
"A big thing for me is to lead by example," said Compas, a 6 foot 3 shooting guard from Blue Bell. He graduated from Wissahickon High School in 2018. "It'll sound good if I talk about it, but it won't mean anything if I don't do it. So definitely in the games if I have to turn the energy up or I have to play out of my mind, I know then the other guys will follow."
Being focused only intensifies the level of talent on this team. The players realized they were in for something special early on.
"Once we had our first couple of practices, I knew we would be good," said Compas. "You've got everybody dunking. You've got people knocking down shots. It's like 'oh, we may have something this year.' And then once you start playing, you start getting some wins, it looked like we had a pretty good season ahead of us."
"I would say I knew in the preseason when we went to Maryland for a tournament," said Reid. "We didn't have that much time to play with each other and yet we still kicked everybody's butt. We didn't even practice much. We didn't really run the plays. We were just playing."
"I agree," said Black. "We had a preseason tournament out of Maryland. We played three teams, two Division II teams. We swapped everyone."
Rising to the Occasion
Going into the game Wednesday, Miller said the team had a chip on its shoulder. "I think everybody in this tournament has been here before. We haven't. We still have something to prove," he said. "We have that belief in that slogan 'make them believe.' It started with Spirit Night and it took off and we ran with it. For me it's about making my guys believe in realizing their own potential. At times they've doubted their own abilities. So it's kind of interesting to see them shift and start believing in themselves. I think that's really when a team takes off."
"I'm just looking forward to playing," said Compas. "I've been looking forward to playing since we got on the plane. This is nothing. We've been underdogs. A lot of teams don't care who we are and that's good. They underestimate us. But I'm excited for sure."
Playing on the national stage inspires his team to focus and put their best foot forward. "It's a national tournament," said Miller. "To be one of the top 12 programs for Division III basketball is a statement in itself and it's an opportunity. At the end of the day that's all you want. An opportunity to prove yourself with the best. I think we have that. I would take this group up against anybody. I'm very excited to see how it plays out."
"I feel like we're all ready for this," said Reid, who received the Region XIX Most Outstanding Player Honors award. "We worked hard for this. We're just ready. We're excited to get started and get it going."
"It's just another game," said Black. "The competition just keeps getting better. But we're just as good. It's going to be a good game. I'm excited to play."
Win or lose this week, Miller said he was proud of this team for already accomplishing a goal it set out to achieve last summer. "We set this goal to make this tournament in August," he said. "Once everybody was enrolled and registered for classes we met in the summer. I put it on the board."
"He wrote it on the board and he brought it to life," said Compas. "We're prepared. And we're ready. Our preparation before a game is ridiculous. We go over every play, inbounds, sidelines, who we're guarding, where they're from. It's crazy. Coach Miller breathes, eats and sleeps basketball, I swear."
"I knew the pieces I had," said Miller. "When you know what they're capable of, it's just about putting it together. Everything looks great on paper. Initially the roster looks great on paper. But they really put the work in to go with it and I'm excited."
"It's been a great experience. We've become a family," said Black. "I don't want it to end but it's going to end and it's just how it goes."
Unfortunately, the Mustangs season came to a disappointing end. The team lost in the opening round of the NJCAA tournament 68-57 against Nassau March 11, followed by another loss the following day to the Caimans of Hostos Community College from New York. The final score was 75-72.