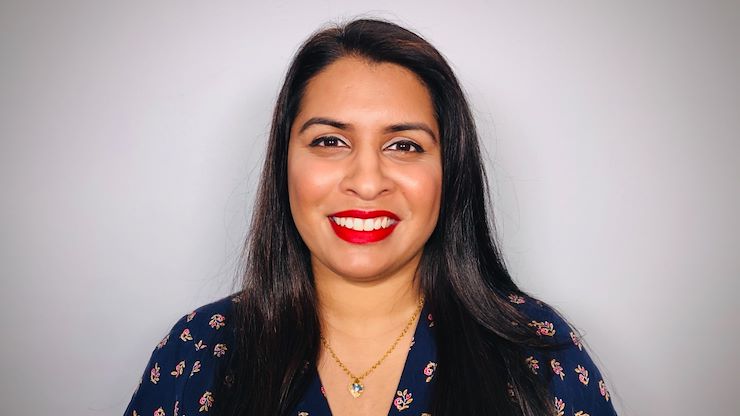 This interview series looks at how our colleagues are dealing with these extraordinary times both in and out of the classroom. To stave off future questions, they were, in fact, conducted from my basement.
Full Name and Title? Jeslin Grace Mathew - Communication Studies Instructor.
How long have you been at Montco? Two years. Last year as a diversity fellow, this year full time.
Now that we're all remote, where are you working from in your home? Thankfully, we have a home that has two floors, which helps when you have a spouse who's working from home, too. If we don't have phone/video meetings, we work together in our family room at a dual table we got during Black Friday (woop, woop!). If we both have meetings at the same time, I'll go upstairs to our bedroom and he stay's downstairs.
Do you have any pets at home supporting or bothering you? Unfortunately for my husband, who loves animals, we don't have any pets because of my pet allergies.
If you would like an exclusively outdoor pet, I could always bring by one of the Montco geese. Those terrors make me feel like I'm playing hopscotch when I'm walking to the building from the parking lot.
What's your biggest challenge in working from home? How are you dealing with it? The biggest challenge is not physically being in the classroom with my students and physically interacting with my colleagues. I miss them!
Have any of your colleagues helped you in making the transition? If yes, do you want to give a shout out? A MAJOR shout out to Amanda Gatchet. I felt like I was calling her everyday with questions on formatting things online, and she was so patient and caring every step of the way. Tom Donlan also generously shared documents and new language for assignments to make sure things were consistent and clear. I definitely would not have transitioned well to the online format in such a short time without their help. Also, kudos to Patty from tutoring for helping us tutors have a platform to still tutor students virtually. And finally, Kasey from IT, who helped set up Techsmith Relay on my laptop!
Although I know there are many things that you are doing for your students, what is one thing you're doing to help them make this transition to remote learning? When there were rumors three weeks ago that we might be going online, during one of our last face-to-face classes, my students expressed how nervous they were about the possibility of going online. I asked if it would be helpful to still hear my voice and create video lectures or video explanations of assignments, and they said that's exactly what they would need. So in the past two weeks, I created a mini-intro video using Techsmith Relay to give them a virtual tour of how our Blackboard shell had changed due to the adjustment. I also created lecture videos so they can still hear my voice and explanations on concepts and theories. I can't tell you how many emails I've already received from students saying how helpful those videos were - so I will continue to do them each week.
What's the most positive thing you've experienced in your classes so far, since the transition? The most positive thing I've experienced so far in my classes has been the motivation, particularly from students who missed a lot of face-to-face classes and now really want to finish the semester strong. One of those students has been emailing me a lot this week with questions to make sure he was on the right track. I've interacted more with him just within this one week virtually than during the prior six weeks face to face.
After all the social distancing has ended, what is the first thing you are going to do? See my family. I'm so thankful for technology and the ability to connect virtually - but to hug them and be in the same room together...I can't wait! This might sound silly but I also will get some fried chicken! There is not a Popeyes near my house and all I keep seeing are these Popeyes commercials that make me want that delicious bonafide chicken, but there are none near me. So I guess when I see my family, we will be having Popeyes chicken for dinner.*
Netflix or Hulu? Disney+ and Prime actually. We had Netflix, but I'm a Disney freak so we made the switch - although I need to somehow watch the last season of "Stranger Things."
Frozen pizza or mac and cheese? Both. No seriously, we had frozen pizza two nights ago and mac and cheese yesterday. Only one quarantine frozen pizza left!
Do you have a stockpile of toilet paper? We actually already had plenty in the house, I did a restock two months prior so we are all set.
Anything else you want to share? I would encourage people to check out the poem "When this is over" by Laura Kelly Fanucci.
*Less than 24 hours after this interview, Jeslin secured Popeyes Chicken, courtesy of Door Dash. Subsequently, she would like to amend her post-social distancing plans to include enjoying both her mom's and her mother-in-law's home-cooked South Indian meals.
Any inaccuracies in the above are the fault of my transcription or edits…unless the interviewee lied to me…in which case it's totally on that individual.