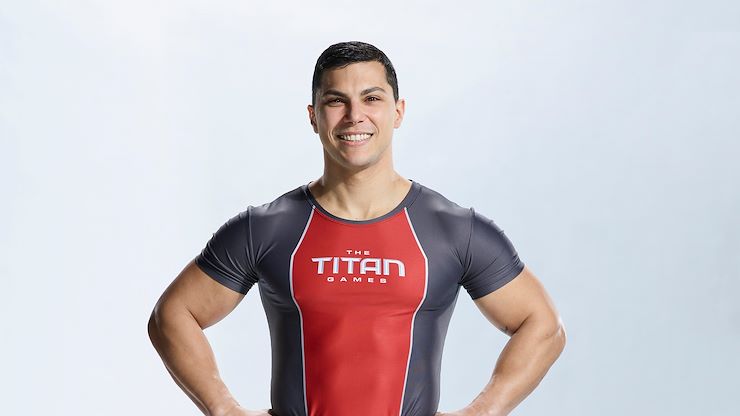 Season two of Dwayne "The Rock" Johnson's hit competition show, "The Titan Games," is coming back to the small screen on NBC this Memorial Day and one Montgomery County Community College employee will be among those competing for a shot at the $100,000 grand prize.
Andrew Hanus, 32, a grants manager at the College, from East Norriton, will compete among such acclaimed athletes as Olympic gold-medal boxer and world champion Claressa Shields, NFL Iron Man legend Joe Thomas, Super Bowl champion Victor Cruz, Olympic gold-winning snowboarder Hannah Teter, stuntwoman and "American Ninja Warrior" star Jessie Graff and five-time UFC champion Tyron Woodley.
"In a twist from last season, this year's competition will break down into three regions across the U.S.: West, Central and East," according to Men's Health magazine. "One male and one female athlete will reign as Titans of each region, and each episode will see two contestants of each gender battle for a chance to compete on Mount Olympus, the final challenge that will test their strength, speed, stamina and heart."
Hanus, a U.S. Air Force veteran, and strongman competitor, gave a behind-the-scenes look at his experience filming the show in Atlanta this past February. While he couldn't share the outcome of this season, he said he had a great experience making friends with the other athletes.
"I can't wait to see how hit all comes together when the show airs," he said.
Hanus first learned about the show when his friend, season one competitor, Breona Evans, asked for his help to prepare for her stint.
"She asked me to train her on some specific movements here and there," he said. "Then we got to talking about what it was for and she said you should apply. And I was like, 'all right, maybe I will.'"
Hanus is originally from Mantua, Ohio and was stationed around the country in the Air Force. After obtaining two master's degrees from Georgia Tech, Hanus and his wife Lexi moved to East Norriton last year. He began working at the College since November
This past winter, the show's producers reached out to Hanus to see if he was still interested in competing and when he agreed, they flew him to Los Angeles in early January for a weekend for what they called they called a combine, or athletic evaluation.
"The whole day was based on scoring," he said. "Each event had different points that we weren't privy to. We just had to go out there and perform our best. For the selection process, they brought in 60 individuals- 30 guys and 30 girls and they were only selecting 18 guys and 18 girls moving forward for the actual filming."
At 5 foot 8 and 190 pounds, Hanus is built like an athlete and has a long history of athletic experience. In addition to his military background, he ran track, wrestled and played football in high school. His strongman experience started while he was in the Air Force stationed in North Carolina.
"I started making friends with random people at the gym and got dragged into a strongman contest," he said. "They said 'You'll like it. You'll do well.' I did and I really enjoyed it. I stuck with it. I've done power lifting. I've done strongman. I've done CrossFit. All that stuff. Strongman is the one thing I've kind of refocused on. I get the most enjoyment from that. CrossFit's a little too high intensity for me. Power lifting's is not enough intensity."
In addition to athletic prowess, the show's producers were interested in other aspects of the contestants. "What they were interested in was the individual story," said Hanus, "your attitude, who you are as a human being, what that would look like on film if the rest of America was watching."
A week after the combine, while back at home, the show's producers called Hanus to tell him the good news he'd been cast on the show. Before he knew it, he was flying back to Atlanta, this time to compete in the games. "There's a lot of film production going on in Atlanta nowadays, so it made sense," said Hanus. "They were simultaneously shooting a movie down there with The Rock. So it just made sense to have everything there."
Shooting the show, he said, reminded him of life in the military.
"I come from a military background, so I'm used to hurry up and wait mentality," he said. "That's really what that was. It was hurry up and wait. It was a lot of sitting around for hours waiting for casting and producers to get their things together, so they could get you into wardrobe, so they could get you into makeup. Then you go backwards in the process and you do another wardrobe and you do another makeup between your different interviews and different film shots of B-roll that they're taking."
Finally he was called to compete and that's when he was able to meet Johnson, who serves as an executive producer and the show's host.
"It was kind of cool that's The Rock," said Hanus. "It didn't hit me. It was interesting. At the end of the day he's definitely a humble individual. I think social media has tainted the effect of that celebrity status. You see these people all the time. When you see him you think 'Oh, it's The Rock, it's Dwayne Johnson,' and he's here. Before and after each event he would come over and tell us good luck."
Hanus remembered being so tired after finishing one event, that he didn't' have the strength to take his helmet off and Johnson helped him out.
"I couldn't breathe. I couldn't talk. I had no function in my hands," he said. "He had to come over and pick me up. It was cool to be around him."
"This season of The Titan Games is going to be even bigger than last season," Johnson said in an official statement in Men's Health. "We created an incredible new Titan arena with new insane challenges, and we've selected some of the fiercest competitors we've ever seen... All of the men and women are true athletes and competitors who give it their all in the Titan arena."
Hanus agreed saying he and his competitors gave everything they had inside the arena.
"A lot of people suffered injuries. I tore my groin. A couple people broke bones. People were relentless. It was an all-out battle. People scrapped shins," he said. "It was hilarious looking back. That's how you know you had a good cast of athletes; we left it all on the field."
The Titan Games premieres Monday, May 25 at 8 p.m. on NBC-10 WCAU-TV. Check local listings for full details.