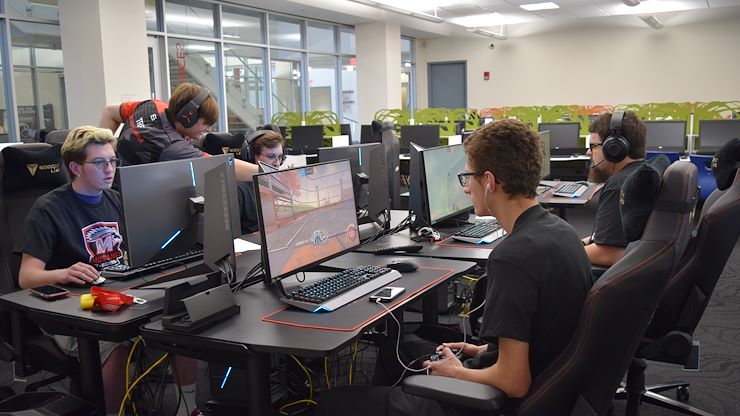 After a successful inaugural season playing online against nationwide opponents, the Montgomery County Community College Mustangs eSports Team is ready to level up.
"Overwatch," is a tactical team-based, first-person game, in which a team of six players attempts to capture or defend an objective from another team of six players;
"League of Legends" a team-based strategy Multiplayer Online Battle Arena (MOBA), in which teams of five use various abilities in an attempt to capture the other team's base;
"Super Smash Brothers Ultimate" a fighting simulator, in which various Nintendo characters (Mario, Donkey Kong, Pokémon, etc.) use moves and combos in an attempt to throw the opponent off of the stage. Currently, one vs. one matches are the most popular format for SSBU. However, the current leagues also support two vs. two team-based matches.
"We are excited to broaden our offerings with the addition of these newest esports games," said Kelly Dunbar, Director of Athletics and Campus Recreation, Intramural Activities. "These games will reach a wide range of students and potential students and we are looking forward to the engagement piece. These will be varsity sports, so they will need to follow the eligibility process and academic guidelines set forth by our current programs."
Each game was chosen for its popularity, its ability to allow the esports program to break into a new genre and because it would allow the program to use its new facility to the fullest, said Ryan Plummer, coordinator of Mustangs eSports.
"Each game requires a completely different skill set in order to be successful, which should allow us to reach out to a variety of different gamers," he said. "Competitions and matches won't be hard to find with these games. With "Overwatch," "League of Legends" and "Rocket League," we'll offer the esports with the top three highest participation rates collegiately."
With "Super Smash Brothers Ultimate," while the game might not draw quite as large of a community nationally, it's still hugely popular in the Montgomery County and Philadelphia region as a whole.
"When looking at possible expansion games, we wanted to reach out to the games our students were already interested in, so "Smash Ultimate" had to be one that we considered," he said.
Finally, the three games would help expand the use of the facilities, he said.
"With only one game being offered, we managed to field three teams and compete against and defeat several four-year schools," said Plummer. "Expansion was something we were considering as part of our rollout plan with esports. We decided that expanding to these three esports would allow us to maximize our facility usage and give our students the maximum opportunity to participate within our current facilities.
"Adding these esports now gives us plenty of time over the summer to recruit and fill out our rosters. We also have time to prepare our schedules, get involved in several leagues and set up preseason practices."
In just one season, esports has already had a profound impact on students. Student Tasia Jones recently said playing "Rocket League" for MCCC helped her break out of her shell and become more involved on campus.
The Mustangs team members compete against colleges nationally as part of The National Association of Collegiate Esports (NACE), which is composed of over 170 member schools with over 5,000 student athletes.
Esports continues to see tremendous growth year after year. Viewership growth is expected to climb at a 9 percent annual growth rate between 2019 and 2023, from 454 million in 2019 to 646 million in 2023, according to Business Insider.
In 2019, ground was broken on the new esports Fusion Arena in South Philadelphia, which is set to open in 2021. The 60,000-square-foot, 3,500-seat arena will cost over $50 million to develop and will feature the live event space, luxury boxes, team offices, a broadcast facility and a player practice area, according to an ESPN report.
Esports is not only profitable for the industry, but also for the players. Earlier this year, 16-year-old Kyle "Bugha" Giersdorf, of Pottsgrove, won $3 million when he became the Fortnite world champion.
For more information about MCCC's Mustangs eSports team, contact Dunbar at kdunbar@mc3.edu or 215-619-7314 or Plummer at rplummer@mc3.edu or call 215-619-7440.