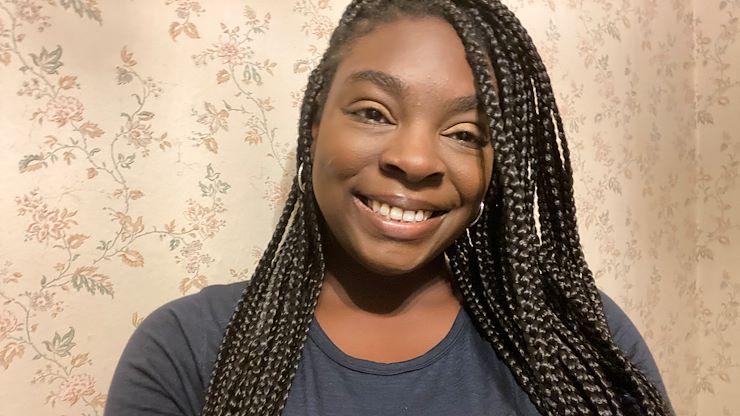 A Montgomery County Community College graduate is headed into the Ivy League.
Blessing Osazuwa, 22, of Drexel Hill, Pa., recently announced she has been accepted into Columbia University as a music major in the School of General Studies. She plans to defer her enrollment until the start of the spring 2021 semester, due to the COVID-19 pandemic.
"It really means a lot to me," said Osazuwa of the news. "I worked really hard."
Osazuwa has already garnered acclaim for her academic performance. In April 2020, she was named one of four Montgomery County Community College students selected for the 2019-2020 All-Pennsylvania Academic Team, which is sponsored by Phi Theta Kappa, the international honor society for two-year colleges, and the Pennsylvania Commission for Community Colleges.
The recognition honors an exceptional group of community college students who have achieved academic excellence and demonstrated a commitment to their colleges and communities. To qualify, students must have completed at least 36 credits and have a cumulative GPA of 3.5 or higher.
"Montco really helped me get it. I was able to prove myself and do well in my classes and get in." -Blessing Osazuwa
For Osazuwa, who was a music major and graduated in 2020 with a music associate of arts degree, the very rigorous application for admission into the prestigious university in New York included portions that were deeply personal. In addition to letters of recommendation from two MCCC professors, the application required an autobiographical essay, where Osazuwa, a first-generation American, described some of the most painful moments of her life. Moments such as the loss of her mother, Victoria, a native of Uganda, to sickle cell anemia when she was just 2 years old. Then the loss of her younger sister, Uche, who died at the age of 13 of the same disease. Osazuwa was only a freshman at Lower Merion High School at the time.
Osazuwa also reflected on the trauma she suffered when she was sexually assaulted on the campus of a four-year institution, and how she tried to commit suicide several times as a result.
"I explained everything," she said. "How I got to where I am. The circumstances I went through and my experience at Montco. How Montco helped me to grow and become a better person and pursue my passion."
The application also required her high school and college transcripts, as well as her SAT scores, which she admits were not great.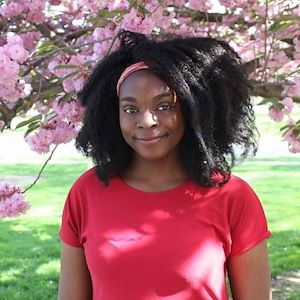 "I took the SAT five years ago and my scores were not high," she said. "I submitted them anyway. I have to give credit where credit is due. Montco really helped me get it. I was able to prove myself and do well in my classes and get in."
By late April 2020, Osazuwa said the University contacted her to set up an interview.
"I was very excited," she said. "It was a 45-minute interview. We talked about my past experiences, the types of classes I took at Montco and my readiness to be part of an Ivy League institution. After the interview, I was nervous. I was on pins and needles. I thought it went well but I wasn't sure."
Osazuwa had applied to two other Ivy League schools but was rejected, so she was "over the moon" when the letter came in May saying she'd been accepted.
"There was a time before Montco where I thought about quitting school and not even going to college. There was no way I was going to get into a school like that," she said. "As I started going through Montco, I talked to my academic advisor, Gay Seidman, and she encouraged me. My grades were high. She said 'I can see you at an Ivy League institution.' And I thought, 'you know what? Maybe I should believe in myself and shouldn't doubt myself.'"
Seidman said she never had any doubts.
"Blessing is truly a 'blessing,'" she said. "I am so proud of her. Yes, I knew she could be accepted by an Ivy League institution! What a talent!"
Osazuwa said the School of General Studies at Columbia is intended for students with nontraditional backgrounds who, after a year or more break in their educational paths, are now seeking a rigorous, traditional Ivy League education.
"General Studies' students are completely integrated into the undergraduate life at Columbia," she said. "This means that all undergraduate students share the same classes, professors and core curriculum, but General Studies provides a community and additional resources for returning students. Therefore, admission is still very competitive."
There's still a few months left before Osazuwa heads to campus in January, but she has plenty on her plate to keep busy. When she's not working in child care (COVID-19 permitting), she'll continue to take virtual voice and piano lessons.
"Also, I just joined an organization of educators for a consent culture," she said. "It's a group of Philadelphia-based educators and community members coming together to teach kids about consent at an early age."
While she plans to live on campus in New York next year, she's worried about what the state of the virus will be when she gets there. Lectures filled with hundreds of people will be out of the question, along with other similar staples of large universities like Columbia.
"Blessing is truly a 'blessing.' I am so proud of her. Yes, I knew she could be accepted by an Ivy League institution! What a talent!" - Academic Advisor Gay Seidman
"It puts everything up in the air. Between now and the end of the year I hope we can get it under control, so I can have that college experience," she said. Osazuwa left a four-year institution early after her sexual assault and has pined for a second shot at the feeling. "I felt I was robbed of a traditional college experience. This time I want to get it. I've thought long and hard about what happened last time. I deserved a college experience. And I'd like to take advantage of the arts scene New York City has to offer."
After graduation, Osazuwa said she plans to pursue a career as a musician and a teacher. She enjoys working with children and said there are plenty of jobs at both the University itself and in and around New York for her to pursue.
"People who leave such an institution do become successful," she said.
For now, Osazuwa is still enjoying the glow of what the future holds for her.
"Getting in, it's like a blessing at the end of the road," said Osazuwa. "All of the things I've been through. No matter what you go through, if you work hard, do your best, set your mind to something, you can accomplish it."