Montgomery County Community College Biotechnology Program alumni are among the researchers on the front line against the COVID-19 pandemic. They've helped develop an antibody that's used to detect the virus in patient testing samples.
Alumni Amber Sawyer, Sean Heron and Seethal Meda are employees at the Limerick Township-based Rockland Immunochemicals Inc., which earlier this year, developed the Anti-SARS-CoV Nucleocapsid (N) Protein antibody.
"This antibody is invaluable for the highly accurate detection of SARS-CoV-2 and subsequently COVID-19 disease in various types of patient samples, including nasal and throat swab extracts and saliva," Dr. Carl Ascoli, Chief Science Officer for Rockland Immunochemicals Inc. said in a press release.
The antibody that's been developed has been described like a chip inside a computer. It powers a diagnostic test to produce the intended result of determining whether a person has contracted the virus. With the antibody now in hand, the next step is to mass produce it and ship it around the globe, so rapid testing can be manufactured and distributed widely.
Also helping to create a test kit for the virus is alumna Carla Campbell, who works at Abzyme Therapeutics, which is located in the Rockland facility. Campbell works shoulder to shoulder with Rockland employees and they use the same equipment.
Sawyer, Heron and Meda, along with Campbell, each said their time studying biotechnology at Montgomery County Community College, under the tutelage of Dr. Margaret Bryans, Biotechnology Associate Professor and Program Coordinator, prepared them for the life-saving, cutting-edge work they're doing today.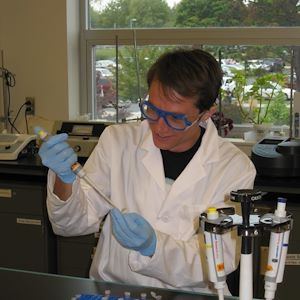 "If it wasn't for Montco, I wouldn't have this job," said Heron, who lives in Schwenksville.
Heron graduated MCCC in 2017. Before that, he had dropped out of a four-year institution for a semester and decided to attend a transition workshop run by a friend of his mom's. That's where he met Bryans, and she told him about the program at MCCC.
"I ended up going to Montco and having a great experience," he said, specifically crediting the biotechnology classes he took for their part in helping him land first an internship, then the job at Rockland.
Sawyer, a Lafayette Hill resident, started at MCCC when she 20 years old. She had gotten her GED after dropping out of school in 10th grade. Aimless, she enrolled as a liberal arts major to try to figure out what she wanted to do with her life.
"I always enjoyed science because it's always changing," she said. "I figured I'd give that a shot."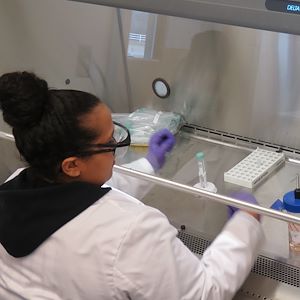 She'd been impressed by what she'd heard about Bryans and decided to save those four classes for last.
"I didn't meet Dr. Bryans until the end of my degree program," she said. "She made my last two semesters so fun. And I graduated as a scientist."
Meda, who lives in Collegeville, received a bachelor's degree in 2001 but for the following 15 years, she was a full-time parent. By 2017, she decided it was time to go back to school.
"All of a sudden I realized I wanted to do something," she said. "It had been 15 years since I closed my books. I thought 'my kid is leaving soon. Montco is there. I can get something for myself.'"
"If it wasn't for Montco, I wouldn't have this job."- Sean Heron
When she decided to take biotechnology courses, she almost immediately began to panic and thought about dropping out. It was Bryans who gave her the confidence to keep going and earn a certificate, she said. She described the laboratories at MCCC as "mini versions of Rockland's" laboratories, giving her the experience she'd need after graduation.
From there, things went well for her. Dr. Bryans helped her land an internship at a local pharmaceutical company that collaborates with the College and then she got the job at Rockland.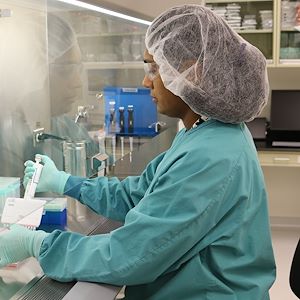 "Dr. Bryans gave me the support I needed," she said.
Campbell meanwhile graduated high school in 2010 and decided to work as an automotive technician. Yet she soon realized it wasn't the career for her and decided to enroll at MCCC in 2016 in the biotechnology program.
Campbell, who lives in Limerick, met Bryans during her first semester and she became an invaluable resource.
"She's a very good resource for questions I had," she said. "I knew I could trust her for answers, or if she didn't know, she would get back to me with an answer later on. I enjoyed learning from her."
Bryans had nothing but glowing remarks for her former students.
"In the biotechnology program at MCCC we focus on the hands-on skills and knowledge a graduate needs to work in the exciting world of a biotechnology company. It's a great testament to the program to hear how Sean, Amber, Seethal and Carla are contributing to the COVID-19 response at Rockland and Abzyme," said Dr. Bryans. "These scientists excelled in their studies at MCCC and have gone on to a successful and meaningful career in the industry."
Campbell, like the others, said the work she does today is the same work she did at MCCC, just on a smaller scale.
"I can still remember back certain experiments are the same experiments I do now," she said. "It's a great introductory program that provides real-life experience."
Campbell pleaded for more women to pursue careers in science.
"We need more women in science to expand and grow in this field. We offer a lot," she said. "For me, being one of the only women in the company, it's overwhelming sometimes, but when you get taken seriously and trusted, in the science field you can go far."
As the world continues to hope and pray for a vaccine to come and end the COVID-19 pandemic, Sawyer, Heron and Meda said knowing their work can speed up that process makes them double their individual efforts.
"I realized we were making a big impact," said Heron. "Several countries are using our antibodies. It made me try harder, 100 percent."
"It makes you work harder," said Sawyer. "You want this stuff to be as pure as possible to get out to customers, so people can stay safe."
"We've very excited," said Meda. "My contribution is little but the world is waiting."