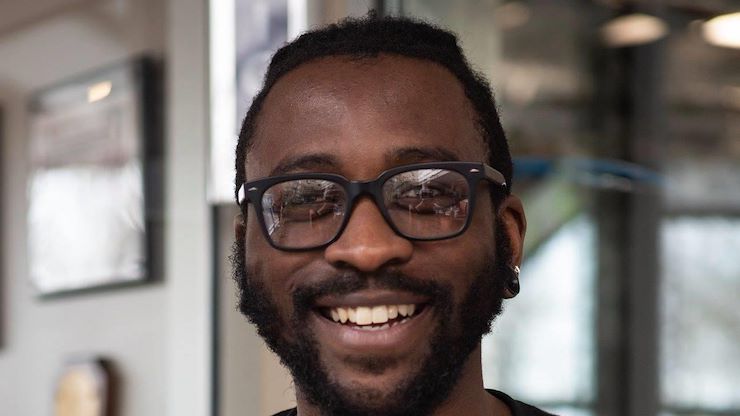 It was a torn Achilles tendon that helped jump-start Donnell Peake's self-described "roller coaster" career as a student at Montgomery County Community College.
It was the fall of 2015 during a pickup game of basketball when the then 22-year-old suffered the devastating injury that left him at a crossroads in life.
"I wasn't in school," he said. "I had no plans or goals."
Today he's been named the student address speaker at the 2020 Commencement Ceremony, set this year for Friday, Oct. 2, 2020.
For Peake, it's the pinnacle of a five-year journey of sacrifice and hard work. Today he's ready to celebrate.
The 27-year-old (who turns 28 just four days after graduation) native of Dayton, Ohio, graduated in 2011 from the now defunct Improved Solutions for Urban Systems charter high school. He then briefly attended St. Claire Community College in Downtown Dayton before joining a band as a guitarist and traveling around the country playing gigs.
"I didn't think education was that important until I got into the music industry," he said. "I'd audition for music shows and would be blown away by the cameras and production work. It got me interested in media production."
By 2015, the music career had dried up and the basketball game sidelined him to the couch to recover. It was then Peake had a conversation with his second cousin, Brent Woods, MCCC's Senior Director of Cultural Affairs, which would ultimately change his life.
They talked about Peake going back to school and getting an associate's degree from MCCC. Curious, Peake agreed to take a tour of Central Campus in Blue Bell with Matthew Porter, Senior Producer and Technical Services Manager, who showed him the Advanced Technology Center.
"When I saw the campus I was blown away," said Peake. "I didn't think a community college would have the resources that it did."
Peake didn't enroll as a student at first but rather agreed to volunteer for a year with the campus radio station, Montco Radio, and Communicating Arts Production Group (CAPG), the video production club at MCCC.
"I wasn't taking classes," he said, "but the experience as a volunteer landed me a job as a radio engineer in my hometown of Dayton, Ohio."
The job lasted a year before Peake left and decided he wanted to come back to MCCC. This time he'd pursue an associate's degree as a Mass Media Studies and Production major.
Over the course of his career, he faced adversity. For starters, he was homeless for most of 2018 as a student. He relied on the kindness of friends and family members in the area to let him sleep on their couch for a night or two while attended classes. Fortunately, administrators including Doug Vore, Associate Director of Financial Aid-Programs & Compliance, and Philip Needles, Vice President of Student Services, stepped in to help him secure a room at a nearby motel until he could find roommates and rent an apartment.
Academically, he struggled at first. One of his first classes, for example, a writing course, was very challenging.
"I learned a lot about myself and how to write," said Peake. "I barely passed with a 71 percent."
He decided to slow down and focus on one or two classes a semester in order to keep his grades up. The strategy paid off and his GPA improved, along with his writing skills. In fact, Peake is a past recipient of The Patricia Nestler Excellence in Creative Writing Award, for his original song, "I've Got Time." He'd also received The Toby and Herman Kessler Humanities Award.
As his grades improved, Peake got more involved on campus. He took over as station manager of Montco Radio for two years beginning in 2017 and was a driving force behind several of the fall and spring events for the station, including the charity event, Rock N Cans, and the Montco Radio Alumni Broadcast.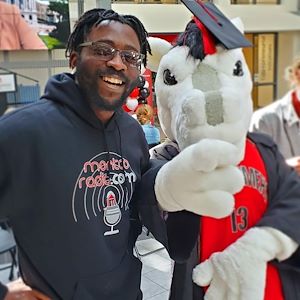 "I wanted to take the club to the next level," he said. "I had ideas, training methods I wanted people to learn. With my background in radio, I wanted to give people a sense this could be a career for them rather than just an ordinary club. It was a really fun time and a really great club to lead."
At Montco Radio, Peake worked closely with Porter.
"Donnell is a motivated and positive student," said Porter. "I worked with him when he was the station manager of Montco Radio, where he showed his leadership skills and creativity. I produced an interview series with him called "On the Beat with Donnell Peake," where he would ask students, faculty and staff questions during the semester. His outgoing personality shines through on those videos. I enjoyed working with Donnell during his time at Montco."
David Ivory, Director of Sound Recording and Music Technology, also appreciated Peake's work ethic.
"I really like Donnell," he said, "his attitude, and his always being upbeat, even when I knew he was struggling at times."
Peake was also a member of other organizations on campus including The Black Student Union and The Communicating Arts and Production Group (CAPG).
Additionally, he was a student worker in the Athletics Department, where he was in charge of game-day operations. Athletics Director Kelly Dunbar said he went above and beyond the responsibilities of the job.
"Donnell truly cared about making the student-athlete experience a memorable one," she said. "Despite the challenges he had to overcome, he never let them affect his efforts. He was a great student worker."
Peake also regularly volunteered for events on campus and in the community, including the visit from the Harlem Globetrotters and the Whitpain Township Community Festival. Most of the time, though, you'd find him editing footage in the video production lab.
"It was like my second home," he said. "I'd get there early in the morning and leave late at night. I was editing practically until 11 p.m. I was always doing something, always involved."
Peake's nontraditional story inspired many incoming students, after they listened to him tell it as a panelist during new student orientation. Now as the 2020 Commencement student address speaker, Peake hopes to inspire many more.
"I want to talk about being able to persevere through challenges," he said. "Being consistent. Being motivated. That was heavily present in my mind and heart during my time at Montco. I was always hearing from staff members to continue moving forward and stay focused. There's a lot of distractions, but if you know what you want, use it as motivation."
Peake certainly did just that. In June he was accepted into The Ohio State University, majoring in Film Studies with a minor in Motion Pictures. He is studying to become a videographer with the hope of one day launching his own media production company.
For now though, Peake said he's ready to video record his address to the Class of 2020.
"I'm really excited," he said. "I'm honored. It's a privilege."