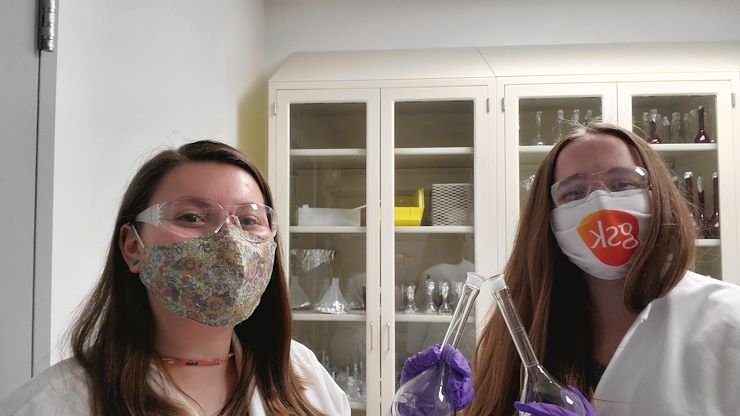 When global pharmaceutical company GlaxoSmithKline (GSK) sought an apprentice to work in the quality control department of its Upper Merion laboratory, it was only looking for one person to fill the position. Then Karly Malone and Christina Newman applied for the job.
The two 19-year-old biotechnology majors from Montgomery County Community College (MCCC) were the last candidates remaining in the company's recruitment process. Malone and Newman apparently made the decision too difficult for GSK to choose between the two of them.
Summing up the hiring process, "They were like 'you're the last two candidates and we're supposed to choose one'" Newman states. "'But you're both a great fit. You're both in.'"
The two women will spend the next three years shadowing GSK scientists in every department to discover the process of how products are developed into the life-saving drugs made every day.
GSK picked them because their values aligned with the company, their motivation to learn through doing and their passion. Both apprentices embody GSK's motto "do more, feel better and live longer." Both women said the opportunity is the chance of a lifetime.
Malone, a Hatboro native, and 2019 Hatboro-Horsham High School graduate, found the biotechnology field almost by accident. In high school, she attended the Eastern Center for Arts and Technology, where she earned a certificate in industrial welding. She worked in the field for about a year and a half but always had a passion for microbiology.
"I found I had an affinity for it after I got a 100 on my biology final," she said.
Malone decided to pursue that passion by enrolling at MCCC in 2019. That's where she met Biotechnology Associate Professor Dr. Margaret Bryans, who taught her first biotechnology class and suggested she apply for the apprenticeship. "She helped me set up my resume and helped me prepare for the interview," said Malone. "I'm so thankful for her."
Newman, meanwhile, is from Schwenksville and graduated from Perkiomen Valley High School in 2019. She's always had a passion for biology and chose to study at MCCC because she felt she could receive an affordable, quality education close to home.
The biotechnology program, she said, has been a great fit for her.
"It aligns with what I'm doing at GSK now," she said. "To have experience at school and apply it to GSK is a good correlation."
It was Biology Associate Professor Wendy Zoll Fillgrove who suggested she apply for the apprenticeship at GSK. The application process included phone and online interviews.
"It wasn't like a normal interview, but more are you the best fit for the program, and how can you develop to meet the needs of the role" said Newman, who appreciated the GSK hiring team's patience when it came to her dogs barking the background of her virtual interviews. "I was very excited until 10 minutes before the first interview. Then I felt shockwaves of nerves. Then I felt completely calm, once I knew what was going on."
Malone and Newman were offered their positions in early July and began Aug. 3. The company will pay for both of them to continue taking classes at MCCC and work 40 hours a week (between hours in the classroom and at GSK) for the next three years, provided they keep their grades up.
Malone said she feels very safe working at the facilities, despite the COVID-19 pandemic. She described some of the precautions put in place included head-to-toe personal protective equipment, limited numbers of employees on campus, rotating schedules on and off campus, and individual desk cleaning requirements.
"Every time you sit down you have to clean your desk before you leave," she said. "There's hand sanitizer everywhere. Everyone is at least six feet apart and there are open office spaces and desks crossed out. I feel very safe. I'm very confident. There has been great communication."
Ultimately both women said they hope to use this unique opportunity to help save lives in the future. Malone wants to study bacteriophage, or bacteria-killing viruses that could one day replace the need for antibiotics.
"Antibiotics make superbugs," she said. "They get flushed down the drain, they affect the environment. There are a lot of negatives associated with it. I want to make something to cut that out. I want to make something that has the same antibacterial effect without the bad stuff."
Likewise, Newman wants to use her experience to study cancer and find new treatments. She said many members of her family have had forms of the disease, and she'd like to treat it on a large scale, based on patient needs.
For now, they'll be learning from some of the world's leading researchers to help make sure the drugs we take won't make us sick.
"It's been great to work with everyone," said Newman. "They treat me just like any other employee even though I'm an apprentice."
Malone agreed
"The atmosphere here is wonderful," she said.
GSK will shortly open recruitment for a biopharmaceutical manufacturing apprentice for the Upper Merion site. For further information, please visit GSK's website.