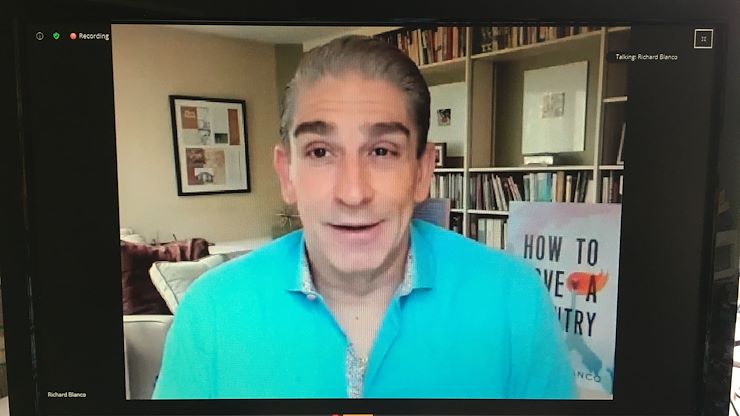 Poet, public speaker, educator and memoirist, Richard Blanco served as the keynote speaker for Montgomery County Community College's 2020 Presidential Symposium on Diversity on Oct. 21 via Zoom. Blanco captured the attention of more than 325 students, employees and community members through his poems and thoughtful discussion about our nation's current and past injustices, our individual stories and how the U.S. is a place where all narratives could come together.
Blanco started the discussion by talking about the background of his new book of poems, "How to Love a Country," and the obsession or core of his work, "home," and all that it represents including his "family, community, culture, sexuality identity and diversity."
"I was made in Cuba, assembled in Madrid and imported to the United States," he said, explaining he was born in Madrid to Cuban-exiled parents and then moved to the U.S., settling in Miami, Florida, where he grew up in a close-knit Cuban community. "When I was just an infant, I belonged to three countries and to none, which explains my obsession with home that has continued over into my writing."
When he was a graduate student, his first assignment in his creative writing class was to write about America. Full of doubts as a young writer, he took a risk and wrote about his Cuban family's celebration of Thanksgiving. His family, as well as many immigrants, he said, didn't understand the holiday and the meal with turkey. His poem "América," describes their attempt of eating the "dry" meat and pumpkin pie, which in their culture, pumpkin was used as a homemade remedy for ulcers, not for dessert.
This poem, as well as several others he read, helps people to "be conscious of things they may not see."
"Each one of our stories is part of America – out of many, one," said Blanco, who also was the keynote speaker at Montco's 2015 Presidential Symposium. "It's our duty as citizens to continue writing our stories for ourselves and for others who can't."
In 2013, Blanco served as the fifth inaugural poet, reading his poem, "One Today," at the second inauguration ceremony for President Barack Obama on Jan. 21. He shared the poem during the Symposium, and its words described how, as a country, everyone should be working and living together, united as one.
Among his poems, Blanco read and discussed "Easy Lynching on Herndon Avenue," a poem about the last reported lynching in the U.S. in 1981. The poem describes how calm and peaceful the street appears today, and how it is easier to "stay blind" to what happened and the life that was taken until, "we dare to look hard and deep and long enough."
"I wrote 20 versions of that poem," Blanco said during the question and answer session that followed his readings. "I never gave myself permission to write about racism before. After writing that poem, I can't let prejudice pass. . . Racism is a fabrication for power and money and it's also learned."
Following the formal Symposium, Blanco continued the discussion during a "Coffee & Conversation," chat with 80 students via zoom, answering questions about writing, diversity, sexuality and current issues of racism and social injustice. He encouraged new writers to keep working on their craft.
"Writing is an art. Be humble to it and know that you are learning," he said. "Have faith in your work. You will be great if you keep at it. Sometimes you have to fail and have minor setbacks before you succeed."
After Blanco graduated from high school, he went on to earn his bachelor's degree in civil engineering at Florida International University. In his mid-twenties, he decided to go back to school to earn his master's in creative writing.
"I was an engineer by day and a poet by night," he said, noting he continued this for several years until he published a few books and then started teaching. While his family did not encourage his career as an artist, his writing empowered him to share his sexual identity as a gay person.
When asked about how someone could learn about different cultures, Blanco responded by having conversations with people from other cultures.
"Diversity and inclusion can get very abstract," he said. "The best way to learn is by talking to someone and having genuine, honest conversations."
Following the Coffee & Conversation session, Blanco met with and heard the award winners of this year's poetry contest read their entries. The contest was open to all students and employees, and this year's theme focused on participants' experiences and sense of belonging in the U.S. The judges were Tom Powers, English Instructor; Mary Beth Parkinson, Librarian – Assistant Professor; Thea Howey, English Assistant Professor; Marie Ranselle, STA Public Health Instructor; Iain Campbell, Cultural Affairs Program Coordinator; and Luz Gamauf, Spanish Associate Professor.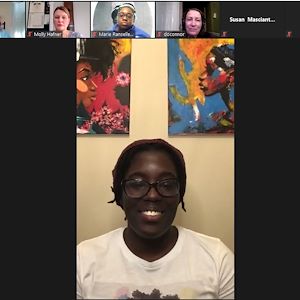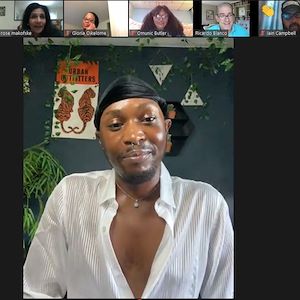 The student selections and recipients are "She is NOT Dumb" by Omunic Butler, "The Taste for Hate" by Khalil Bullock, "Close to the Nose" by Owen Healy, "Self-Acceptance" by Victoria Emmitt, "Home" by Alexandra Brissett, "Native" by Shaquanna Morgan and "American Dream" by Nicole McGee.
The employee award recipients are "Honey from the Rock," by Molly Hafner, Director of Marketing; "When the Eagle Flies Backwards" by Justin DeForest, Instructor for English Second Language; and "Haiku #45" by Don Block, English Professor.
MCCC's annual Presidential Symposium was created as a capstone event that advances and facilitates ongoing public dialogue on diversity and inclusiveness among students, faculty, staff and community.