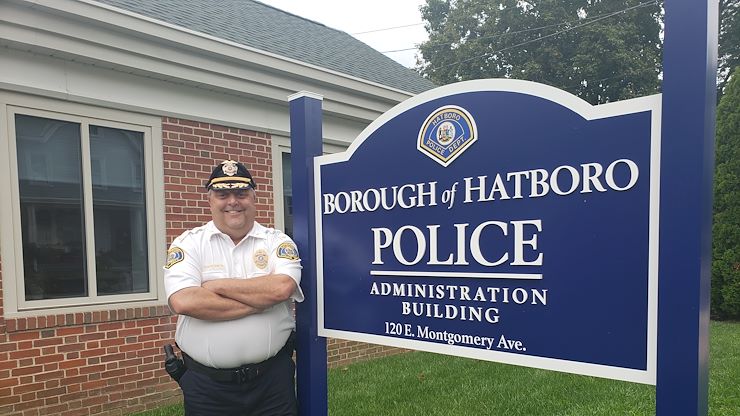 When James Gardner crossed the Commencement stage at Montgomery County Community College's Blue Bell campus, he also crossed something else -- an item off his bucket list; one that he'd waited to do for over 30 years.
Gardner, the Hatboro Police Chief, received an associate's degree in Criminal Justice from the College during the Oct. 2 drive-in ceremony. He first enrolled as a student at MCCC in the Municipal Police Academy Program two years after graduating from Hatboro-Horsham High School in 1984. Before then, he was a police dispatcher for the Hatboro Police Department and continued to work full time in the overnight shift for five months while in the academy.
Serving the community has always been built into Gardner's DNA, that's what drove him to law enforcement in the first place.
"Police work is challenging," he said. "There's always something different you're faced with. I like that challenge. I still enjoy it today."
He graduated top of his class in the police academy and ultimately went on to earn a job at the Hatboro Police Department, where he worked his way up through the police force. Along the way he met his wife Sandy, and they had two children.
Yet, he still always wanted to finish the Criminal Justice Program and earn his degree.
"Between work issues and life issues, college got put on the back burner," he said. "Periodically I went. I took time off when I became chief in 2002, but I always wanted to finish my degree."
The Lansdale resident and Hatboro native said he got serious about going back to school about five years ago. He took classes online that offered him the flexibility to work with his busy schedule at home and at work.
He was able to obtain a few life experience credits for some of the criminal justice courses he still needed and then took his last class in math in the spring of 2020.
"I dreaded it," he said. "I didn't do well in math in high school but put the work in. I had an outstanding professor and I put the work into it using the tutoring services. I got an A in the class."
His family is proud to see him achieve his dream, he said.
"I think they're proud of me. It's overdue but they're proud," he said. Sandy holds a bachelor's degree in criminal justice herself and one of his children just finished their own bachelor's degree program in three years.
With an associate's degree under his belt, Gardner said he's still deciding whether he wants to continue his education. The reason he went back to school was for personal growth, he said, so he's not against continuing on.
"The thing about community college is the credits are almost accepted anywhere," he said. "It's easy to transfer to a bachelor's degree program."
Reflecting on his achievement, Gardner had nothing but praise for the College.
"I can't say enough about Montco," he said. "The quality of their college degree is second to none. Scheduling classes online really lends itself to adult students finishing their degrees. And the value is second to none. It's a great institution we have here in the County."
In the days leading up to his eventual walk across the stage as a college graduate, Gardner said he already felt a sense of accomplishment and couldn't wait to share that feeling with his fellow graduates. One less item on his bucket list.
"I look forward to ending something I've started," he said.