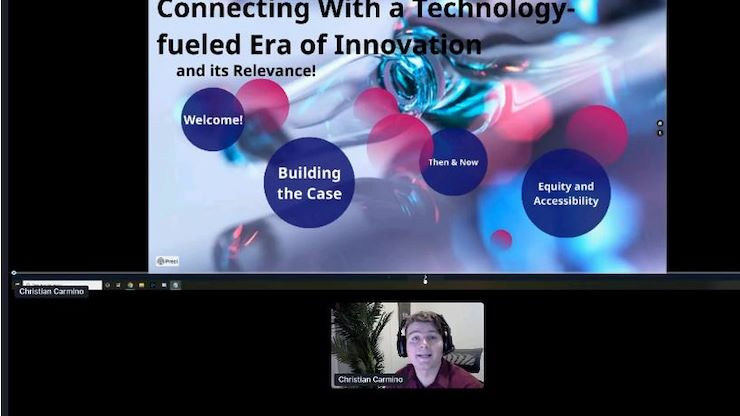 During a time when the use of technology to continue education online couldn't be more relevant following a global pandemic, Montgomery County Community College held its 26th annual Technology and Learning Conference for the first time ever completely online Friday, Oct. 16.
Kicking off the day-long event was MCCC President Victoria L. Bastecki-Perez, who welcomed the more than 600 participants from around the globe.
"I'm delighted to welcome you to the 2020 Technology and Learning Conference; this year, our 26th Annual Regional Conference celebrates a new milestone," she said, during the online event. "First, this is our inaugural virtual conference extending our reach throughout the United States and Puerto Rico and around the globe. Today we have registrants from close as our backyard in Blue Bell and Pottstown, Pennsylvania, and as far away as Canada, Jamaica, Brazil, United Kingdom, Belarus, Uganda, Pakistan, India, China, and Australia. Another milestone is our record-breaking registration of more than 600 representing the K-12 sector, including our dual enrollment students, higher education, and business and industry."
Likewise, Dr. Celeste Schwartz, MCCC Vice President for Information Technology & Chief Digital Officer, appreciated the unique opportunity the global pandemic provided in seeking innovative technologies in order for students and educators to stay connected.
"As many of you are experiencing, we are relying on technology more than ever to deliver virtual education," she said, during the online event. "This life shift offers us a wonderful opportunity for engaging students in new and innovative ways. We are redefining synchronous learning and rising to the challenge of implementing futuristic approaches today. I am excited to see that many of you have taken the challenge and are focusing on student success through your own professional development."
This year's technology conference centered on the classroom in a virtual world, enhancing the student experience, technology beyond the classroom and what it means to be in the year of learning.
Christian Carmino, regional representative for Anatomage Northeast, gave the keynote address "Connecting with a Technology-Fueled Era of Innovation, and its Relevance." The presentation centered on how innovative technology has always improved education dating back to the use of a blackboard.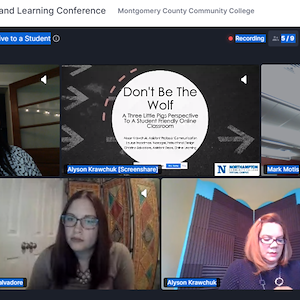 "I think it's important to recognize some of the dramatic impacts that (the COVID-19 pandemic) has had on this very space, technology and education," he said, during the online event. "For the past eight months our norms have drastically changed. But this global crisis has also provided us with a catalyst for using technology in the education space. We really had no choice."
He argued that without the innovative technology already in existence before the pandemic began, we would be far worse off than we actually are currently, which supports the need for continued evolution of technology in education.
Carmino wowed audience members who got a view of the Anatomage Virtual Dissection Table, which he demonstrated as an example of how innovative technology can increase accessibility for students to learn. In this case the life-size 3D table can help anatomy and physiology students, who are unable to work with live cadavers, learn about the inner workings of the human body.
Throughout the day, the technology and learning conference held 30 breakout sessions on a wide variety of topics.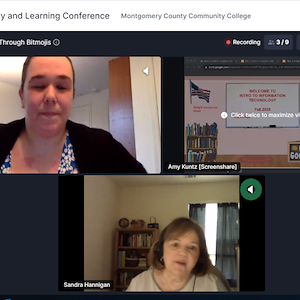 During the NASA Kerbal Space Program Math and Physics Lab, MCCC Math Assistant Professor Scott Vaughen talked about how a grant from the NASA Pennsylvania Grant Consortium allowed him to teach math and physics classes that incorporate the Kerbal Space Program flight simulator game and spur interest in STEM topics.
In the "Teams Zoom and Collaborate-Oh My!", Julie Lopez, MCCC Instructional Technology Specialist, talked about the basic utilization of the three platforms and the similarities and differences between them.
In "Virtual Field Trips: Using Google Tour Creator," Beth Ritter-Guth, Associate Dean of Online Learning & Educational Technology at Northampton Community College, explained how students can visit any place in the world virtually, especially when COVID-19 forces schools to work entirely online.
Lastly, during the "State of Digital Ethics 2020," John O'Brien, president and CEO of EDUCAUSE, talked about the importance of balancing the excitement of incorporating new technology into the classroom with a healthy respect and concern about what can happen when that technology is put in the wrong hands.
"We had many other great sessions," said Dr. Mary-Kate Najarian, Director of User Success and Learning Technologies, "such as using bitmoji's to humanize the online experience, a series of Montco employees talking about how we went remote and supported our community from many different areas of the institution, and how to take some of the traditional on-ground courses and making them function remotely."