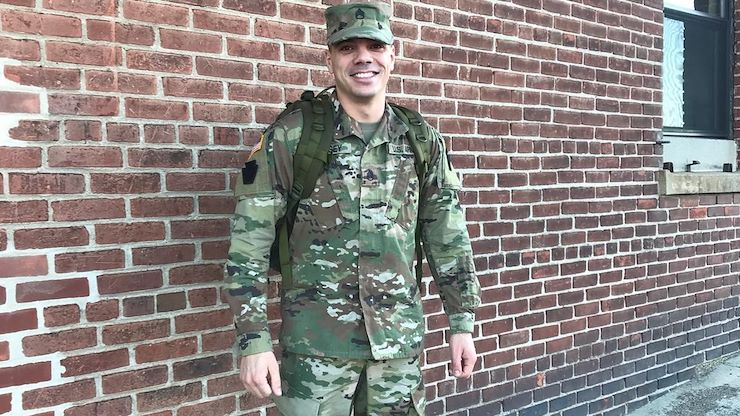 From a young age, Joel Bergey dreamed of saving lives. Today he's a nurse and is in the Pennsylvania Army National Guard serving as an Army Medic on the front lines of one of the most important battlefields of our time– the fight against the COVID-19 virus pandemic.
For Bergey, 30, who received an associate's degree in Nursing in 2018 from Montgomery County Community College, accomplishing this dream of helping others stems directly from his education at MCCC.
"It was definitely difficult," he said of the program. "The sciences were excellent. I feel that I got a very good and foundational education while attending there."
In 2007, Bergey, a Lansdale native, who was homeschooled, joined the Volunteer Medical Service Corps, where he became a certified EMT. Then he began running on emergency calls with Harleysville EMS. The experience helped satisfy a need to help others, but Bergey knew he wanted to do more.
"I developed a passion for medicine," he said. "I wanted to do more than what I could do in a prehospital setting. I really wanted to provide direct care to patients."
In 2008, he enlisted into the Army National Guard to serve as a medic, where he has served for the last 12 years.
"The experience in the Army National Guard has helped develop and shape me not just as an individual but professionally," he said. "I've become a supervisor because of the leadership experience I've developed there. It's exposed me to people from all over the world with different ways of thinking. I have a fuller and better-rounded view of the world than if I had just been exposed to one demographic area."
Bergey and his wife, Angela, were married in 2010 and now have three children. In 2011, he served for a year overseas in the Middle East, before coming back home and enrolling at MCCC's Central Campus in Blue Bell in 2013.
There are many other benefits available to veterans, including earning college credits for military and other prior learning experiences.
"I initially started with no previous college credits and started working on introductory courses," he said. "I don't remember the year I was accepted into Nursing program, but the whole time I was there I was working full time, I had a family at home. I would take semesters off, work half time, sometimes I'd only take three classes. It was definitely difficult."
The sacrifice paid off. For nursing students currently enrolled at MCCC, Bergey left the following sage advice.
"The program can be intimidating but put a plan together that will help you to be successful early," he said. "It will result in long-term success. Rely on the support services available in the program and other students either ahead of you or who have done it before. It doesn't matter if you're working, or a single parent. There are multiple situations people have faced and I've seen them succeed."
Bergey has now gone back to school to pursue a bachelor's degree in Nursing from Grand Canyon University.
"I love nursing because treatment involves the mind, body and spirit," he said. "We include science in treatment, but it's the whole entire being. It's much deeper than science alone."
Bergey's skills as a nurse have been put to the test this year. On May 3, he was sent to a veteran's nursing home in Chester County to help treat patients with COVID-19. He called the pandemic "eye opening."
"No matter how well prepared or how well a health system is operating, at any given time we're one disease away from threatening collapse," he said. "The nation, state and facility have done a good job coming together, unifying forces and overcoming the situation. It's been a learning experience for me. It's pushed me out of my comfort zone. This is exactly why I joined the National Guard rather than another branch of service. I wanted to serve the local and state community, rather than acting in a federal capacity with another branch. I couldn't have painted a better scenario for my passion."
In addition to the numerous health risks of fighting the pandemic on the front line, there have been numerous personal challenges Bergey has had to overcome through this experience. He's not allowed to go home after work, and has been staying in a hotel.
"It's been two weeks since I've seen my family," he said. "That's tough I hate that."
Bergey said before he was assigned his current treatment facility, there was not enough personal protective equipment for the medical staff there, and they were contracting the virus. Fortunately, he said, through a joint effort of the State and National Guard, the facility has been able to acquire the proper equipment including gowns, face masks, booties, gloves and face shields.
If he or other staff members show any symptoms of the virus, they are immediately put into quarantine and tested, he said. Otherwise, he won't receive a test until the end of his rotation.
"After that I'll go into isolation until test results come back," he said, "then I'll observe a two- week quarantine."
The global pandemic has brought with it an extra appreciation of nurses and health care providers for the sacrifices they're making every day to save lives. The extra attention Bergey and his fellow nurses have received has been nice, he said, but his hope is that people will show their gratitude in another more important way. "The best way to show appreciation is to set aside politics and unite together to overcome this."