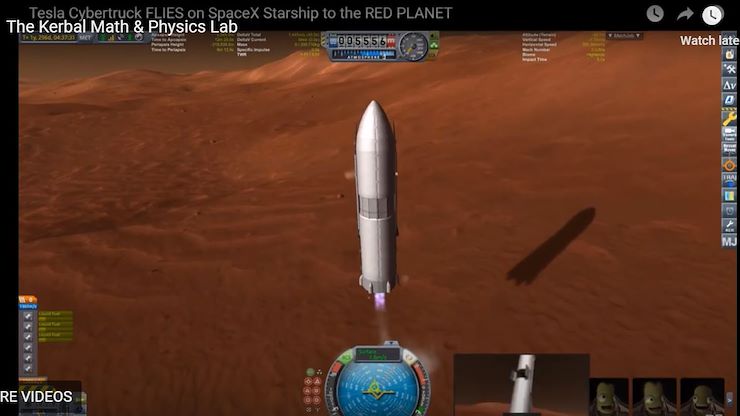 Learning complex math concepts can be challenging at times for students, but applying those theories to real-life scenarios can help students understand how they work and can inspire further exploration.
To give students this hands-on application experience, Montgomery County Community College and Assistant Math Professor Christopher Scott Vaughen used the Kerbal Space Program – a space flight simulation video game – as a pilot program called the Kerbal Math & Physics Lab during the 2020 fall semester.
"The video game is an opportunity to experience universal principles of math and physics in a way that is fun and interactive," said Vaughen, who teaches all levels of math at MCCC, including calculus, differential equations and linear algebra. He also serves as the Math Department co-coordinator with Associate Professor James Muscatell.
KSP, developed and launched by Squad in 2011, involves a space program that has a crew of green humanoid aliens known as Kerbals. Players get to design, construct and fly their own spacecraft using realistic physics and engineering equations. Successful missions provide more funding in the game for further exploration.
The course helped me see the relationship between physics and math, and it helped cement my algebra skills.
In the Kerbal Math & Physics Lab, students used KSP to pilot a spacecraft to the moon and understand how orbits work. By applying the vis-viva equation, students launched rockets and measured energy and angular momentum and learned the underlying physics principles. Students also used their pre-calculus knowledge to discuss hyperbolic orbits and their application to interplanetary travel or return trajectory from the moon.
"In the g-force lab, students calculated the thrust-to-weight ratio of the rocket and learned how that relates to the g-force," Vaughen said. "We experience g-force on roller coasters and airplanes, and we can see the effects on rockets and jets in TV and the movies, but students can actively engage with these ideas through KSP."
Earlier this year, Vaughen applied for and received a grant from the NASA Pennsylvania Space Grant Consortium to fund the pilot. NASA is a proponent of the video game and collaborates with KSP on different initiatives, including a recent challenge to gamers to recreate the historic SpaceX launch.
"I'm excited and proud to support NASA's mission to educate the public about space science and to help prepare potential future NASA employees, contractors or others in private industry or in education that share the same mission," said Vaughen, who has taught at MCCC since 2009. "Even for those that don't plan a career directly in space science, the more they understand, the more they can share that understanding with others, and the broader the understanding and appreciation the public has for space science, and its value to everyone, the more likely it is that those missions are successful."
MCCC previously received a five-year grant from NASA, allowing students to participate in several innovative engineering projects. The projects included building a NASA Mars Curiosity Rover, the creation of a quadrotor, the development of a motor test bench, and the creation of a recovery device for a high-altitude balloon used by Temple University to film the total solar eclipse for NASA in near space altitude.
The current NASA grant covered the cost of the KSP video game for students as well as the fees for several guest speakers and the instructor. Fifteen students participated in the one-credit course, which was free for them.
For the program, Vaughen wrote a six-chapter workbook that covers rocket science and orbital mechanics from algebra through differential equations – all inspired by the KSP game.
"These topics are difficult to experience in practice, but with the Kerbal Space Program, you can truly engage with the concepts," Vaughen said.
His students couldn't agree more.
"I felt like I didn't learn much in my last math class. I struggled but made it work so that I could pass the class, but I didn't know what I was doing or why I was doing it," said Patrick Watt. "In this class, because we were talking about the application of the math, the concepts I should have learned last semester made a lot more sense to me, and I was able to know why and how it worked."
"I chose to take this course because I am very interested in rocket science and using a simulation game sounded very fun," said Judah Sotomayor. "A lot of the KSP math topics were new to me, as I am taking physics this year. The course helped me see the relationship between physics and math and it helped cement my algebra skills."
Other students felt that the course helped them decide on what they want to study.
"I have decided to continue to pursue a degree in STEM/engineering – this class has boosted my confidence in making this decision," said Scott Shoolbraid, who took the class to "test the waters" to see if he was capable of completing the math for a STEM degree.
"My current major is computer science, but this course has made me interested in possible careers/courses related to physics," said Joseph Piazza. "I hope to see this course come back in the future, as I have found it to be an incredible opportunity which has helped me better decide on what I want to pursue moving forward."
Throughout the semester, guest speakers visited the online class and shared their expertise in their respective fields. They included:
Mike Aben – a teacher who has created many Kerbal Space Program videos and tutorials on YouTube on the game and math topics that come up during gameplay.
John DelValle and Marco Salcedo – two programmers from the computer game company Squad of Mexico, the creator of KSP. Squad now collaborates with Private Division with updates to KSP.
Campbell Long – an engineer at Lockheed Martin Corporation, which has a space science facility in King of Prussia. She works in Florida on the F-35 fighter jet training software as a programmer.
Scott Manley – a programmer, gamer, astrophysicist and YouTube creator with over a million subscribers.
Kim Pham and Jason Calmes – a project manager and engineer, respectively, also at Lockheed Martin.
Beyond math, this course will be helpful for students who want to major in any STEM field, including computer programming and game development, said Vaughen.
"And, more generally, I think the students have a much better understanding of how orbits work, whether its planets, moons or artificial satellites, and about the challenges of space travel and rocket launches," Vaughen said. "They can better understand what NASA and SpaceX are doing in their different missions. Even on more down-to-Earth topics, like navigation over long distances by plane or boat, I think students understand a little better now how that works."
The course, MAT 199: The NASA KSP Math & Physics Lab, is now available for the spring 2021 semester. The course meets Tuesdays and Thursdays, 12:45 p.m. to 1:45 p.m., via Zoom and is open to students enrolled in MAT100 to MAT125 or those who have recently completed these courses. For more information, contact Assistant Math Professor C. Scott Vaughen.