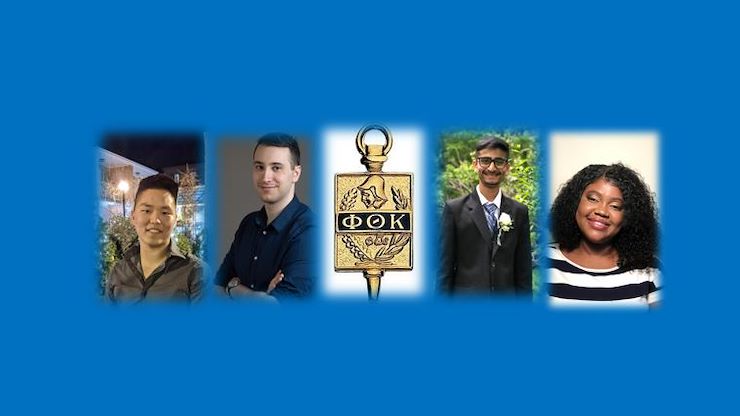 April is Community College Month and four Montgomery County Community College students have demonstrated the value of a community college education, having been recognized statewide recently for their academic achievement.
MCCC students Anuj Kamani, of North Wales, Shaneann Marshall, of Philadelphia, Josh Taban, of Lower Merion, and Lloyd Yoo, of Souderton, were selected for the 2020-2021 All-Pennsylvania Academic Team, which is sponsored by Phi Theta Kappa (PTK), the international honor society for two-year colleges, and The Pennsylvania Commission for Community Colleges.
This recognition honors an exceptional group of community college students who have achieved academic excellence and demonstrated a commitment to their colleges and communities. To qualify, students must have completed at least 36 credits and have a cumulative GPA of 3.5 or higher.
The Pennsylvania Commission for Community Colleges will recognize members of the 2021 All-Pennsylvania Academic Team on Thursday, April 15 through a Facebook video to be shown in concert with Community College Day.
The four MCCC students excel academically, earning their places on the dean's list and as members of PTK, and they are actively involved on campus and in their communities.
Kamani, 20, is a first-generation college student who emigrated from India with his family in 2018. In addition to the various service projects he performs as a member of PTK, Kamani also volunteers his time as an information director at the front desk at Abington-Lansdale Hospital. His goal is to become a physician's assistant.
Marshall, 33, is also a first-generation college student, who emigrated from Jamaica in 2016. Marshall is studying to earn a degree in education and takes courses online while balancing a 9-5 job at a preschool in Elkins Park. In addition to her work with PTK, she spent the last year sewing masks for people in her community and the staff and patients at Jeanes Hospital in Philadelphia.
Taban, 24, moved to Lower Merion by way of Los Angeles and Miami. He started at MCCC three years ago following a two-year internship in Israel. He became heavily involved at the College as a member of ACT 101, MCCC's Student Usability Feedback Board, student support committee, the math club and PTK, and he served as president of MCCC's chapter of The Future Business Leaders of America-Phi Beta Lambda. He's currently studying marketing and supply chain management at Temple University.
Yoo, 18, is a home-schooled high school senior raised by a single mom. He is one of five children, and began taking dual enrollment courses at MCCC when he was 15 years old. In addition to earning a 4.0 GPA, Yoo can play several instruments and performs monthly with his family at area retirement communities through his church. He's also is a camp counselor with a youth sports ministry program and served at MCCC as the PTK chapter president and was a Student Government Association senator.
Pennsylvania's community colleges collaborate with the Pennsylvania State System of Higher Education (PASSHE) universities to provide scholarships to All-PA Transfer Team members at PASSHE institutions, providing two years of tuition at any PASSHE school.