A Montgomery County Community College (MCCC) student-athlete is making headlines as a recipient of a national award recognizing her work both in the classroom and on the digital playing field.
"Diverse: Issues in Higher Education" magazine announced its 2021 Arthur Ashe Jr. Sports Scholars Award list of recipients, which includes Mustangs eSports student-athlete Kiratika Ariyamitr.
For over 25 years, this award has recognized outstanding minority men and women who have distinguished themselves in their academic and athletic pursuits. In addition to their athletic contributions, students named Arthur Ashe Jr. Sports Scholars must maintain a cumulative GPA of at least a 3.5, be a sophomore academically and be active on their campuses or in their communities, according to a press release.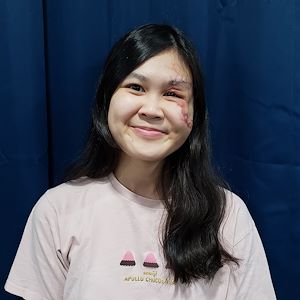 Ariyamitr, 19, holds a 3.8 GPA, and is the only community college student and esports student-athlete to make the prestigious list. The Willow Grove resident and 2019 Upper Dublin High School graduate is among 40 students selected nationwide for the award from over 700 submissions. A business administration major, she is a member of the MCCC Chapter of the Future Business Leaders of America-Phi Beta Lambda (PBL) and is set to graduate this May. She'll then transfer to Temple University-Japan campus in the fall to study international business.
"It's unexpected," said Ariyamitr of the award. "I don't consider myself an award-winning scholar. I never see myself winning awards. So whenever I do win one, it surprises me. I don't focus on what I did to get it. It feels great. It helps me recognize the qualities I should give myself credit for."
In addition to the esports team and PBL, Ariyamitr is a cast member in MCCC's upcoming virtual production of "Men on Boats." She is also a leader in her community, volunteering her time at her local library and with her high school's marching band.
Ariyamitr joined the Mustangs eSports team on a whim, after reading an advertisement on campus about it. The team launched in December 2019 with "Rocket League" before expanding the roster of games to include "Overwatch," "League of Legends," and "Super Smash Bros. Ultimate."
"I didn't know how to play "Rocket League" and "Overwatch," said Ariyamitr. "I picked up two new games. I had a supportive team helping me along the way."
The College surprised an overwhelmed Ariyamitr with the good news online before a regularly scheduled "Overwatch" team practice via Twitch. Kelly Dunbar, MCCC Director of Athletics and Campus Recreation, MCCC President Dr. Victoria L. Bastecki-Perez and Jen Mitlas, Sound Recording and Music Technology (SRT) Instructor, announced the award and congratulated her.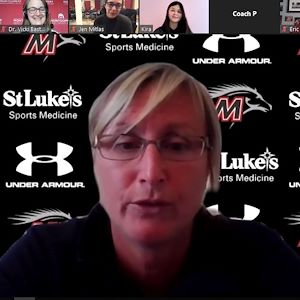 "We wanted to recognize you," said Dunbar. "You've been a part of our esports family since the inaugural season. And you truly exemplify what a true student-athlete is and we are so proud of you. Kira is an honors student and she's actively involved in PBL. But her ability to balance all that comes with being a student-athlete, while still maintaining a 3.8 GPA, is just absolutely outstanding. So we're so excited for you, Kira, and so proud of you."
Dr. Bastecki-Perez told Ariyamitr the entire MCCC community was extremely proud of her.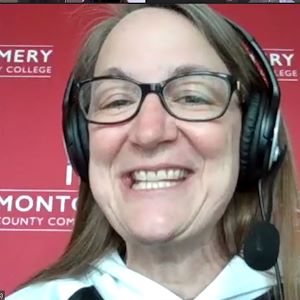 "On behalf of the entire Montco Family – our Board of Trustees, faculty, staff, alumni and your fellow students – we are immensely proud of you as an athlete, as a scholar and a leader on campus, and also as someone who is making a difference in your community," Dr. Bastecki-Perez said. "I couldn't be more proud of you and that you're a part of our Montco Family. And this national recognition is only the beginning of your success, not only at Montco but in your life. Congratulations and best wishes to you, Kira."
"We're really proud of you and everything you've accomplished and will be accomplishing," said Mitlas. "Congratulations, Kira!"
Ryan Plummer, Coordinator of Mustangs eSports, said he also was very proud of everything Ariyamitr has accomplished as a student-athlete on the team.
"She has managed to be a leader on the field, a backbone of the program," he said, "and balanced the responsibility of playing on team while earning incredible grades. She has one of highest GPAs on the team. I am so proud of her, so happy she was able to get that award and happy we were able to surprise her with that too."
This is the Mustangs Athletics eighth collegiate sport and its first co-ed team. The Mustangs eSports team members compete against colleges nationally as part of the National Association of Collegiate Esports (NACE), which is composed of over 170 member schools with over 5,000 student-athletes. They also compete as part of the National Junior College Athletic Association Esports (NJCAAE), composed of more than 60 two-year colleges from across the country.
Esports continues to see tremendous growth year after year. Viewership growth is expected to climb at a 9 percent annual growth rate between 2019 and 2023, from 454 million in 2019 to 646 million in 2023, according to Business Insider.
Newzoo, a leading esports analytics firm, projects esports revenue to cross $1.5 billion by 2023.