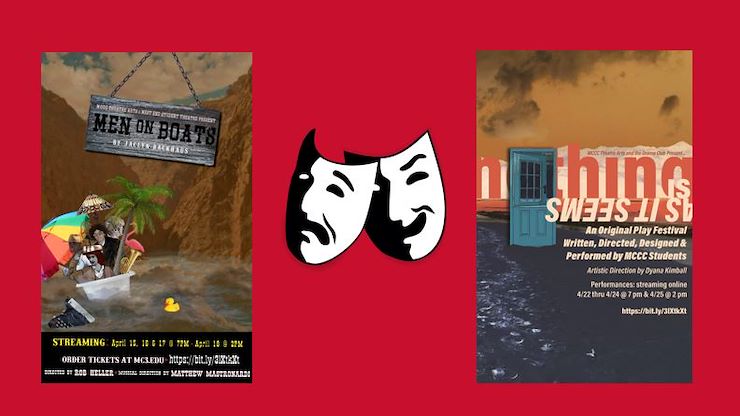 If the pandemic has reaffirmed anything for the Theatre Arts Program at Montgomery County Community College (MCCC), it's that the show must go on. Even if that means the show is performed from your own home and the audience is watching on a computer screen.
The College will host two spring online productions with "Men on Boats" and "Nothing is as it Seems: An Original Play Festival."
The West End Student Theatre and the Theatre Arts Program present "Men on Boats" April 15-17. The virtual curtain rises at 7 p.m. A final performance will begin at 2 p.m. Sunday, April 18. The satirical comedy, based on the real journal entries of the expedition explorer John Wesley Powell, is about 10 clueless explorers chartering the Colorado River into Grand Canyon in 1869. The show features an entirely non-male identifying cast.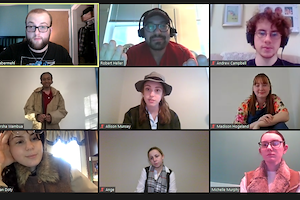 The cast and design team for "Men on Boats" includes: Genevieve Evans, Mersha Wambua, Amanda Ackerman, Maddie Hogeland, Allison Munsey, Mitchie Murphy, Lilli Doty, Angelina Reilly, Ava Kohn-Ciriello, Kira Ariyamitr, Lilli Doty, Eric Habermehl, Kyle McLaughlin, Jacob Grando, Hannah Moore, Carly Morris, Diomira Keane, and Andrew Campbell. Denise Wash created and designed the poster for the production.
The Drama Club and Theatre Arts Program present "Nothing is as it Seems: An Original Play Festival," running April 22-24 at 7 p.m. A final performance begins Sunday, April 25 at 2 p.m. These series of short plays were written, directed, performed and designed entirely by MCCC students. Born out of a pandemic and crafted for a virtual performance, these quarantine-inspired plays will journey beyond our screens into the unknown... and where they go, nobody knows!
The students involved in "Nothing Is as It Seems: An Original Play Festival" include: Nathan Schwarz, Jacob Grando, Sunny Funkhouser, Lily Isajiw, Min Kim, Misha Chandarana, Talia Petras, Haley Simmonds, Tykeisha Emily, Lena Dry, Loue Repsik, Diomira Keane, Genevieve Evans, Elijah Best, Richard Park, Gary Logoleo-Taylor, Xin Wang, Tyler Sanderson, Jack DiFiore, Tina Ursta, Jordan Hamim, Maddie Hogeland, Ava Kohn-Ciriello, John Griffith, Lillian Doty, Gabrielle Easterling, Sharry Pak, Leigh Collins, and Eric Habermehl. Megan Stoler created and designed the poster for the performance.
Each online show is open to the community and tickets are on sale now. Please note both productions contain some mature content.
For Theatre Assistant Professor Timothy Gallagher, witnessing over 40 students will these two shows to life, in spite of the challenges of a pandemic, has been applause-worthy in and of itself.
"These really impressive groups of students persevered to hold these live performances during a pandemic from their own homes," he said. "They designed everything, acted in everything and have taken great ownership over each production. They are very different plays that offer audiences two different experiences. You'll come away amazed at how talented these students have been to put these productions on despite the circumstances."
In what's increasingly becoming a "Zoom-fatigued" world, Gallagher noted that each production finds innovative ways to mask the video-chat technology needed to showcase each performance.
"What we've been trying to do is capture the theatre experience as much as we can," he said. "It won't look like a typical Zoom room."
This won't be the first time the Theatre Arts program will hold online performances. Last fall, it presented a recorded production of "Alice in Wonderland" and a live production of "The Interference." Students learned a lot from those experiences and are applying those this time around.
"We're using a new online broadcasting software to create a more polished product," he said. "We've gotten better at theatre from home or remote theatre."
While the pandemic presented many new challenges, it also fostered new solutions to behind-the-scenes issues for the cast and crew of each show that Gallagher said will likely be used post-pandemic.
"In theatre, we always grow and build and take what works and move it forward," he said. "There are great ways to connect online like holding virtual meetings for design collaborations. There are ways for students to be accessible without having to drive to campus. These video chat programs have created solutions to communication issues we've had in the past."
While everyone is ready to get back on a real stage very soon, don't be surprised to see future online-only performances, Gallagher said.
"There could even be an online component moving forward for smaller things to share in an online format,' he said. "Staged reading, auditions, and things to take moving forward."
"The pandemic has affirmed just how resilient students are and how committed they've been," he said. "Every night at rehearsal they show up ready to go and they're excited. They stay late. Their eyes are tired from screens but they've formed a community. One that they're fighting desperately to keep going. That inspires me. That tells me we're doing something right as a community."
Gallagher thanked each of the programs on campus that have contributed to these productions.
"We've had so much support from the College. That's pretty great," he said. "You can't have theatre without collaboration."
For more information about "Men on Boats" and "Nothing is as it Seems," contact Timothy Gallagher at tgallagher@mc3.edu.