The adventures of a futuristic, interplanetary baseball manager and a woman's journey to a fantastical land ruled by birds of prey were the subjects that helped propel two talented student writers to win an annual college-wide contest.
Students James Martin and Carly Schell were named this year's recipients of The Patricia Nestler Excellence in Creative Writing Award. The award celebrates MCCC students who have demonstrated outstanding achievement in creative writing. Martin received the award for his short story "Martian Baseball League" while Schell won for her poem "Vulture City."
"The Pat Nestler Excellence in Creative Writing Award is such a wonderful opportunity to recognize and reward the talent and creativity of our student writers" said Patricia McEnery, Assistant Dean of Academic Affairs. "This year, we received double the number of entries in our short fiction category over last year, and had a very competitive contest for the poetry award, as well. Pat Nestler certainly created a very generous and unique legacy which continues to foster and inspire the writing of our students"
Nestler taught as an associate professor of English for 36 years at MCCC before retiring in 2015. During her tenure, she mentored countless students and colleagues on campus, led the Writers Club and, for decades, hosted its annual conference, which featured such keynote speakers as famed authors Kurt Vonnegut, Tim O'Brien and John Updike.
Short Story: James Martin
It's not every day you find out what happens when you mix together a passion for America's pastime and the company SpaceX. Yet when James Martin sat down to pen "Martian Baseball League" he followed the advice given to most budding authors: write what you know.
"I play right field on the baseball team at Montco and have been a sports fan my whole life," said Martin, 33, a secondary education major, from Oreland. "Baseball was something I knew about. I'm also pretty big fan of SpaceX in general. I watch launches on YouTube and I pay attention to (founder, CEO, CTO, and chief designer of SpaceX) Elon Musk. It was fun being able to do a little research."
Martin's sci-fi adventure follows Major League Baseball legend Clay Reagan as he's recruited to board a spaceship to Mars and manage a team in new league there about 70 years into the future.
"Space travel to Mars is pretty regular by this point," said Martin. "So he goes to a city on Mars and discovers the baseball league is not the same as it is on Earth. For example, it's atmosphere- controlled. He's a famous coach on Earth but finds it's a different thing. For one, the players are much better than he is and he's not as confident as he was in the beginning of the story."
Martin's futuristic adventure deals with present-day issues including xenophobia and homophobia.
"Clay thinks the colonies on Mars will be super progressive when he gets there, but discovers a lot of bigotry and anti-Earth feelings," said Martin.
The Southern California native always considered himself an athlete before anything else and never knew he had a knack for writing until he enrolled in a creative writing course this year at MCCC. The story is based on a short assignment he'd written for the class, which he'd gotten positive feedback from others.
Winning the award writing contest was a big achievement for him.
"I had just gotten out of baseball practice and looked at my phone and saw the email. It was a crazy feeling," he said. "I was really happy by myself in the car. It was surprising. It was a really good feeling. I didn't expect to win it. It was a little over a week since I entered the contest and I had put it out of my mind. Seeing the email and it coming back to me, I was really happy and proud."
With the award now under his belt, Martin said now might be the time to continue delving into his cosmic baseball universe.
"It's something I would like to explore," he said. "I've been thinking about a whole series of high school-style books. Like "Goosebumps" or a sci-fi/sports series. It's definitely something I would consider. I'm probably going to try to see how far I can go along with this story."
After graduation, Martin plans to continue his education to eventually become a high school English or history teacher and would also like to coach high school football.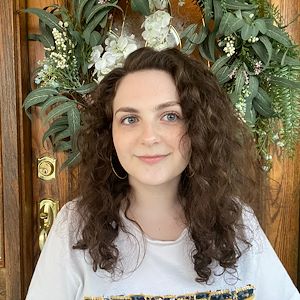 Poetry: Carly Schell
"In Vulture City, my soul will be free!" is a refrain Carly Schell employs several times in her poem, as she describes her fantasy of traveling to a society run by the scavenger birds.
"It's about this made up place my friend and I came up with a little while ago," said the 20-year-old Pottstown resident and 2019 Owen J. Roberts High School graduate. "We were talking about what if animals had societies? We saw vultures circling us in a park. She had a more negative outlook on things than I do. She said 'They think we're dead and want to eat us.' And I said 'No, they want to hang out with us and take us somewhere cool.'"
The freedom Schell yearns for is not a freedom from oppression or the mundanity of life, but rather from a grief she and her friend were both been experiencing, she said. The birds symbolize a chance for them to take their minds off the pain and enjoy life.
"My friend and I were going through a rough time together. We had each other to get through things," she said. "When I said I thought the vultures would take us somewhere else, I hoped they would take us to Vulture City, so we could escape for a while."
As she was writing the piece, Schell learned Vulture City is a real place: a ghost town in Arizona. So she said she had fun making references to the state and the town in the poem.
"I make references to the Arizona climate, Arizona Iced Tea," she said. "I hint Vulture City was in Arizona."
Schell said the poem was originally written for English Assistant Professor Diane Biddle's class where the reaction was a bit mixed. Students share their work with their classmates online and Schell said many of her peers didn't get it.
"People were confused at first. My professor really liked it. A lot of people were like 'where did this come from? Is it based on a movie or something?'" said Schell.
Schell, who has always considered writing as a form of escape, said based on the feedback, she reworked the poem slightly, careful not to ruin it's rhythm and submitted it for the Nestler contest. She's incredibly proud of the award and the subsequent praise she's received.
"It feels so good. It means so much to me," she said. "It's really uplifting for other people to also like what I've created."
Schell said her plan going forward is to graduate from MCCC next year and transfer to a four-year institution in the hopes of one day becoming a screenwriter.