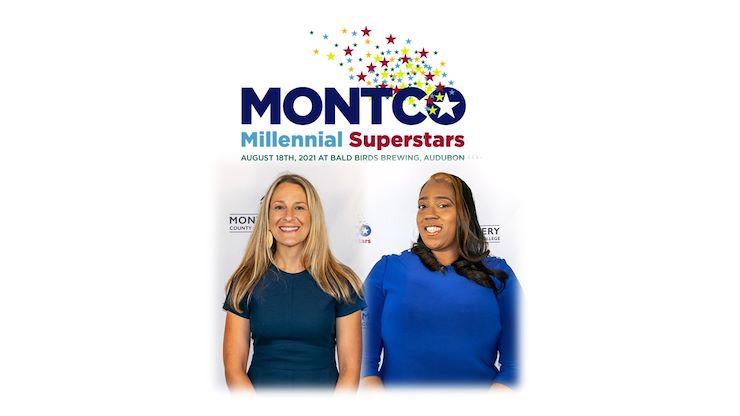 MONTCO Today—in partnership with Montgomery County Community College, Meridian Bank, The Lincoln Center, Bald Birds Brewing, and Valley Forge Tourism and Convention Board—revealed its 2021 Class of MONTCO Millennial Superstars recently, which includes two MCCC employees.
Holly Ann Clayton, Executive Director of Marketing and Communications, Dr. Adriene Hobdy, Director of Leadership Development & Talent Management were both named to the list.
To be considered a MONTCO Millennial Superstar, nominees needed to have met the following criteria:
Have achieved notable success in their community or chosen profession or trade
Must be 39 years old or younger (as of June 1, 2021)
Must work, live, or study in Montgomery County
Be actively engaged, either professionally or through their volunteer work, in efforts to improve Montgomery County's quality of life
Clayton is an innovative marketing and communications professional with almost 20 years of experience including two years as executive director of marketing and communications at MCCC. Holly Ann has extensive work experience across industries including higher education, technology, and agency management across various verticals.
Dr. Hobdy is an educator, human resources professional, publisher and producer/host of "Scratching &Thriving Podcast" who is passionate about helping people to thrive academically and professionally. Dr. Hobdy is a seasoned administrator with a broad set of experiences that span across industries including higher education, media and entertainment, and politics. Throughout her career she has focused on innovative solutions, scholarship and service, while helping individuals discover their passions and advance their careers
Clayton said she was humbled to have been chosen for the prestigious list.
"I'm honored to be named a Millennial Superstar," said Clayton, who lives in Collegeville. "Knowing your colleagues acknowledge your work and leadership, and want to express their appreciation means the world to me."
Hobdy likewise said she felt blessed and thankful for the award.
"There are some incredible people featured on this list and to be mentioned in the same sentence as them feels really special," said Hobdy, who lives in Abington Township. "I want to thank all involved for including me. It's an honor."
MONTCO Today received more than 271 nominations that highlighted the achievements of 190 local millennials who are breaking down walls, shattering expectations, and doing remarkable work.
The honorees will be recognized at an awards celebration on Aug. 18 at Bald Birds Brewing in Audubon. The event will feature a hybrid format that enables the MONTCO Millennial Superstars to either attend in person with a guest or watch the presentation from work, where lunch will be delivered to them.