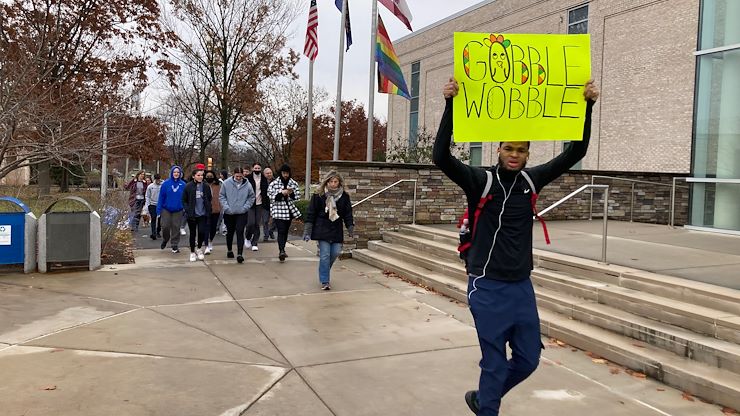 Students in Montgomery County Community College's Exercise Science and Wellness (ESW) Program used their passion for exercise and wellness to help fellow students who are facing food insecurity.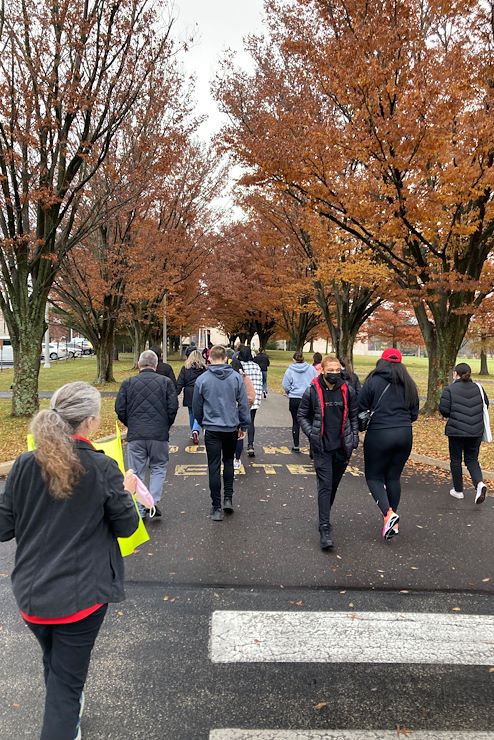 ESW students planned and promoted a virtual Gobble Wobble 5K run/one-mile walk fundraiser Nov. 22-28 to raise money for MCCC's Stock Up for Success food pantries located at the Blue Bell and Pottstown campuses. The fundraiser was open to everyone on campus and members of the community. With more than 80 participants, the students raised over $600 to help restock the pantry shelves.
To kick off the fundraiser, approximately 30 students, faculty and staff participated in a one-mile walk around the Blue Bell Campus on Nov. 22. Although the overcast skies looked threatening, the weather cooperated for the event.
"I was glad the weather held out," said ESW Instructor Michelle Donovan. "And that we had such a good turnout. I think raising awareness of the Stock Up for Success program has been huge."
The event also provided an opportunity for students and employees to reconnect while highlighting the benefits of exercise.
"Just having people back on campus together is fun," said ESW Professor Anne Livezey. "I don't think students realized just how much fun it was until they were participating and doing it. They did the walk in about 20 minutes, which is a nice pace. And then having everyone support the Stock Up for Success program and being a part of that has been great."
The Exercise Science and Wellness associate degree program prepares students for careers and continuing their education in the exercise science field, including exercise science, exercise physiology, kinesiology, pre-physical therapy, pre-occupational therapy, physical education, pre-athletic training, strength and conditioning, health, nutrition, and sport, fitness and recreational management.
MCCC is committed to feeding both students' minds and bodies. MCCC's Stock up for Success food pantries provide ready-to-eat food and toiletries for students, and items are available at both campuses. For more information, contact the Wellness Center at wellness@mc3.edu.