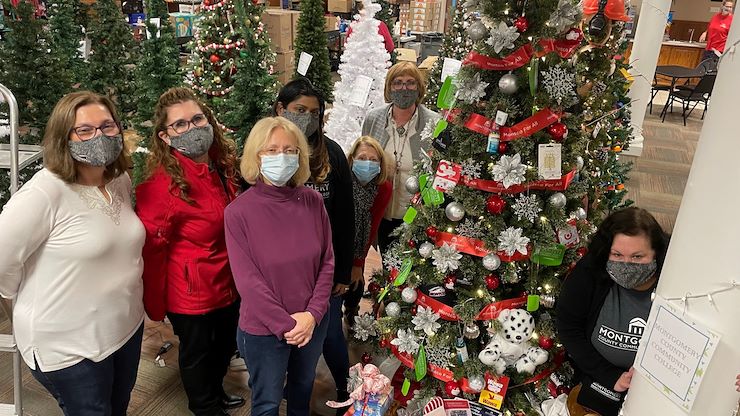 Montgomery County Community College is celebrating the 25th anniversary of the opening of its Pottstown Campus with several activities throughout the year, including a Montco for All holiday tree.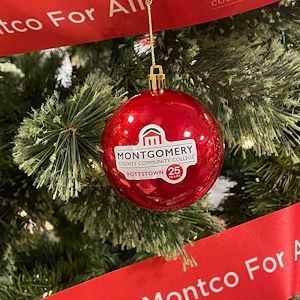 "As the holidays are approaching, we wanted to mark this anniversary year by doing something special that also would benefit the community," said Amy Auwaerter, Director of Pottstown Campus Operations.
MCCC's tree will be part of the Boyertown Area Multi-Service Inc.'s online 15th Annual Festival of Trees fundraiser that starts on Friday, Dec. 3, at 12 a.m. and continues through Thursday, Dec. 9, at 11:59 p.m. The fundraiser helps support programs of the Boyertown Area Multi-Service, including the Ricketts Center in Pottstown, Meals on Wheels, Preston's Food Pantry, and the Center at Spring Street, among others.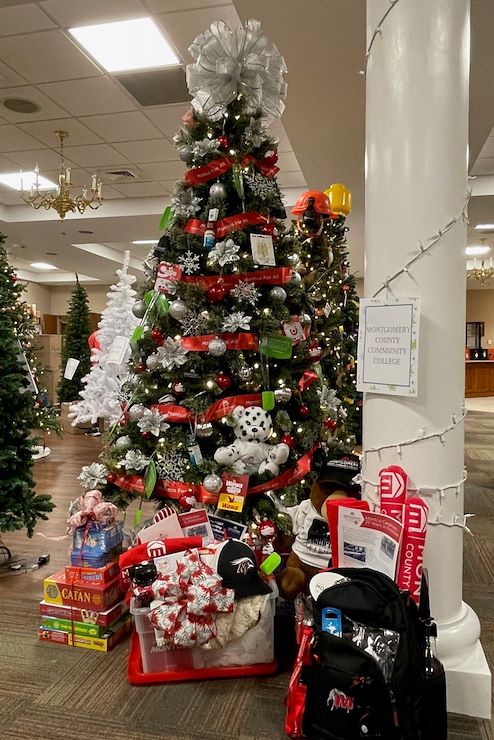 The community will be able to view the trees online and purchase raffle tickets to have a chance to win the sponsored trees. Boyertown Area Multi-Service will notify the winners on Friday, Dec. 10, and they will have the option of keeping or donating the tree to a family in the community.
To view the trees, visit Boyertown Area Multi-Service's website and follow the directions to enter the raffle. On the raffle page, select "tree" from the drop-down category menu and look for "A Very Montco Mustang Christmas" tree to cast your vote.
MCCC's tree is a plethora of gifts and items donated by students and employees from across MCCC's campuses, including:
A backpack and school supplies from the Act 101 Program
Cooking utensils from The Culinary Arts Institute
Dental care items from the Dental Hygiene Program
Blanket and clothing items from Marketing & Communications
Clothing and school items from the Medical Assisting Program
Athletic themed gear from Mustangs Athletics
Holiday items from Pottstown Campus employees
Cookie mix and Monty mascot cookie cutter from the President's Office
Family board games and gift cards from Radiography Program students
School items from the Upward Bound Program
"We hope that the tree will brighten the holidays for whomever wins it," added Auwaerter. "It's a gift from our entire Montco Family to theirs."
For a quarter of a century, MCCC's Pottstown Campus has served as a valuable educational resource and trusted community partner. As the College celebrates its 25th anniversary, it is transforming its Pottstown Campus for the future starting with the opening of Pennsylvania's first Challenger Learning Center – a hands-on, simulation-based science, technology, engineering and math (STEM) educational experience – in the near future. Also underway is the conversion of MCCC's North Hall parking lot into a green space with native plantings that will create live learning laboratories for students and a community gathering space. Renovations to MCCC's South Hall, which are currently underway, will improve students' overall educational experience.